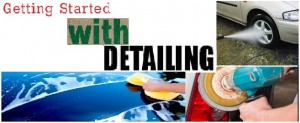 Given the recovering state of our economy, you cannot have picked a better time to start a business such as a car detailing service. Purse strings are beginning to loosen up and customers are willing to invest a bit more in their vehicular assets. Moreover, seeking external help with specialized, time-consuming and laborious chores makes a lot of sense as this frees up their schedules for more important matters.
So, let's get started with the checklist of items you will need to start your business:
Funding
In order to start a car detailing service you require a fair amount of capital outlay and operational expenses. Unless you have ample funds, you may need to leverage whatever relevant tangible and intangible assets you have to raise or borrow funds for your venture. To ensure you do not jeopardize your chances, you will need to have developed a solid and realistic business plan to present to your prospective lenders or investors. Also, your local community banks, which are familiar with your financial track record, may be more receptive as compared to the larger banks in your location.
Location
Where you locate will impact on where and whether your prospects can get to you to use your detailing services. Many car owners will not go out of their way to get their vehicles washed and detailed. It has to fit in with the bigger scheme of things such as their lifestyles.
It also has to be safe, attractive and fit in with your brand image. The last thing you want is to have your site near by too many of your competitors and you end up with a race to the bottom with price reductions.
Licensing
There are specific business and taxation registrations to be made, and, licenses to apply for in relation to local zoning and environmental stipulations. You want to ensure that all these formalities are taken care of before you open your doors up for business. The last thing you want is a technical hitch that can derail the momentum that you painstakingly built up.
Equipment
Your service lines will dictate the types of equipment you use. As the detailing your customer wants for their vehicles could be from top to the bottom, and inside out, you will have to have all the necessary equipment, tools and accessories at hand. The fact that you cater to interiors, exteriors, tires, undercarriage, and, leather, fabric, vinyl, wood, plastic or glass, means you have to be correctly stocked.
Manpower
As detailing services are labor-intensive, the profitability of your operations depends on how you well you organize, motivate and manage your human resources to attend to your clients quickly and efficiently. There are numerous areas you can fine-tune to maximize overall productivity. Some examples include, ensuring your technicians are well-trained in equipment and processes, and that the vehicle prep phase is done optimally so that the follow-on processes can be smooth, prompt and safe.
Marketing
The fact that you are the new kid on the block means you need to work harder to make your presence felt and responded to. There are numerous campaigns and techniques, old and new, that you should take advantage of. Traditional techniques include introductory promotions, cross promotions with non-competing businesses in your vicinity, flyers to be handed out, and local radio station plug-ins about your new facilities to their listeners.
A website presence is a must these days. You get to mutually engage with your customers via various applications, any time or day. The array of social media tools make it easy to promote your car detailing business and keep your brand, very much in the minds and conversations of your intended audiences.
All of these must-do activities take time to work through and if you would rather cut to the chase, have you considered franchise options instead? Buying into a franchise is not a guaranteed success but if you are willing to work at it, you can be open for business much earlier. The core structure, systems and procedures for the business model are already set up and rigorously tested. You also have a large pool of ideas and resources from which you can learn as oppose to starting everything from scratch and on your own. The rest is up to you to work at gaining market share and delivering the services to your customers.
Enjoyed this post? Sign up for our newsletter to receive more valuable business and franchise info, ideas, and extras!