How to Manage Franchise Operations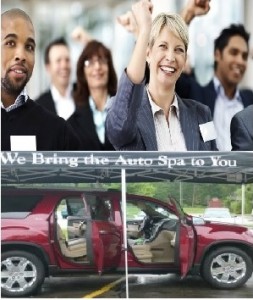 Everyone knows that a happy customer is a crucial piece of the franchise operations puzzle. When you are figuring out how to manage a franchise, it might be best to start with ensuring the happiness of people a bit closer to your car wash business, mainly your employees. By emphasizing the importance of happy, healthy employees as a part of managing a franchise, you are taking the first step in creating happy and loyal customers. An employee who is happy with their career is far more likely to encourage clients to feel the same. There are a few actionable tips that are easy to implement and require little to no financial investment.
Recognize Your Employees' Individuality: Nobody likes feeling like their opinions, values, beliefs and thoughts are not important. Take the time to include your employees in decision making. Ensure that they feel that their voices are heard. You won't always be able to accommodate their opinions and ideas, but having an open door policy that allows for professional and respectful freedom of speech will work wonders for your employees' sense of self-worth. Going beyond that and asking them about their weekend, their family, or their hobbies also makes them feel as though they are more than just a social security number.
Encourage Healthy Activity: Being a full-time employee is a physically and intellectually strenuous job. By offering healthy snacks at your car wash business and implementing a stretching requirement at the beginning of a shift, you can demonstrate that you care about the health and well being of your staff. Stretching before a shift also helps in minimizing work related muscle strain and injuries. This is good for you as an employer and for your employees.
Always Show Appreciation: Offering small incentives and rewards for good performance is a great way to show your staff that you appreciate them. It can be as simple as a free coffee for the most sales in the week. We are all trained from a young age to work for rewards. Even going back to kindergarten and having a sticker board of accomplishments will encourage friendly competition and boost morale. Perhaps using gold stars whenever someone upsells a premium feature, or whenever a customer commends your employee's service.
From a customer's perspective, if they are seeing a high turn around rate and unhappy staff at your car wash business, they will be less likely to remain loyal. Customer's like familiarity with the companies that they choose to frequent. Seeing the same employees every time the client uses your franchise services makes them feel as though long time, tenured employees are handling their vehicle and they know what they're doing. There is no doubt that happy staff equals happy customers, it is a cyclical, easy to achieve, symbiotic relationship to think about when managing a franchise.
Enjoyed this post? Sign up for our newsletter to receive more valuable business and franchise info, ideas, and extras!