Offline Marketing Tips for Your Car Wash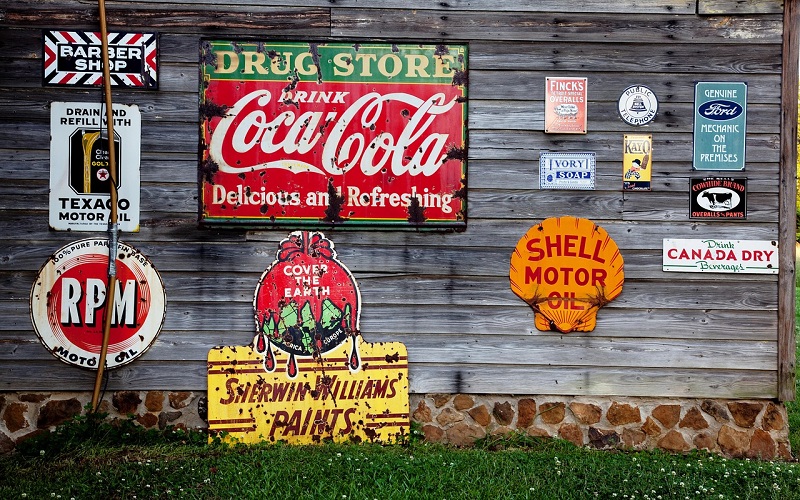 Whether you're striking out on your own with a brand new car wash company or buying into an existing successful franchise, you should know how best to promote your new business through all media. The car wash industry is a profitable one, but you need to be creative and bold to get to the head of the pack. If you already have a strong online marketing strategy, it's time to pay attention to some tried-and-tested offline marketing tips that will surely put your car wash company on the map.
Car Wash Business Offline Marketing Tips
Make Every Move Count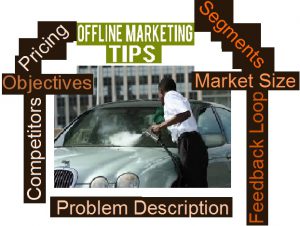 Launching a Facebook fan page, Instagram account or Twitter account long before you actually launch your business is a great way to stir up initial interest among your potential customers. You want them to talk about you – what you're offering, why you're different, and how you can make their lives just a tiny bit better. With the growing number of car wash companies opening up every day, you're in for some stiff competition for the rest of your company's life.
The same philosophy that applies to your online marketing approach should be evident in what you do for your offline marketing tricks. However, there is a slight difference. You will have to shell out some cash for offline marketing.
Unlike posting a new status or tweet where you don't spend more than a dollar in the process, you will have to pony up if you want to implement an effective marketing strategy in the real world. That means printing posters, flyers, ads, T-shirts, decals, business cards, customized knickknacks – the whole works. Your customers appreciate these small, but very visible reminders of your brand and what you do. And they love getting freebies that tell other people where they have had their most recent car wash.
Put a Little Spin on It
Since you're in the car wash industry, it won't do to get some bland or generic ad campaign. Put on your thinking hat and tap into your creative energy. Come up with an industry-appropriate strategy: commission to have little wheel paperweights or perhaps a pen shaped like a stick shift, both with your brand name and logo emblazoned in big bold letters.
You want to catch the eye not just of your customer, but also of their friends and family members, who will eventually pick up your little knickknack and ask, "Where did you get this?" You want to hook them subtly, not sell yourself too hard.
Print It Your Way
The more traditional approach is to put up advertisements and posters all over the shop floor and around the neighborhood. Additionally, you can distribute them at the community center, where people can look through your list of services at their own leisure. Again, you should stay away from cut-and-dried templates and go for something that's reminiscent of your business – washing cars and making owners happy.
The rule of thumb for whatever sort of print ad you may want to put out there is to ensure that your company name, contact details, and address are clearly, prominently, and accurately depicted on each ad. It won't do for you to have a very convincing poster and then leave out the auto shop address at the bottom because you've run out of space. Putting your company specifics on prominent display also allows for greater recall. As a result, potential new customers will know which car wash company to call the next time their vehicle gets impossibly dirty.
Go for Seasonal Offline Marketing Campaigns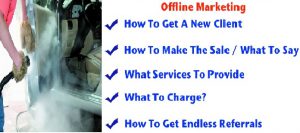 Printing flyers about the latest discount promos and packages will also increase your chances of getting more customers to notice them. Opt for seasonal themes or flashy promo names that will truly spark the interest of the reader, such as a pre-New Year promo or a birthday bash car wash. That means that you won't ever lose business, even during the slow winter weeks.
Keep Your Word
None of these offline marketing tips will help your business get off the ground unless you actually deliver on what you promise: a sparkly clean, just-like-new car that runs smoothly and efficiently. You can initially attract the attention of your customers and maybe convince them to try out your services once or twice. But, if they are not happy with the results, they won't ever come back. And they most certainly will tell other people why, people who may also be part of your target market and whom you will lose if you don't do a good job of cleaning your customers' cars.
Remember to tie together all your online and offline marketing and sales strategies and put them into a nice little campaign package for your car wash company. It's the only way you can possibly survive the cutthroat competition and still turn a profit.
Enjoyed this post? Sign up for our newsletter to receive more valuable business and franchise info, ideas, and extras!