New Ways of Car Wash Market Research
Conducting market research has been made very easy with the advent of online and mobile technologies which has produced a laundry list of applications and techniques.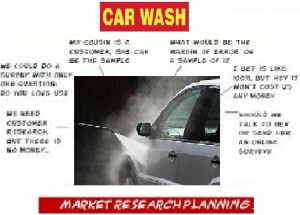 Thanks to new technology and socioeconomic trends, it is no longer just the big players who can afford to conduct their car wash market research. The field is wide open to car wash businesses, small and large. While the traditional approaches – focus groups, surveys, questionnaires – are still very much in use, there are now new twists and turns to access the data. In fact, there are now far more ways to obtain the data than you can process.
The Marketplace's Changed Mindset
Gone are the days of lengthy, formal, one-dimensional and sterile approaches of old, today's society gravitates towards techniques that are more engaged, chatty, interactive and dynamic. So for instance, if you plan on conducting car wash market research using a focus group or consumer panel, spice it up with a more informal setting, such as you would plan for a casual get-together with friends. The more relaxed your group, the more open, creative and interactive they will be.
Different Media And Its New Ways of Car Wash Market Research
The advent of online and mobile technologies has produced a laundry list of applications and techniques by which to conduct market research. With online, you have social media platforms like LinkedIn, Facebook, Foursquare, Twitter etc. Your company pages in these respective communities would have a fair share of followers or subscribers whom you can leverage for your car wash market research polls and/or questions.
For example with Facebook, you can set up chats between your followers and car wash team to encourage exchange of their experience of your services. You too can ask for votes or feedback on new service offerings or promotions. Imagine you wanting to offer a new service mix but want to test out its potential uptake before diving in. You can set up the virtual experience perhaps with a YouTube video of it and ask your followers to vote "Would use this service mix" or "Would not use this service mix". Their votes will give you insights if it appeals to them or not.
When one leading retailer observed the positive social media chatter for one of their new food product lines was mainly from the West and Southwest, they promptly added similar lines to take advantage of those consumers' interested taste buds. It matters to pay attention to what resonates with your market.
You also have other choices like Yahoo Answers, Survey Monkey and Google Consumer Surveys, whereby you set up micro-surveys and share it via a link or email or through your website to solicit feedback. That way, you have options as to how best reach your targeted audience according to their preferences. Alternatively, you can have the survey printed in a card or form to be handed out or emailed to customers after they have had their car cleaned.
Then there are the 4th generation (4G) mobile internet-enabled technologies that are empowering the ubiquitous slew of smart phones and tablets. With these gadgets, there are no shortages of ways to effortlessly and instantaneously engage with your prospective audiences. An example of a SMS survey application is PollEverywhere, which is optimized for interaction using text messages or Twitter. A smart phone survey platforms that you may want to check out is OpinionMeter, which is deployable to any type of smart phone.
The Internet has made it inexpensive to do your car wash market research but bear in mind the quality of your research is only going to be as good as the quality of your questions and the manner in which it is conducted. So, make sure you get creative in tapping into the big data that's out there and let it help take your marketing plans to their next levels.
Enjoyed this post? Sign up for our newsletter to receive more valuable business and franchise info, ideas, and extras!