How to Set Prices for Auto Detailing
Are you one of those die-hards who will go to the ends of the earth for their customers but lose sight of how to set prices for the value you bring to them? It is wonderful that your skills and experience are in demand. However, without doing the math, things will add up and grind your business to a complete halt.
How to Set Prices for Your Auto Detailing Services
First and foremost, you need to remember that you are a business owner. Only then comes your role as a service provider. Your own business is a major investment, not a normal job. It has equal chances of big rewards or big losses. Therefore, you must remain business-savvy even if this sometimes means getting out of your own comfort zone.
Start with the Micro View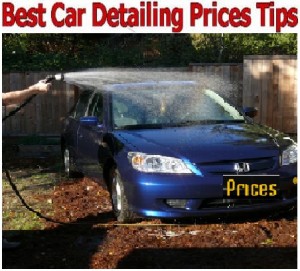 The manufacturing and delivery of a product or service involve expenses for overhead, materials, and labor. These have to be appropriately apportioned and accounted for in your price. Then, that price is marked up with a profit margin as "payment" to you, the owner, for the risks you undertake. Do not forget to factor in other costs, too. These can be insurance, staff, and rent that will have to be incurred in view of the growth potential of the business.
Give an Estimate
In the auto detailing business, it can be difficult to know how to set prices. In some instances, if a customer makes an appointment over the phone, you cannot see the condition of his vehicle. Take another approach. Let them know you can only give them an estimate until you actually see the vehicle. Thus, you have room to adapt your final quote according to its actual cleaning needs.
Additionally, you get the opportunity to up-sell your services. For example, if the client initially asked for a quick exterior wash, you can persuade him or her to upgrade to something like an Ultimate Eco Wash package, which combines exterior and interior steam detailing. Or, at least you can offer some add-on services like stain removal or engine cleaning.
Merge in the Macro Picture
Your profit margin cannot be an "as you wish" percentage. It is dependent on several bigger-picture scenarios. What is the demand in the marketplace? How much do your competitors charge? What are your target customers willing to pay? What services are you offering?
Your Market Research
If you are new to the industry or to the area, you need to know and feel the pulse of the marketplace by doing a market research on the demographics, population size, age, income, number of cars owned, and competition. Knowing the bigger picture gives you an edge in figuring out how to set prices that are acceptable to your prospects.
Understanding the Target Audience
Narrowing down into the bigger picture, you also want to better understand your target customer market. What are their disposable incomes? What do they perceive as a valuable service?
Figuring out Your Service Mix
Next level down is your service mix or bundle offerings. If you are part of a franchise system, these will have been set up already. However, if you prefer to be an independent service provider, you will need to do it yourself. Your past experience and market research should guide you on it. Maybe they will point to offering basic wash services only. Or, to setting up a variety of detailing packages. You may even find it worthwhile to include add-ons to your car wash menu.
How to Set Prices That the Market Will Bear
There will always be customers who view your prices as being too expensive. You will need to educate them on the value you are bringing to their vehicle. However, try to set your prices within reasonable economic brackets. Take into account what the marketplace is charging and what your audience perceives as value. Then, you will be all set to go with your detailing business.
Enjoyed this post? Sign up for our newsletter to receive more valuable business and franchise info, ideas, and extras!