Portable Car Washing Machine: Pros and Cons
What has your experience been with portable car washing machines? What are the absolute must-have qualities you feel one should look for in these machines? Is there a brand that you swear by and would recommend?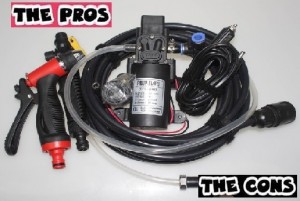 As the cold season unwinds and your customers' muck-filled vehicles roll into your car wash, it's time to have your portable car washing machine(s) ready to kick into high gear. With all the technological leaps in auto cleaning equipment and accessories, you are truly spoiled for choices as far as portable machines are concerned.
Let's check out some of the benefits to look for in a strong contender and the drawbacks to avoid.
Advantages of Portable Car Washing Machines
In keeping with the overall increase in environmental awareness and regulations, mobile car wash machine manufacturers now offer eco-friendly equipment that delivers the same or better results using less water. They include power or pressure washers, steam cleaners and waterless car wash systems.
Overall, they are fairly light weight, convenient to transport and ergonomically designed for adjustability, easy handling as in minimal need for moving the kit most types of vehicle size, storage and retrieval.
The newer and improved portable car washing machines now come with much quieter motors and pumps that generates fewer vibrations.
For your car wash cleaning services, many come with more versatility in that the pressure is adjustable and so are the spray tips. The direction of the cleaning power emitted allows you to get to narrow and awkward spaces of most vehicles.
The multiple function kits often come decked with a tank for detergent and water filter that allows you to clean, wash, sanitize and deodorize, from that one "platform". Alternatively, there are steam cleaners that require no soaps or detergents to remove the dirt from even the dirtiest parts of your car surface. And they do it with as little as a pint of water.
Where prices are concerned, they range from an affordable $150 to a top of the line machine costing up to $500.
Now the downsides.
Disadvantages of Portable Car Washing Machines
These portable machines are generally powered by smaller motors and pumps; as such they might be quite loud and noisy when in use. This may not go down well in the neighborhood. Some brands are powered by batteries, and if you have very dirty or large vehicles to wash, you will be left in the lurch part way into the task when it grinds to a stop.
The hoses of pressure washers often become too stiff to fully extend or work around when it becomes tangled. Reason being they are often made from hard plastic to withstand the pressurized water emitted. Once uncoiled, it is hard to curl it back neatly onto their built in reels. Also, their length and that of the power cord may not be long enough when it comes to washing larger trucks, trailers and RVs.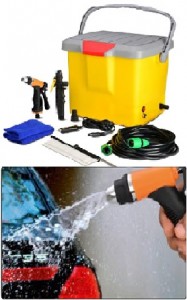 The hose reels and powercord reels are great for tidying up after you are done with it but sometimes, the materials they are made from are not sturdy enough to withstand the reeling in and reeling out of the hose and cords. Do be wary as you may find them cracking up under the stress and especially in cold temps. You will be better off with a workaround that allows you to coil and hang them up as oppose to using its built-in reels.
The frequent handling of some of these portable car washing machines can result in its hose adapters coming lose and causing leaks to occur. Thus, before you use your machine, it is best that you check and make sure all the connections are tightened before you power it up.
They are not necessarily built for heavy duty car washing so if you have a heavily soiled, salted or tarred car, expect to have to apply some or a lot of elbow grease.
As we all know, you get what you pay for and oftentimes "affordable" comes at the price of the quality of the materials used, its functions and the finishing of the product.
What has your experience been with portable car washing machines? What are the absolute must-have qualities you feel one should look for in these machines? Is there a brand that you swear by and would recommend?
Enjoyed this post? Sign up for our newsletter to receive more valuable business and franchise info, ideas, and extras!