7 Steps to Franchising Your Business
The likes of McDonald's, 7-Eleven and Subway with their global network of tens of thousands of franchise outlets illustrate the enormous possibilities when the franchising model is executed correctly.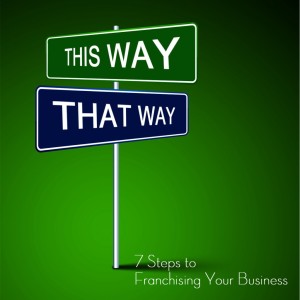 When you have a robust and profitable business, franchising your business seems an obvious option to grow by expanding it into new territories without the huge capital outlay that a branch network entails. The likes of McDonald's, 7-Eleven and Subway with their global network of tens of thousands of franchise outlets illustrate the enormous possibilities when the franchising model is executed correctly.
Even if experts in the industry insist that your business model has huge franchising potential, you want to make every effort to find out if it is so by educating yourself on this new model of doing your business. You may be an expert in your industry but running a franchise requires a different kind of mindset, business skills and infrastructure to help it succeed.
We want to share with you seven basic steps to franchising your business:
Objectively Evaluate You and Your Existing Business Model
In order to change the game plan to franchising your business, you first have to critically analyze yourself and your current business model, to know what is needed to ensure its success.How will you leverage your operational experience to that required of a franchisor? And are you prepared to take the risk of expansion through third party owners to whom you will license your knowledge, your trademark and systems?What are the strengths and weaknesses of your existing business model? Is it established and competitive enough to take on new territories and the competition in those locations? Does it have the clout to attract multi-unit franchisees?
Need a good franchise team when franchising your business
Prove That Your Business Model Can Be Franchised
You must have proof of concept to attract the franchisees you seek. This means the concept has to be profitable in: applicable and replicable to other locations. If the first 2 points can be proven, the third will require large upfront investments to develop the essential infrastructure in terms of legal documentation, training and marketing materials, and establishing systems (such as accounting, Customer Relationship Management or CRM).
What about the Vision, the Culture and Target Territories?
In franchising your business, you have to be able to encourage potential franchisees to entrust and invest in your concept for the medium to long term. They will expect to be presented with a vision, the big picture potential that convinces them to invest long term into your concept. Do you have the entrepreneurial talent, drive and focus to establish the culture you expound? What leadership and business skills can you offer to franchisees in your target territories?
Develop Your Franchise Support Teams
When you go into franchise mode, your focus will have to shift from running your business to selling and training franchisees. To do so, you will need a core team of dedicated key players to help you to consistently deliver on your big vision, as promised to your franchisees. This ensures that they in turn are fully satisfied and supported in the realization of the returns from their investments.In the initial year or two into franchising your business, you should develop a network of franchise advisors and functional experts who will prod you on the best ways to grow your potential.  You will also need to maintain strong bonds with the suppliers from whom you source goods and supplies for you and your franchisees.
Franchising your business is just another way of doing business
Create Your Franchise Leads and Sales Approach
You have to establish a franchise leads and sales approach that you or your sales team are on consistently the same page when it comes to sourcing strong leads. There has to be pre-qualifier requisites in terms of experience, business plans and a genuine interest to succeed with your business concept.When it comes to the sales process, there are many strict legal do's and don'ts to comply with. For instance, if certain financial items are not covered in your Franchise Disclosure Document (FDD) – the legal document shown to prospects at the pre-sale stage – you cannot share information that relates to them.
Find the Right Franchisees
When franchising your business, much as you would like every prospect to make the cut as your ideal franchisee, the reality is you have to pick and choose the right candidates that will execute your business concept as you envision it to be. You have to be confident that you can entrust them not to tarnish your brand name and all that it stands for and more.
Sustain and Grow the Concept
Establishing your franchise concept is only the beginning of a long and arduous road in franchising your business. You have to be constantly creating ways to stay competitive within your chosen industry and in the best interests of your customers, franchisees and your business vision. Your franchisees are legally bound to pay you royalties for the use of your trademark. In turn, have to deliver on the promises of a robust business model, branding and marketing to help bring in prospective leads and sales.
Bear in mind that franchising your business is just another way to do business; it is not a guaranteed success formula. If you do not constantly innovate and move with changing times and customer needs, you will have difficulties in sustaining your concept in the face of your competitors and into the long haul.
DetailXPerts has been at it since 2006 and have a deep understanding, resilience and patience for it takes to succeed in franchising. Should you become interested in being franchisee instead of a franchisor, we strongly encourage you to read more about the opportunities we offer and to get in touch with us.
Enjoyed this post? Sign up for our newsletter to receive more valuable business and franchise info, ideas, and extras!