7 Most Profitable Franchises
Although profitability is usually associated with the bottom line figure, that is but just one angle from which to narrow down to the seven most profitable franchises. What about their yet to-be-incurred long term investments; its future prospects and equally important, its eventual resale value?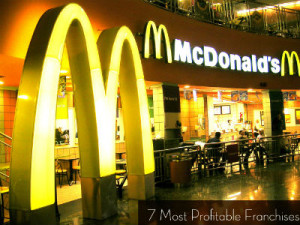 Although profitability is usually associated with the bottom line figure, that is but just one angle from which to narrow down to the seven most profitable franchises. What about their yet to-be-incurred long term investments; its future prospects and equally important, its eventual resale value?
Profitability is not only about this or next year's profits; as a long term investment, it's also a question of the resilience of the business to economic tidal waves as the ones we experienced in recent times.
Higher investments do not necessarily translate into higher profits when we take into consideration the resources used in terms of time, business skills, and capital. Moreover, what amounts to a healthy profit margin or unit level economics for one industry may not hold true in another industry.
Most Promising and Profitable Franchises
Taking into consideration the above factors and studies, we narrowed down the top 7 categories of the most profitable franchises or the ones with the most promising financial opportunity.
Automotive
Compared to other industries, the automotive industry and their related franchise concepts have gone through more than their share of morphing these past few decades. From rising oil prices, financial crisis, bailouts to rising environmental concerns, it has had to dramatically transform itself to respond to prevailing economic and market conditions at every twist and turn.DetailXperts is an example of an automotive detailing franchise that is ahead of the pack with its visionary steam cleaning system and its unique eco-friendly vantage. As proponents of benchmarking analysis and open book management practices, they have in place, proprietary business systems that facilitate their ability to keep a healthy level of transparency in and among its network of franchisees.
Business Services
Brand identity matters a lot in a crowded marketplace. It matters as to how it is visually presented and communicated on your business main building, business vehicles, and business cards. You want them to deliver as much of an impact regardless of whether they are being used on your premises or off premise at promotional or fund raising events.FASTSIGNS International has been providing visual communication solutions to primarily business clients since 1985 and has over 500 franchise outlets. With their wide product range include signs, interior décor, exhibits and displays, promotional products, printing and mailing, as well as other interactive and digital solutions, they continue to do well as one of the most profitable franchises.
Cleaning Maintenance
To save costs and improve efficiency, it has become the norm for companies and organizations to outsource their office services needs, and office cleaning work is no exception. Jan-Pro Franchising International Inc., which has been franchising since 1992, offers eco-friendly commercial cleaning services and is a popular franchise with military veterans.
Fitness
With the greater emphasis on the topic of sustainability, it is only natural that it should start with us becoming more active, healthy and fit. Role models like Jack Lalane in the 30's; Jane Fonda in the 80's; Nintendo's Wii "lounge fitness" in 2000 to 2010's First Lady Michelle Obama's "Let's Move" campaign to fight childhood obesity and the support of the Secretary of Transport for bike lanes across the country (now about 6,000 miles strong) all line up to a healthy appetite for fitness.Unsurprisingly, fitness franchise concepts like Jazzercise rank among the most profitable franchises. They offer a two-tier system whereby you can opt to become a certified instructor and teach their Jazzercise classes or manage the classes taught by other Jazzercise instructors.
Food Beverage
Food and Beverage will never go out of style as we all have to eat. The list of food and beverage franchise concepts is ever growing but they are not all created equal. Although they have been around for a long time, there are concepts out there that lag behind as far as franchisee satisfaction is concerned. Still, there are the exceptions such as, Auntie Anne's that serve a variety of handmade soft pretzels, dipping sauces and drinks in addition to being highly ranked in terms of franchisee satisfaction and most profitable franchises.
Personal Services
O

ne of the sub-categories that fall under Personal Services is that of Senior Care. Given the rising numbers in our over aging population, this is an area that continues to show undiminished demand. In this arena and ranking high among most profitable franchises is BrightStar Care. They have been in the business since 2002 and has a rapidly expanding network of franchisees that offer Personal and Companion Care; as well as Home and Outside Support service lines.

Real Estate


With the economy slowly picking up, the demand for mortgage loans has improved slightly helped by the easing of bank lending standards. Therefore, franchise luxury realtors like Better Homes and Gardens expect to see modest gains in its wake.
In an industry that has strong representation by independent operators, some say that it is becoming increasingly difficult to compete and provide the same grade of services as that of large company franchise names. There are also those who prefer the independence of being unaffiliated.
You know the saying, opportunity does not knock twice. If the entrepreneur in you is pulling at your heartstrings, it is wise to pay heed and seek out most profitable franchises like DetailXPerts. Request more information now – we promise you will not be disappointed.
Enjoyed this post? Sign up for our newsletter to receive more valuable business and franchise info, ideas, and extras!