5 Low Budget Marketing Ideas for Your Car Wash Business
There is no better time than the present to operate your own small business as far as low budget marketing ideas are concerned. While the marketing playing field was dominated by the "big guns"; that is now all changed in favor of the small to mid-sized operators.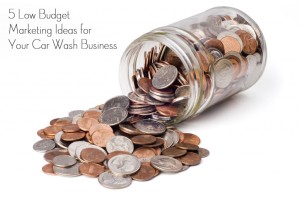 There is no better time than the present to operate your own small business as far as low budget marketing ideas are concerned. While the marketing playing field was dominated by the "big guns"; that is now all changed in favor of the small to mid-sized operators. True enough, their budgets are smaller, however, provided they are focused, they are more agile and nimble in keeping up with the often swift technological and societal transitions.
Just because there are fifty or more low budget marketing ideas out there, it does not mean you have to pursue all of them. You want to filter and use the ones that match your current resource availability and deliver the most impact for your business, be they financial or otherwise.
We have a mixed bag of 5 low budget marketing ideas, online and offline initiatives, to help you rev up your marketing efforts.
Twitter – Subtle But Impactful
Whether your car wash business is located in a large metropolis area or tucked away in a location with a lower than average population number, you want to take advantage of Twitter, the free micro-blogging tool, to make your brand known to as wide a circle as possible. There is no better, quick, efficient and economical way to establish your brand personality, plus tap into your ideal prospects and customers needs, wants and concerns.
It is similar to how you would have casual conversations with your friends via texting.
When you come across as an authentic person, people at the other end feel more comfortable to engage with you and entrust you with their comments and feedback.
Showcase Your Professionalism With LinkedIn
If your business also caters to commercial customers, among your "must-have", low budget marketing ideas has to be LinkedIn, the social network that caters to professionals.
As a professional, this is a good platform to grow your network and showcase your expertise by joining discussions, answering questions, offering tips and suggestions and receive recommendations from others. This is a transparent way for your audiences to detect the depth and breadth of your skills and experience.
Moreover, LinkedIn allows you to post status updates about your latest events, blog or video posts, and promotions, or, your Twitter Tweets about them. All of the above will help to increase the marketability of your services to all your connections and interested prospects, virtually everywhere.
Get Visual With Video Marketing
Another one of the uncomplicated, low budget marketing ideas you want to consider is video marketing. As you know, a well-presented visual speaks volumes and is an effective way for your target audiences to connect with your brand personality and service offerings.
Best of all, you can hand craft it with the use of an inexpensive video camera. If you are unfamiliar, all you need is to reference similar ones on YouTube that receive a decent number of views, to get a gist of how to script one or a mini-series of your own for your car wash brand channel. Once it's done, it can be re-directed to your website home page and other social media outlets.
Mobile Marketing – Key Among Low Budget Marketing Ideas
Mobile marketing is another one of the low budget marketing ideas not to be missed. We have covered it at length in our previous post SMS Promotions for Better Car Wash Marketing.
The increasing dependency on mobile devices, especially smart phones that are even more full featured nowadays, makes this a no-brainer marketing tactic to pursue. It is current, cheap and cheerful provided it is done in an un-invasive and amicable manner.
Use Sponsorships To Add A Personal Touch
Doing business has become more personable and as such, your business personality is a big deal in today's consumer minds. To be able to "see" the soul behind your car wash business goes a long way to making that emotional connection with them.
Weigh in what are your passions outside of your car wash business, perhaps you are an art lover, a sports fan or a green enthusiast. Whatever the case may be, seek out opportunities to be a sponsor at those related activities, events or trade shows. You will never know who you get to network with, but one thing's for sure; you will expand your network with like-minded individuals in a very practical and grounded way.
Low budget marketing ideas are as much about helping others as it is about helping your business.  It is about educating your target audiences about what your car wash brand stands for, what your unique selling proposition is and what products and/or services you have to offer. Simultaneously, you have to show how you can sincerely help them to overcome their needs, wants and frustrations.
We have moved away from a vendor-centric marketplace to one that is very much consumer-centric. You want to pick and choose the correct tools and low budget marketing ideas that are out there and work them to your advantage and more importantly, according to how the market expects them to work.
As a serious contender in the car wash sector, DetailXPerts are continuously seeking out new and better ways and means to get the word out about our unique and green steam detailing services. If you are interested in starting or growing your car wash enterprise, come visit us and check out the DetailXPerts market availability of our franchise.
Enjoyed this post? Sign up for our newsletter to receive more valuable business and franchise info, ideas, and extras!