Top 7 Franchisee Benefits in the Car Wash Industry
Owning a franchise for a car wash industry gives entrepreneurs real advantages in starting up their own business. An entrepreneur just needs to follow the how-to-do-it steps in accordance to the franchisor's rules and guidelines.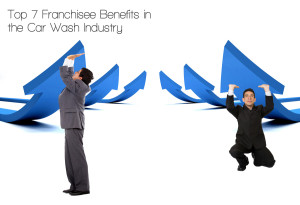 Owning a franchise for a car wash industry gives entrepreneurs real advantages in starting up their own business. An entrepreneur just needs to follow the how-to-do-it steps in accordance to the franchisor's rules and guidelines.
Top Franchisee Benefits
Here are the top franchisee benefits in the car wash business:
1. Established Brand Name. The selling power of a known car wash franchise is as important as thinking of a catchy business name. One of the franchisee benefits in a car wash business is that the franchisor has already done it, so you don't have to spend a lot of time thinking about an appealing business name and logo.
2. Established Business Operating System. A car wash franchise already has a set of goals and marketing strategies, making it easy for the franchisee to make the business work. In starting up a business, the franchisor's detailed and precise marketing plan and structure provide the franchisee with benefits so that his business can survive in the fast paced business world. A well-established car wash business already has the specifics and an updated operating system that you just have to follow. You can do research about the business' successful results, for you to know how well organized their system and method is.
3. Initial Training and Ongoing Support. Initial training and support is one of the most critical and important franchisee benefits when investing in a car wash business model. The franchisor can offer training personnel who can provide a wide variety of support and training materials to their franchisee. They already have their lists of best practices and they know what works well in the industry. Moreover, franchisors often monitor their franchisees. This means that they can also offer refresher trainings if they see that a franchisee is not doing well in the business.
4. Advertising campaign and support. A franchisee benefits from the marketing and advertising support given to him by the franchisors as well. This is done in an effort to help him succeed. The franchisor can put up banners and/or give flyers to their "already established stores" to help raise brand awareness in his area. An established car wash franchisor already has a set of clients and loyal customers that they can ask for assistance and support, just in case they have friends and relatives living within the franchisee's business vicinity. This can provide the franchisee with a steady customer base in the years to come.
5. Assistance in finding an optimal site. Choosing the right location is another thing to consider when putting up a car wash business. Most often than not, a car wash franchise already has a map of feasible locations where you can put up the business. The franchisor already did the leg work and surveying for you. You just have to choose from their location list, which you think is more advantageous for you, e.g. the location nearest to your house.
6. Shorter Time to Opening. Some people think that starting a car wash from scratch is easy. Unfortunately, this is not true. You have to get approval from different business and government sectors for your business and building permits, waste water management, and so on. This is where a franchisee benefits more – a car wash franchise already has a set of business methods and structures to follow so you do not have to wait a long time before you can start your operations. Once you have the capital to invest in the car wash franchise, you can start the business the soonest time possible.
7. Higher Success Rate. Investing in a car wash franchise is one of the most secured and the safest way to start a business. Getting a franchise from a known and established car wash business will give you security, peace of mind and confidence since they already have a strong business methodology and a steady customer base.
You can enjoy these franchisee benefits if you deal with a car wash business that already has a tried, tested and refined system with a solid market credibility. They can assist you in choosing the right type of car wash that fits your needs and budget as well as in other aspects of your start up business – from training your employees to marketing your car wash. All these, of course, will be done with the ultimate goal of profitability for your new found business.
More questions about franchisee benefits or franchise opportunities? Please visit us at https://detailxpertsfranchise.com/car-wash-business/. We have a lot of valuable information which can help you decide which car wash business is right for you.
Enjoyed this post? Sign up for our newsletter to receive more valuable business and franchise info, ideas, and extras!