Car Wash Profitability – Dos and Don'ts
The car wash industry can provide you with a lucrative opportunity but you need to offer something unique that your target customers can identify with and you are on your way to achieving success for your business.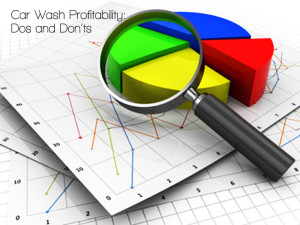 Without a doubt, a business owner like you have your sights set on increasing your car wash profitability. After all, you built a business upon the premise of making money and not losing it. Yes, the car wash industry can provide you with a lucrative opportunity, but what goes? How can you increase your car wash profitability? Below are some do's and don'ts that every car wash owner should know.
Car Wash Profitability Do's
Do train your staff well
Nothing turns off customers more than detailing staff who lack proper training. Put yourself in their place. Would you entrust your prized possession to somebody who lacks the necessary skills to buff a vehicle's exterior paint? You should also create customer profiles and ask your staff to learn about each of your client's needs and preferences. This will further increase your car wash profitability.
Do maintain a high standard
Surveys show that customers put higher value to quality services more than any aspect of a car wash service. Of course, you can only provide quality services if you have the right tools and equipment, quality materials and highly skilled workers to see each project through.
Do use social media marketing
If you think that the power of social media marketing is just a myth, think again. Established car wash business owners claim that they have increased their car wash profitability by interacting with their clients via social media platforms like Facebook, Twitter, Pinterest, etc. And yes, studies show that customers buy more from businesses that interact with them online and have developed a relationship with.
Do use effective marketing strategies
Do your research and create an effective marketing strategy that will counteract marketing planning barriers like location, lack of competition, skilled labor, etc. You can increase your car wash profitability once you have a foolproof marketing plan that addresses these barriers.
Do keep records of your profit and costs
Calculating your car wash profit and costs can show you where your business is heading – if you are just breaking even or if you are gaining profit. And in case you need to get a loan or sell your car wash, you have something to show to investors or buyers.
Do add business amenities
Build amenities like convenience stores, pet washes, laundry shops, etc. Your customers will appreciate you from saving them a great deal of time and effort by not having to go to other stores or shops. They can do their laundry or shopping as they wait for their cars to be detailed. Of course, happy customers become loyal clients who will refer more people to you. Of course, more clients translate to greater car wash profitability.
Do hire an effective car wash manager
Do not think that a car wash manager is just another pain in your pocket. The right one can increase your car wash profitability by ensuring that each project meets the standards you have set for your car wash. He can also motivate your detailers, receptionists And other staff members to give their best for your business.
Car Wash Profitability Don'ts:
Don't rest on your laurels
Is your car wash considered to be "the best" in your area? Well, this does not mean that you can rest on your laurels because there is always a chance that another car wash owner can grab your crown away from you. Be alert on their newest offerings, latest products or how customers think of them. Doing so will enable you to create better marketing strategies, offer more add-on services and improve customer services.
Don't overprice
Initially, overpricing might seem a great way to boost your car wash profitability. But realize that this can ricochet to you in the long term. Car owners may appreciate your quality services at first, but once they learn that another car wash is offering the same prices and customer services at a more affordable price, off they go to your competitor. They might even influence your other regulars to join them as well.
Don't react harshly to complaints
Is Mr. Brown complaining for the nth time about how lousy your services are even if the rest of your clients think that you are doing a good job? Do not react harshly. Instead, discuss the problem with him with all the politeness you can muster. Remember that a customer, no matter what, is still a customer. Your dear Mr. Brown may be your most irritating customer, but he still deserves good treatment for supporting your business.
Don't think that coupons alone can increase profits
Coupons can do magic. That is, if you do not overuse them. Giving them away with the sole purpose of luring customers away from your competitor will only last until your last coupon. Work on establishing a brand that customers can identify with, give them quality detailing service and provide them with the best customer experience to increase your car wash profitability.
Don't imitate
If you want to increase your car wash profitability, then, copying ideas from another car wash business is not the way to go. Offer something unique that your target customers can identify with and you are on your way to achieving success for your business.
Feel free to use these tips for your car wash profitability. For more topics on car wash business or car wash franchise, please visit us at www.detailxperts.com. We have a lot of information that start up car wash business owners like you can gain from.
Enjoyed this post? Sign up for our newsletter to receive more valuable business and franchise info, ideas, and extras!