Writing a SWOT Analysis for Your Car Wash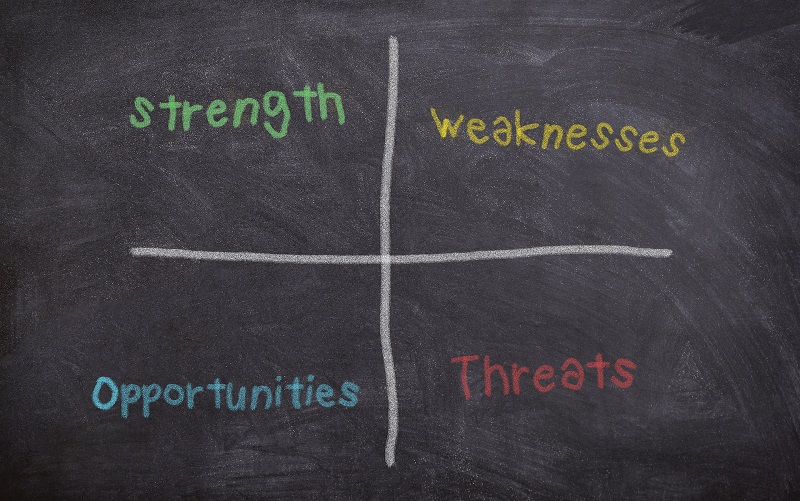 Planning your start-up business is no fun. Еspecially if you're going into an industry as complex and challenging as the car wash market. Car owners are a fickle lot – one day your phone will be ringing off the hook with detailing appointments, on other days your car wash facility will be empty of clients. There are seasons when car owners love to give their cars professional servicing (such as before and immediately after wintertime). Moreover, there are times when car owners prefer to engage in a little DIY car detailing project. Still, step one before starting your own business is writing a SWOT analysis.
Not every car wash company owner has a business or economics degree to his name. But you can still effectively craft a business plan that will knock your competitors' socks off. You just have to be very thorough, careful, and critical as you conduct your first ever SWOT analysis.
The ABCs of Writing a SWOT Analysis
Every business plan starts out as a basic SWOT analysis. This is the simplest approach you can take to study your chosen industry. What could be easier than knowing the strengths, weaknesses, opportunities, and threats of/to your planned car wash business? If you think of writing a SWOT analysis as just a comprehensive research assignment, you can work up the courage to go forward with more complicated market analyses later on. This is your first step to crafting your business plan and marketing process, and, eventually, becoming your own car wash boss.
Writing a SWOT analysis, a good one at least, backs up your business. Through it you can identify key issues in the car wash industry and potential gaps in the current services offered by your competitors. Additionally, this can lead to finding innovative ways to capture and retain a sizeable market share. At the end of writing a SWOT analysis, you want to come up with ways to add better value for your customer's money and to set yourself apart from the rest of the other car wash guys out there.
Breaking Down the SWOTs of Your Business
Writing a SWOT analysis consists of two parts: internal and external. You need to look into your business as well as out of it if you want to come up with a marketing plan that will stand up to real-life circumstances. The four factors are mostly self-explanatory:
Strengths
What makes your car wash business better than your competition? Your car wash company might put greater emphasis on customer relations than others do, so that's a big plus for you.
Weaknesses
What puts you at a disadvantage against them? Are you short-staffed compared to your competitors? This could impact your ability to perform services with high turnover rates.
Opportunities
What external factors influence your car wash business for the better? Perhaps the number of car owners in your area is on an upward trend. Alternatively, current car owners may be having more disposable income to spend on their vehicle. Both of these factors present great opportunities that you need to consider and exploit while writing a SWOT analysis.
Threats
Threats are the xact opposites of opportunities. Namely, these are the external factors mthat may be detrimental to starting your own car wash right now. An example may be the presence of too much competition already. This is something that you cannot control and would definitely affect your plans.
Writing a SWOT Analysis That's Realistic
The best approach to writing a SWOT analysis for your car wash business is to keep your feet on the ground. A common mistake among start-up entrepreneurs is to be very abstract in their business research and implementation. Do not forget that many things can go wrong once the ball starts rolling. The true test of a good SWOT analysis is if it can still work despite the problems that you encounter while setting up and growing your car wash business.
Conclusion
Writing a SWOT analysis is just like doing your homework. Once you have the data ready, you can move on to the harder steps in building your business. Namely, this would be writing your business plan and deciding whether to go with an existing car wash franchise or starting your own from scratch. More importantly, you can set goals and milestones for your business and figure out how to achieve them.
For some people, buying into a strong car wash franchise is the best way to reduce the preliminary steps of becoming an entrepreneur. See the DetailXPerts website for more information on how we can help you not just with writing your SWOT analysis, but also in realizing your entrepreneurial dreams.
Enjoyed this post? Sign up for our newsletter to receive more valuable business and franchise info, ideas, and extras!