Eco Friendly Car Wash – 6 Signs It's Not Just a Trend
Are you having doubts about owning an eco friendly car wash but hesitates lest it turns out to be just a passing trend that may cost you your lifetime savings?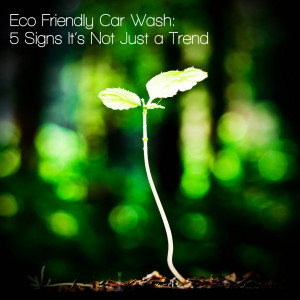 Are you having doubts about owning an eco friendly car wash but hesitates lest it turns out to be just a passing trend that may cost you your lifetime savings? Read on and find out why we, as well as other entrepreneurs, believe that the eco car wash business is here to stay.
Eco Friendly Car Wash: Is It Just a Trend?
No, an eco friendly car wash is far from being just a passing trend. And according to experts, now is the best time to invest in such a business. Below are the reasons why an eco friendly car wash faces a better future than a regular car wash.
1. You can take advantage of mass awareness
You see green power everywhere – posters, print ads, TV and internet commercials. Posters that remind you to "Save water", "Plant more trees" or "Save the forests" are placed in strategic locations all over the world not only to please the environmentalists, but for everyone to take action against global warming and other environmental issues. In fact, 74% of American adults believe in the global warming theory (according to a Harris Poll). With a huge chunk of the population gearing towards green living, you will be spending less on promotions because consumers have already entered mass awareness. These people will look for car washes that spend less water and use organic materials – things that ordinary car washes do not usually have.
2. You brand yourself with something worthwhile
Yes, you do, and that brand can provide you with a huge customer base. Studies have consistently shown that consumers are more likely to buy from brands that they have developed a relationship with. They want a business that reflects their way of life or what they value most. Since we are talking about a third of the US population becoming more environmentally conscious, you are looking at a very deep and very wide customer base for years to come.
3. You get a chance to save the world
Yes, Superman does exist – in the eyes of children who see you as the hero who saves the planet from a slow and ugly destruction. No more engine oil, gasoline, dirt and grime to contaminate the soil and underground water, thus giving all people the chance to enjoy a healthier and safer environment to live in. Rivers and seas will be clean enough for marine life to thrive and provide a steady supply of food. Well, adults may not see you as a superhero like children do, but they will appreciate you for your efforts by becoming regular customers instead of the ordinary car wash down the street corner.
4. You can give your workers a safer working environment
The plight of car wash workers who have suffered from health and medical issues brought about by harsh and toxic chemicals in some auto detailing supplies is no longer a secret. People are now aware of how such products can damage the skin, eyes and general health of car wash workers. An eco car wash can lessen and even eliminate such problems because it only uses organic products.
5. You get to save a lot of water
An eco friendly car wash that uses steam cleaning, for example, uses only a gallon or two of water to clean as many as 15 cars. If you are looking to wash a minimum of 15,000 cars annually, you can save billions of gallons of water which can cost about $200. Imagine having that extra cash that you can use for the other needs of your car wash?
6. You can start with a smaller capital
Another plus that an eco friendly car wash has over a regular one is that you can engage in mobile car washing. You can either buy a hybrid car, pack it with all the tools and supplies that you need or get a franchise from a well-known brand which can set up everything for you. This way, you do not have to invest a huge capital for building car wash buildings and hiring more manpower.
No, an eco friendly car wash is not just a trend. It is a good business opportunity that can help save the environment as well.
Are you still having doubts about owning an eco friendly car wash? Then, why don't you check out DetailXPerts franchise opportunity for more information? We are a green business and we would like to share our thoughts and beliefs as well as help build the dreams of like-minded people like you.
Enjoyed this post? Sign up for our newsletter to receive more valuable business and franchise info, ideas, and extras!