Car Wash Marketing: 5 Ways to Boost Sales with SEO
Done right, SEO and blogs can help any car wash marketing reach its ultimate goal of increasing its bottom line.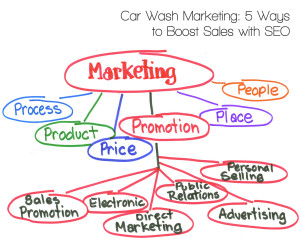 SEO and blogs – two tools that other people say are dead and will never boost the sales of any business. We at DetailXPerts believe otherwise. We know that done right, SEO and blogs can help any car wash marketing reach its ultimate goal of increasing its bottom line.
Blogging, Onsite SEO and Their Importance in Car Wash Marketing
Here are some tips on how blogging and onsite SEO can boost your sales:
1. Use appropriate tools
Car wash marketing begins with choosing the best keyword and using the right tools. You use Google's Keyword Planner to give you ideas as to how your chosen keywords will fare in terms of average monthly searches and competition. Choose a keyword that is low on competition but high on average searches. This way, you will have a topic that many people are searching for yet find very little information about it. This translates to more people visiting your site, all hoping that you can give them the answer that they have been searching for. And don't forget to use Google Analytics and Webmaster Tools so that you can keep track of your keyword's performance and your website's overall standing as well.
2. Blog about something worthy
Some car wash owners think that writing about their latest promo is enough. Doing so is not blogging but sheer advertising which can make your readers leave your page as soon as they can. Blog about something worthy that your readers can benefit from. Since you are in the car wash industry, your viewers will expect and remember you for giving them tips on how to keep car surfaces clean or how to do interior detailing.
3. Optimize your blog posts
Make sure that you put keywords to urls, title, tags, header tags, meta descriptions and alt tags. It is a good idea to use WordPress and install it with Yoast, a free SEO checker. Make sure that your title stands out from others that tackle the same keywords. When writing, I find it better to write the whole article first then insert the keywords where applicable. This way, the article's natural flow is not compromised. And make sure that you edit everything – tags, excerpt, headings – before you click the publish button.
4. Use SEO wisely
Think of it this way – every single blog post you have is just a part of a bigger whole – your website. This is why you have to make the most out of each post. Optimize each of your posts and link them to related posts. This way, your readers will be able to access your other posts, making them stay longer in your site, learn more about you and maybe even schedule an appointment. And be careful with your links. Nothing can turn off readers more than clicking links that leads them to the wrong pages. Check your pages for broken links and fix them as soon as possible.
5. Make social media work for you
Never underestimate the power of social media in terms of upping your sales. Add social media sharing buttons to your site. Why? Surveys reveal that brands that receive more "likes" or are "shared" by most people are the ones that people build relationships with and consequently, make the most sales. Yes, Facebook, Twitter, Instagram, Pinterest and other social media sites do foster relationships – both personal and business.
Learning to use SEO and blogs appropriately can increase the effectiveness of your car wash marketing and boost your sales as well.
SEO, SMM, CRM are just a few of the topics that our business experts talk about in DetailXPerts. Just click the link and learn more about the car wash business or franchise tips and tricks.
Enjoyed this post? Sign up for our newsletter to receive more valuable business and franchise info, ideas, and extras!