7 Ways to Increase Productivity of Your Car Wash Employees
As experts say, motivating car wash employees is easier said than done, what with the social stigma attached to "dirty jobs". So what can you do to increase productivity?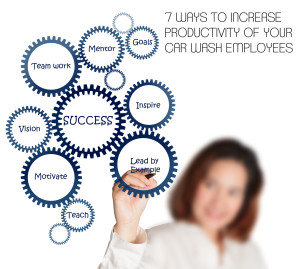 "Treat a man as he is and he will remain as he is. Treat a man as he can and should be and he will become as he can and should be."
Stephen R. Covey could not have said it any better. Treat your workers in ways in which they can increase productivity and they will be valuable assets to your business. But how do you, as a car wash owner, go about it?
As experts say, motivating car wash employees is easier said than done, especially with the social stigma attached to "dirty jobs". So what can you do to boost their productivity?
7 Ways to Increase Productivity
1. Share your passions
As it is, car washing is already a difficult job. Workers have to scrub wheels, polish exterior and interior paint, vacuum carpets, clean engines and so on. Not to mention the health risk it may pose as employees are constantly exposed to the vapors and spills of harsh chemicals. More often than not, car wash guys come from low to zero income households who will take on any job that will provide them with a means to feed their families. They only see their jobs as a necessity that they have to go through every single day, not as a job that they would like to hold on to and be proud of.
In addition, this line of thinking can definitely affect their performance. Increase productivity by sharing your passion for cars and telling them of the huge role they play in preserving the environment and in keeping the health and safety of their customers by cleaning their cars.
2. Promote camaraderie
No man is an island, as all of us have known since we learned that the world does not revolve around us alone. Remember your school days, when you cannot wait to attend your classes the next day, because you knew that you and your friends would meet once again and share happy moments together amid difficult projects, terror teachers and long, long tests? Yes, those were difficult but fun times. That is the kind of culture that you should aim to achieve in your car wash. Give your undivided attention to your employees a few minutes each day, preferably before or after work where they can get to know each other well. Ask their opinion on how to address the issues in your car wash. Join the fun, exchange playful banter and learn about their personal lives as well.
3. Pay them according to existing standards
It is true that there are car wash owners who hire illegal aliens, out-of-school youth and the like for a measly salary. Do not be tempted to do the same if you want to increase productivity. Pay them according to just standards and follow labor regulations.
4. Give them a lunch break
As stated earlier, car washing is by no means an easy job. Employees have to work anywhere from 9 to 12 hours a day, depending on the number of customers. They have to withstand temperature extremes and ite customers as well. What can be more rewarding to them than being able to eat their lunch in a clean and shaded area where they can take a power nap or socialize with their fellow workers? This may seem simple, but this can actually increase productivity of your employees.
5. Reward them well
Rewards come in different forms – a pat in the shoulder, posting names of employees on bulletin boards, candies or other treats that they can take home to their kids and even Increase Productivity Coupons which they can exchange for cash after they have reached a certain number of points. Such small tokens of your appreciation can develop a deep sense of gratitude and foster a deep sense of loyalty.
6. Set boundaries
Yes, it is okay to be one of the boys and to be friendly with your employees, but set boundaries. Some car wash employees may abuse your kindly act and cross the lines that must exist between healthy employee-employer relationships. Make them realize that you can be friends after their shift, but that you have to be strict and establish discipline during working hours. For example, relaxing or horsing around is okay during their lunch break but not when they have tasks at hand. This will increase productivity and gain customer satisfaction as well.
7. Be visible
You can also increase productivity by going around the car wash from time to time. Check and guide the performance of new hires. Ask idle workers to clean and organize your storage area. This way, all your employers will be aware that you do not allow the wastage of precious time.
You can increase productivity of your car wash workers by using the tips above. Better yet, be one of our franchisees so you can benefit from our business knowledge and proven business model, including training and motivating employees.
Enjoyed this post? Sign up for our newsletter to receive more valuable business and franchise info, ideas, and extras!