Before Starting a Car Wash Business, Make Sure It's Right for You
The car wash business like every other business is not without repercussions. It has its own share of pros and cons, ups and downs, wins and losses, all of which any entrepreneur must be aware of before he plunges deep into the auto wash industry.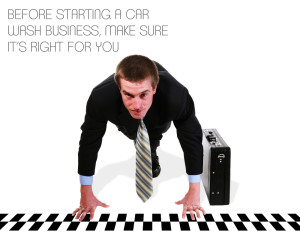 Anybody who wants to venture into the car wash business has one thing in mind – to succeed in his endeavor in order to gain financial independence and ultimately, a stable source of income for his family's future. But like other businesses, the car wash is not without repercussions. It has its own share of pros and cons, ups and downs, wins and losses, all of which any entrepreneur must be aware of before he plunges deep into the auto wash industry.
Car Wash Business: Is It Really the Right One for You?
So you are really bent on joining the car wash industry? Congratulations! This business is profitable, fun and exciting – to the right person, that is. The question is, are you that person? Here are some points to consider before you plunge into the car wash business to avoid the mistakes business owners make when running a car wash business.
You love everything about cars
There are car lovers and there are car lovers. If you are the type who loves cars and do not mind getting dirty with them, then, the car wash business is worth considering. Do you keep your car showroom shiny at all times? Do you look at your neighbors beautiful but neglected cars and think that you can turn those autos into beauties? And here's the bonus: you do not have to admire top-brass cars from afar because their owners will take them to you. You will have all the chance in the world to touch the cars that you love yet hate the hefty price tags that go with them. Imagine getting up close and personal with Ferraris, Jaguars, and Lamborghinis on a daily basis.
But here's the catch: you and your staff have to clean cars every single day. Yes, that includes you. As any car wash owner will tell you, your pair of hands might just be your car wash's saving grace during peak days or when a few of your workers decide to take the day off due to sickness or family matters. Can you deal with this?
You have some entrepreneurial skills
No, you do not have to be a business guru to start a car wash business, but you must, at least, understand the basics. How can you create a sound business plan if you do not have this kind of knowledge? How will you valuate a car wash for sale? How will you know if your car wash is really making money, breaking even or heading to bankruptcy? Yes, you can hire an expert, but it is highly recommended to use his services for consultation purposes only. Otherwise, you will be missing the learning opportunity and the excitement that comes with starting a new business.
You can take risks
Forrest Gump said, "Life is like a box of chocolates, you'll never know what you're gonna get." It is the same thing with the car wash business – you never know where your efforts may lead you. There will be times when the money made in your car wash business will not be enough to sustain the business, especially during the first year, when you have just invested huge amounts of cash for your location, buildings, manpower training, advertising, social media and so on. You might have employees that steal from you and your customers. Your wastewater treatment facility might leak. Your seemingly foolproof business plan does not seem to work. You might find yourself borrowing from banks, family and friends. Are you willing to take the risk?
You are a people person
A car wash owner like you must be comfortable around people. After all, this business is service-oriented. This means that you will come face-to-face with all kinds of people, some good, some bad. The good ones are a joy to have, but how do you deal with dishonest or hard-to-train employees? Irate customers? Suppliers who do not stick to deadlines? Ignoring these people won't do any good, but neither will over-reacting. Can you stretch your patience? Can you deal with them without getting angry? If you said yes, then, your business is likely to succeed.
You weigh your options well
Luckily for you, the car wash business now gives you more and better possibilities. You can consider buying a car wash for sale, build one from the ground up or buy a franchise. You can purchase new or used tools and equipment, prefer organic auto detailing supplies over chemically-laden products or even go mobile. You must know what you really want, conduct your research and be realistic with your budgetary limitations to help you decide which course to take.
Do you want to get into the car detailing industry but don't want to walk alone? You can become a franchisee and benefit from our business and industry knowledge and expertise as well.