Car Wash Franchise – 7 Reasons It's Your Best Business Startup Option for the Year 2015
Business trends and consumer reports predict that the car wash and auto detailing business has all the chances of success in 2015. DetailXPerts give you 7 reasons why.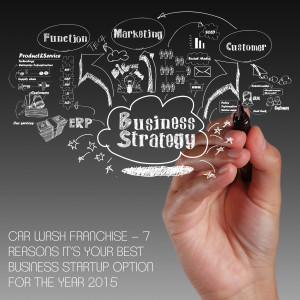 The third quarter of 2014 is halfway through – time to think of a business that can provide you with financial independence, freedom from the bounds of the 9 to 5 workplace and endless excitement from running a business of your own. But since you do not have the necessary funds for setting up a business from the ground up, you are zeroing your sights on a franchise. Restaurants are good but labor-intensive; auto repair shops are said to be profitable, but requires a lot of documentation and a licensed mechanic; vendo machines can also be an option, but the competition is fierce. How about a car wash franchise?
Car Wash Franchise: 7 Reasons Why It Can Be the Best Business Option for 2015
Business trends and consumer reports predict that the car wash and auto detailing business has all the chances of being successful in 2015 due to the following:
1. Marked Growth
Statistics show that from 2006-2011, the annual revenue growth of the car wash industry was a mere -1.6 %. This has risen to 2.3% from 2009-2014. Experts say that this increase is due to the growing number of different types of car wash franchise businesses ranging from self service to mobile car washes. Ease of setup, lesser documents to accomplish and a burgeoning number of car owners who need to preserve the beauty and maintain their vehicles are some of the factors that influence entrepreneurs to choose this line of business. And judging from surveys, we can say that this industry will continue to grow through the years. It is not just a trend but an enterprise that evolves with the changing of times. Will you allow yourself to be left behind?
2. Needed by consumers
According to the article Automotive Industry Analysis 2014 – Cost & Trends by franchisehelp.com, the car wash industry is among the businesses that will prosper in 2015 due to the increasing number of American consumers who would rather take care of their cars rather than buy new ones. By doing so, they are prolonging the lives of their prized possessions to as much as 63.9 months on average. This is brought about by recessions, unemployment and an increasing awareness to green living.
3. More Resources
Long ago, a car wash was simply an area where cars were washed. During those days, car wash owners only relied on neighboring auto washes whenever they needed advice on which auto detailing products work better, which tools and equipment last longer and so on. They shared tips, their own version of product reviews, advertising strategies and so on. Thanks to technology and the efforts of car wash organization leaders like CEO Eric Wulf and Board Chairman Gary Dennis of the International Carwash Association® (ICA), you, the car wash franchise business owner of today, have access to better products and more reliable information through carwash trade shows and exhibits such as the upcoming "The Car Wash Show Europe™" which will take place in Amsterdam, The Netherlands, on Oct. 5-7, 2015, at the RAI Exhibition Center.
4. More skilled workers
Gone are the days when car washing was merely an odd job offered by a next-door neighbor armed with a hose and a pail. With the proliferation of DIY car washing and auto detailing tips in the World Wide Web, seminars and workshops conducted offline, books and manuals written by experts, this "menial" task is now done by trained car wash workers and auto detailers whom you can hire for your mobile car wash franchise.
5. More investors
Ask any business guru and he will probably tell you that starting a mobile car wash franchise or stationary auto wash with a limited capital is like sending your car wash to oblivion, unless you have another source of income or reliable investors. With business trends favoring the car wash industry, your car wash business plan has a huge chance of attracting would-be investors. After all, investors only put their money on businesses that they know will bring in the cash.
6. A greener option
Aside from traditional car wash franchise systems like full-service conveyor wash or in-bay automatic wash which both consume huge amounts of water, you now have the option to go green via an eco car wash. This does not use a lot of water and does not contaminate the soil, surface water and groundwater. Plus, and this is a big plus, business predictions for 2015 favor green enterprises, thanks to the growing number of environmentally concerned consumers. Imagine being a part of a community that aims to save the environment? You will benefit from it.
7. Less for more
If you invest in a car wash franchise, you are actually getting more than what you bargained for. This is especially true when you buy a franchise based on industry statistics and a good market position. For $68,000, DetailXPerts, for instance, offers you a unique, patent-pending steam-cleaning method for cleaning cars; a solid brand that has gained public trust and recognition; support and assistance from day one until the experts deem you capable of running things on your own; and access to great marketing strategies through the franchise blogs.
A business for keeps
Just consider all the reasons why a car wash franchise is a good option for 2015: it is growing steadily and provides you with valuable resources which you can use to make your business look more appealing to experienced workers and likely investors. More so if you choose an eco car wash, which will not only help you save the environment but increase your revenue as well. A very worthy investment, indeed.
Why opt for a car wash franchise? Because it has all the makings of a very successful business venture not only for 2015 but for years to come.
Enjoyed this post? Sign up for our newsletter to receive more valuable business and franchise info, ideas, and extras!