Spending a Day with a DetailXPerts Franchisee: Terry Cleveland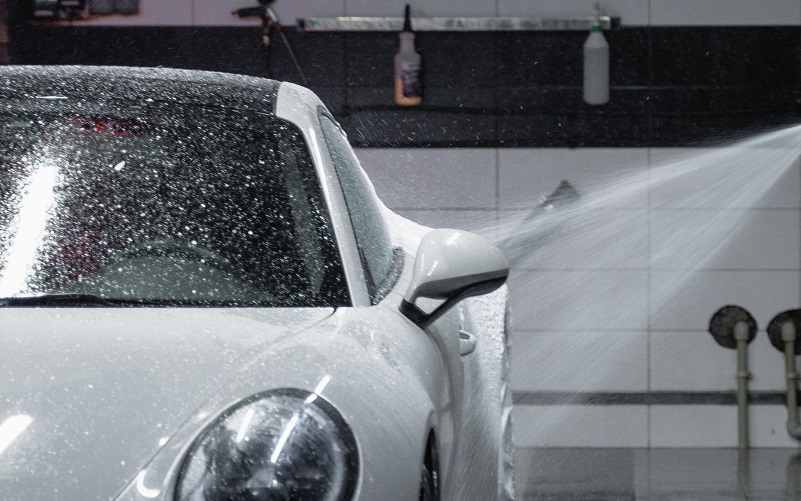 Terry Cleveland begins his day at 6am, not because he has to, but because he chooses to. Cleveland is DetailXPerts' first franchisee and is both owner and operator of a mobile DetailXPerts Car Wash in St. Petersburg, Florida. His mornings consist of eating a large breakfast and reviewing the day's scheduled locations for the mobile car wash. Lets see more of the DetailXperts franchisee day!
DetailXperts Franchisee Day
The DetailXperts franchisee day starts with a hearty breakfast and prepares for the work day. Then Cleveland leaves his home to meet his employees at their first location by 7:30am. Upon arrival, the first order of business, for the mobile steam car wash team, is setting up.
During this time, Cleveland reminds his employees of the number of locations they will be going to and the length of time they will be at each location. There will be no house calls (servicing individual clients at their homes) today. Instead, the team will be stationed at three different locations; first, a local country club, then a shopping plaza and finally a shopping mall for the remainder of the day.
DetailXperts franchisee day also include inaugural time to greet, and speak with, each employee.  Cleveland asks his employees about their mornings and assesses their emotional states. As Grade A Customer Service is top priority, Cleveland wants to ensure that everyone is ready and able to give each customer they encounter the stellar car wash experience DetailXPerts is known for.
"In this business you have to have people skills. I run my business in a way that lets my employees know I care about them which motivates them to consistently produce first class customer service," says Cleveland
Each location requires an initial set up which takes about 30 minutes to complete. These 30 minutes are used to lay out and organize the tools of the trade including: a vacuum, buffer, cotton cleaning cloths and window squeegees. Meanwhile, signs are also put up, in and around the surrounding areas. The signs make customers aware that DetailXPerts is stationed nearby as well as directs them to the actual location.
Becoming A DetailXPerts Franchisee
In 2008, Cleveland signed on with DetailXPerts to become the first franchisee of the DetailXPerts Franchise. Cleveland says his decision to become a franchise owner with DetailXPerts was spurred by his desire to be debt-free and to create generational wealth for his family.
"DetailXPerts has changed my life because it has given me freedom in all aspects but especially with my time and income. I am in control of my life and I decide my destiny."
Cleveland will tell you that he had no apprehensions when he made the decision to become a franchisee. "DetailXPerts offers unlimited support. The DetailXPerts business model educates you on how to manage a car wash franchise as well as shows you the value of what you are investing in."
Schedule Flexibility
Cleveland and his employees experience unlimited flexibility in their work schedule as a result of Cleveland's mobile car wash business. Lunchtime varies, depending on the number of scheduled locations and the number of additional house-to-house clients they have for the day. People are free to take lunch whenever they want; lunch can be as early as 10am or as late as 12pm. Today, Cleveland takes a 40 minute lunch break at 11:15am.
The mobile car wash shuts down at different times every day. The team may have every appointment checked off as early as 1 pm, depending on the demand for that particular day. Some days are longer, ending around 4 or 5 pm. Today, after visiting three locations, the car wash closes at 4:30pm.
Leaving a Legacy
Cleveland is a family man with long-term goals for both his business and his family. His children are all adults, who are out of the house and live in a different state. However, as a franchisee of DetailXPerts, Cleveland has the power, and is at liberty, to visit them as often as he wants. Cleveland is also free to call up his children and speak to them through out his workday.
Ultimately, Terry Cleveland's goal with his DetailXPerts franchise  is to leave a legacy that his family can be proud of. Cleveland works diligently to establish his business now to ensure that his children can pick up wherever he leaves off.
"With a DetailXPerts franchise the opportunity for business is unlimited. As the owner you decide how big or small you want your business to be. At the end of each day I am content. I can honestly say I love providing this service to my customers. I am building a legacy for my children. I'm taking care of the environment while running a business. I'm living my life to the fullest. It's a rewarding feeling."
To learn more about starting a new car wash franchise business of  your own, check out the DetailXPerts opportunity and like Terry Cleveland you can experience the mobility, flexibility and freedom of car wash success.
Enjoyed this post? Sign up for our newsletter to receive more valuable business and franchise info, ideas, and extras!