When Choosing a Franchise: The Importance of Assessing Franchise Growth
The importance of assessing the growth of a the franchise that is being considered. Franchise growth influences the success of the business.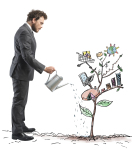 The growth rate of a franchise is a very important measurement of the health of any franchise company you may be considering an investment in. Franchise growth isn't necessarily about the fastest growing company or the highest number of new franchises. Like anything, a franchise needs to exhibit a healthy and manageable growth curve. Growing too fast can lead to problem management issues down the line. Just as growing too slowly can lead to stagnation and its own set of challenges. What factors influence franchise growth? How does this influence your own franchise choices? The truth is, there is no standard to follow, but with a few helpful guidelines and tips, you can get all the assistance you require when assessing the growth of your potential franchise.
Determine the Growth Ratio of New Franchises
As we previously mentioned, this information is not readily available via public forum. The franchisor should be able to easily provide the number of new franchisees added every year in order for you to determine the growth ratio. As a general rule of thumb, you are looking for a 10%-35% growth rate per year. This means that if the company has 100 franchisees, they should be equipped to support an additional 10 to 35 new franchisees.
Of course, this is a very generalized guideline that most businesses follow. It may not work for very small or large companies. If you are considering the franchise growth of one of these types of company, it may be better to take a look at the franchisee support structure.
Is Support Readily Available?
There should be at least one support person for every 10 new franchisees. This basic guideline ensures that you, as a new franchisee, will receive the support, preparation and guidance you need to be successful in developing your business. If the franchise growth rate is too fast, the franchisor may find that they have an inadequate amount of support staff to manage all of the aspects related to the start up of a new franchise.
You can determine the level of support by contacting the existing franchisees. Here you can pick their brains about a number of issues, including information about initial and ongoing support. Smart franchisors understand that their franchisees need assistance in order to succeed. The growth rate of a company is a strong indicator of more than just profitability, but that healthy support structure as well. It gives you an indication of company stability, and that company's ability to support you as a new franchisee.
Many Factors Influence Franchise Growth
As a potential franchisee, it is your responsibility to assess the factors surrounding franchise growth. When choosing a franchise to commit to, most people would start by assessing profitability. There are numerous sources offering lists of the most profitable franchise choices. A little known fact is that the franchisor's income and revenue are the least meaningful measurements of franchise growth. If a franchise system has the support structure and stability to commit to you for the long haul, it is pretty irrelevant to focus on how quickly their profit margin is increasing.
The number of units is another way to discern franchise growth. It will give you a clear perspective of the support structure and the franchisor's workload when it comes to caring for their franchisees. Determine how many units are a franchisee's first unit versus many units being opened by an existing franchisee. It goes without saying that if a franchisee is opening numerous units, they are doing something right. If a tenured franchisee is opening new units, it is a great indicator that you, as a new franchisee, will receive great support in a stable and healthy franchise system. The tenured franchisee will not take up as many resources when it comes to needing help and support as they have gained the necessary experience needed to manage their franchise. On the flip side, few new units is indicative of a problem in the franchise system. If you come across this red flag, consider choosing a franchise that offers more stability. This lack of growth could also be indicative of a lack of market credibility.
Focusing on a franchise's market credibility is a huge factor in franchise growth. Will your chosen market location respond positively to your service? Is there a genuine need for your service or product? Market credibility is a major "watch-it" factor. You do not want to jump into a franchise system that is unnecessary in your market or has a bad reputation. Market credibility is the main reason why investing into a car wash business is such a responsible choice. We live in a mobile world, and the annual growth percentage of the car wash industry reflects this. Car owners need to ensure that their property is well maintained and this creates a need in the market. The car wash industry is definitely a market that is expected to continue growing steadily.
Make sure to keep yourself updated through our franchise blog for valuable information that may facilitate your franchising decisions. If you are considering stepping into the role of a car wash business franchisee, why not start with a little car wash business 101.
Enjoyed this post? Sign up for our newsletter to receive more valuable business and franchise info, ideas, and extras!