Full Service Car Wash: Troubleshooting Tips
If you discover your full service car wash revenue is down, instead of worrying about it, find ways to solve the problem. DetailXPerts offer 5 ways to improve your car was business' success.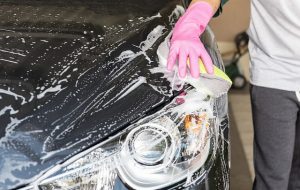 When your full service car wash revenue is down, it's your job to look at the reasons why and try to resolve them. Whether the issues are with your staff, your marketing strategy or your equipment, you need to try and improve the situation in order to raise your profits.
Let's look at some full service car wash troubleshooting tips on possible culprits that are keeping your profits down and what can be done about bringing your car wash revenue up.
Dishonest Employees
Dishonest employees can be difficult. Whether they are stealing from the drawer, disgruntled because they are not being heard, or giving away free services, add-ons or discounting upgrades, find out the reasons why they are being dishonest. Figure out if you just need to rid yourself of an unwanted employee or if you need to have a one on one talk with an employee to find out the underlying causes of their dishonesty. Maybe they need more employee training because they are not always following policies or procedures. Maybe they just do not know or understand the reasons why giving away free services or discounting upgrades hurts the business in the long run. Are they rude to the customers or talk about others within earshot? With proper training and guidance you can turn your dishonest employees into stellar ones and maybe learn a few things about them in the process.
Improving Sales
Improving sales isn't always easy. The first step you can take is to invest in some more local advertising and better customer retention. Or perhaps you offer a discount or run a promotion to draw in new customers and raise your sales. Being innovative will also help. Set up an account on social media and promote your services and strengths. Hone in on aspects of your business that are unique to you; if you use less water than your competition or use biodegradable products, let your customers know.
In this more health conscious world we live in, be sure your customers know what you are doing to help the environment too. Offer add-ons, upsell features or additional services while your customers are waiting. You can also take advantage of your captive customers by providing snacks, drinks and other small useful items for sale in the waiting room. "Time is money" as someone once said, and having a place where many activities or items can be crossed off a to-do list at one time is even better for the customer. For instance, offer customers a mobile work station with a space to work with WiFi access; have a small gift card kiosk, greeting cards or other small gift items to allow for additional time for your customers. These small details are appreciated and will be remembered the next time they need their vehicle cleaned. Word of mouth is one of the easiest forms of advertising and it doesn't cost you anything.
Check Equipment and Inventory
Be sure to check all of your equipment and upgrade your systems when possible. It is hard to run a top notch car wash franchise when your equipment looks old and dated and is starting to break down. Upgrading equipment, even if your older items are not worn, is a great way to keep your business looking its best. Regularly checking and maintaining your equipment for any issues will also increase its lifespan. Making sure you have enough product on hand in your inventory is a must too. Consider buying in advance to ensure your shelves are well stocked and product doesn't run low for the coming customers.
Management
Management is an important part of your car wash business. Whether you are there full time or even occasionally, having other managers working for you is a plus. They are your eyes when you are not there and employees will usually flourish with similar management styles. Employees look to management when there is a disgruntled customer. Management ensures safety measures are in place, employees are well trained and know what is expected of them and procedures are followed. Management may also sell not only a great car wash experience but loyalty from the customers they serve. Management can make a good car wash franchise into a great car wash franchise by allowing employees to shine and allowing stellar employees to tackle the toughest tasks. It also allows for a car wash franchise to reward employees for outstanding performance without having employees feel like they are having to "look over their shoulder" all day.
Finding New Customers
Finding new customers is an easy way to introduce yourself to a new customer base. Having current customers is a sure fire way to let word of mouth speak for itself. Thinking outside of the box may bring in droves of new customers if what you are doing is done properly. Hold a "dirtiest car" contest or give away a free wash to the 100th customer of the week. Advertise on social media such as Twitter or Facebook and create a buzz about your car wash business. Networking with other local businesses is another way to bring about new customers. Your local Chamber of Commerce is a good place to start if you are a new business to the area.
Whatever the reason your profits are down, why not subscribe to DetailXPerts' newsletter where you can always find valuable tips, tricks and the latest trends in the car wash industry that will help your profits rise and help you stay on top.
Enjoyed this post? Sign up for our newsletter to receive more valuable business and franchise info, ideas, and extras!