IT'S ALL IN THE DETAILS: Sales Pitching and the Truck Detailing Business
Did you know DetailXPerts Franchise has a new LinkedIn column on the automotive, car wash, and auto detailing industries?
The column is entitled "It's All in the Details" and it publishes every Wednesday.
This week's column,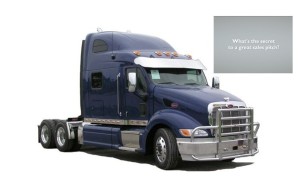 "Sales Pitching To Secure Clients For Your B2B Truck Detailing Business"
focuses on practical sales pitching strategies you can use when introducing yourself, and your business, to local trucking companies.
As the owner of a new truck wash and detailing business you should expect to spend a large part of your time selling your services. Thus, having sales experience and/or superior selling skills will give you an advantage.
It is important to understand that sales pitching is a process which includes everything from planning, to delivering what you promised. Securing clients and having successful sales is the result of time and effort and your truck detailing business cannot afford to skip the promotion process.
The LinkedIn article also touches on offering maintenance contracts and gives an example of a what a maintenance program could include.
Next Wednesday the column will address pricing strategies that can be used in the truck wash and detailing business.
To read the entire article featured in this week's LinkedIn column, click here.