Car Wash Menu: The Pros and Cons of Having One
When you introduce a car wash menu to your business it should contain a few important things. However, you don't want to over confuse your customers with a complicated menu. Read on to see the pros and cons of a car wash menu.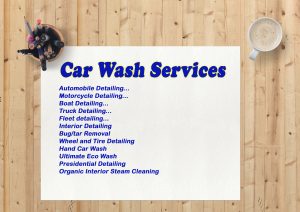 If a restaurant menu tells you what a restaurant offers, a car wash menu could give you a quick glance of the car wash services offered and their respective prices. They most often have packages grouped together for a much-discounted price. Today's fast-paced world and the value we put on our time have made the car wash menu an important element of a car wash marketing planning process and business strategy. Below is a rundown of the pros and cons of having a car wash menu.
Pros of a Having a Car Wash Menu
Branding
Your car wash menu contains all the services you could offer to your market. It may also contain packages that you have set for your valued customers to experience at a discounted price. In short, your car wash menu should speak highly of the service you offer. This could be your opportunity to let your customers know how you value them. A well planned menu will tell your customer that you understand their needs and you give high regard to their visit. You can have a basic package and add-on services like interior cleaning, detailing, etc. for only a few dollars more. This should make the customer come back since the car wash trip was all worth it. Preparing the car wash menu will require you to research auto detailing prices. This will teach you how to set prices competitively.
Whether the menu is posted on a signage at the entrance of your establishment or on your website, it should reflect your brand. A good menu will have an impact on customers who otherwise would not have known your car wash business.
Interestingly, if your car wash menu is in a hand-out form or a brochure that you give out to your clients, you could also include valuable information, such as how eco friendly your business is or how you utilize a certain system that has been proven to be the newest trend in the car wash industry. This information will give your customers more reason to patronize your services. You can highlight all these details that add to your brand if you have a car wash menu.
Introduce Special Services
Preparing packages will allow you the opportunity to include services that are not in demand by pairing them up with in-demand services. This way, you maintain a good balance of supplies with almost all services patronized. Careful planning out of package services would also give you the chance to gauge whether there's a need for you to take out certain services from your everyday operation. It can also give you a good clue if there are new services you need to offer. On the same note, your car wash menu may also include special amenities that you can introduce to your market. These unique services can be the trademark for your car wash business that makes your service different from your competitors.
Marketing
Your car wash menu is a sincere reflection of what you can offer your clients. When a customer goes to you for a car wash and sees the packages on the menu, they can see that you also offer other services like auto detailing. Your customers will remember this, and in their next conversations with a friend or a colleague that makes mention of an auto detailing job they need, your customers can confidently point their friend to your business. Just remember, clients will not go to your business for a certain service if they do not know you offer such service. Your car wash menu can solve this issue by letting customers know outright what your car wash business can offer.
By itself, your menu signage is an inanimate salesperson that could introduce your services to prospective clients. Well planned out packages can help your customers decide which services they need at the time of visit. Your car wash menu signage should be simple, easy to understand and pleasing to the eye. Keep in mind that font, design, layout and even choice of words play very important functions in your car wash menu signage too.
Cons of Having a Car Wash Menu
Can be too complicated for the customers
For some customers, however, looking at your car wash menus with a wide choice of packages included could be an extra task to do. With a whole lot of decisions to make, a long list of services to try out, and a variety of prices to calculate, when all they want is a car wash, can confuse and turn them off. Most marketing strategists say that the best way is to keep your car wash menu simple, clear and concise. Do not forget to include ala carte services so that clients who do not want packages have simple options to choose from.
Additional Expense
A car wash menu signage can be an additional expense for the car wash owner. No matter how simple the menu signage is, it can still be an expenditure for the business. Another expense would be payment for a marketing strategist to plan out the car wash menu. It could also entail additional research since you cannot haphazardly put prices onto the packages based on mere whims without studying competitor prices, expenses incurred, most in-demand services, and a lot more details. You need to set up a pricing strategy plan that will help you set the right prices for auto detailing. When you have pre-planned packages to offer, you have to make sure that your staff is trained to answer questions about such packages. They should be able to differentiate which ones are better for certain car types and customer needs. They should recognize clues and know when to offer each of the packages, etc. All of these could definitely add on to your expenses sheet.
There are various ways to achieve a smooth marketing planning process. A car wash menu can be one valuable tool to consider. However, the key is careful planning, designing and accurate research to make this strategic tool work. Before plunging into creating your car wash menu, subscribe to our blog and read more tips and valuable ideas on how to boost your car wash business revenue.