Truck Detailing Supplies: EcoSmart-RU Waterless Wash & Wax Review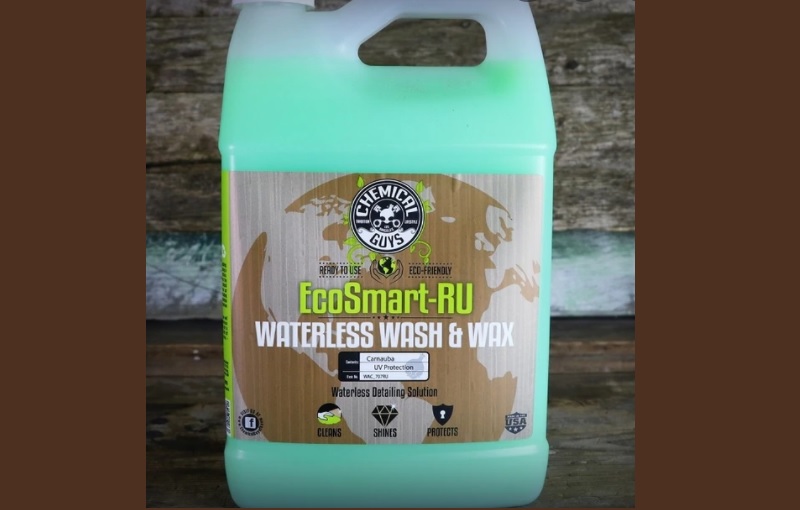 Cleaner wax is one of the most essential truck detailing supplies. It is something that your truck wash detailing business should never run out of. Applying a good coat of cleaner wax after washing and drying off the body of the truck is essential to a good detailing job.  One of the most popular waxes today is the Chemical Guys EcoSmart-RU Waterless Car Wash and Wax from Chemical Guys, worldwide provider of high-quality car care chemicals and car wash accessories. The question is, should you really include EcoSmart-RU in your arsenal of truck detailing supplies?
Features of EcoSmart-RU
Here are some of EcoSmart-RU's most distinguishing features:
1. One-step Truck Detailing
According to Chemical Guys, EcoSmart-RU is a complete waterless detailing system that cleans, shines, and protects any vehicle. It is formulated using unique eco-based natural carnauba to emulsify and lift dirt away from the surface. Dirt and debris, once suspended in the solution can safely be removed without scratching the vehicle's exterior. Eco Smart-RU protects any vehicle and enhances shine.  Amazon.com consumers have reviewed and said that  "EcoSmart-RU is a combination of waterless wash, wax, polish and sealant which delivers a perfect finish to any vehicle." 
Are you wondering what RU means? It is an acronym that stands for Ready to Use. Aside from your car's painted surfaces, it can also be used on glass, wheels, plastics, engine bays, undercarriage, and even metal  surfaces. This revolutionary product is able to remove dirt and contamination from even the most sensitive areas. All you'll need is a bottle of EcoSmart-RU and a couple of soft microfiber towels. Once sprayed, the unique formula of EcoSmart-RU lifts and separates dirt from the surface, suspending it in a unique blend of hyper-surfactants, natural carnauba wax, and slick lubricating agents. Then, the various contaminants that covered your vehicle's beautiful finish can be safely and easily wiped away with a soft microfiber towel.
The towel you use to wipe it off and polish the truck also has a lot to do with getting good results. If you use an ordinary towel or rag, you wouldn't get the same result. So, if you're going to add EcoSmart-RU to your truck detailing supplies, better add soft microfiber towels as well. After dirt and contamination is removed from the surface, a special combination of natural carnauba wax and synthetic sealers give brilliant shine with superior protection.
2. Easy to Use
Using this product is very easy. Just spray it onto your car. Wipe it off with a microfiber cloth rag in one solid direction. Using various directions will redistribute the dirt. Use another clean, dry microfiber towel and wipe off any residual wax. Done! Nice, quick and easy! Utilizing the EcoSmart-RU detailing system allows you to fully detail any vehicle using one amazing product with the highest quality results in less time.
3. Eco-friendly: Cleans without water!
EcoSmart-RU is the green, eco-friendly solution to a complete auto detail. It washes, waxes and protects vehicles without using a single drop of water.  The average commercial car wash uses 45 gallons of water per wash, and the average amateur uses up to 150 gallons of water per wash with a hose. Perhaps more so with a truck wash business. EcoSmart-RU saves over 4,000 gallons of water a year. It cleans your vehicle while saving the environment. It easily cleans away dirt, grime, road film, and contamination. And to top it off, it has a nice, clean scent.
We all know how important green businesses are for our environment. Instead of using ordinary vehicle shampoo, conditioner, wax and other truck detailing supplies,  why not try the ones which are proven effective, economical and environmentally friendly as well? A 32 oz. spray bottle of EcoSmart-RU can clean up to 4 standard-sized vehicles. A lot of new users have been amazed with how EcoSmart-RU can really clean a moderately dirty car or truck without water.
EcoSmart-RU can clean and detail it in one step without a snag. Some skeptics worry that cleaning a vehicle without water may scratch the paint. According to Chemical Guys, EcoSmart-RU is designed to safely remove dirt and contamination from the surface without harming or scratching the painted surface. Advanced hyper surfactants allow the dirt to be surrounded and pulled from the surface while gentle lubricating agents allow the towel to glide effortlessly on the surface ensuring a perfect finish with a superior shine.
4. Improved formula : EcoSmart RU Concentrate
EcoSmart-RU has been widely received with great reviews. However, Chemical Guys did not rest on their laurels. They went ahead and listened to the critics. Thus, the new and improved formula: 30% More Carnauba for a more refined formulation, micro refined clay to provide more protection and extra shine, newly synthesized lubricating agent that virtually reduces friction to minimize scratching surface and improved shine and durability with enhanced UV Protection. This is also available in concentrated form. EcoSmart-RU is ready to use or can be rediluted to 1:1 or even 1:2, 1 part EcoSmart-RU and two parts water. EcoSmart Concentrate, on the other hand, can be diluted to 1:16.  Simply mix one 16oz bottle of concentrate with two gallons of clean filtered water.
Conclusion
People who have used it love it! Majority of the customers who gave their reviews on Amazon.com gave EcoSmart-RU the thumbs-up. Of the 163 reviews, 57% of the customers gave it 5 stars while 29% rated it with 4 stars. EcoSmart-RU cleans and details vehicles in just one step. It's efficient, effective and  environment friendly. Thus, it is best for your "green" truck wash detailing business.
The truck wash industry has a lot of available products in the market nowadays. It is best to get the latest advice from the automotive experts. Check out our blog and get information directly from the DetailXPerts!