10 Most Popular Fast Food Franchises in the US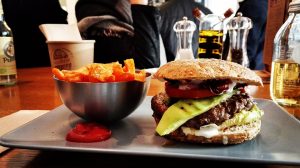 Mc Donalds, Taco Bell, Subway, Jimmy John. These are just some of the most popular fast food franchises in the market today. But which are the most appealing to entrepreneurs that can provide gains beyond the ka-ching of the cash register?
Fast food franchises still top the list of business opportunities in 2017. Although projections for 2017 show a lukewarm performance for the said franchise, it remains to be a tough contender.
So which fast food franchises have made it to the top? We did our research to bring you ten of the most popular.
Most Popular Fast Food Franchises in the US: Top 10
1. Subway
With more and more Americans jumping on the healthy lifestyle bandwagon, it's no wonder that Subway has inched away from its competitors. People love it because they can choose what to go into their sandwiches, as opposed to other brands. It currently has 44,830 stores worldwide.
2. Mc Donald's
Regardless of health and labor issues, Mc D still belongs to the top 10 list of fast food franchisees, albeit budged from its number one position by newer players. Known for its "Speedy Service System", Mc D continues to serve more than 58 million consumers globally, every single day. Its food offerings are affordable and buying them is fast and easy since they have 36,615 stores worldwide. Startup cost is $1-$2.2 million.
Here's more information on startup costs and other details.
3. Jimmy John's
Who would have thought that the sandwiches created by a 19-year old will be one of the top fast food franchises today? Jimmy John's does not rest on its laurels, though. It's owner, Jimmy John Liautaud, believes that his gourmet sandwich, which used to be a specialty sandwich years ago, is just another commodity nowadays, what with a huge number of competitors out there. Time, Jimmy says, is the new currency. "If a product is excellent and holds up from the time it's made to the time it's delivered, you have a winner. But if it doesn't hold up, that can kill a brand. There's nothing worse than 30-minute-old french fries." Startup cost is between $325,500 to $555,000.
4. Dunkin Donuts
Who can resist the appeal of cheap, delicious donuts and coffee? With more than 12,000 restaurants in 36 countries, Dunkin Donuts remain to be a top contender in the fast food category. People love its freshly-brewed coffee and donut varieties. It also offers different kinds of drinks that consumers love. Startup cost is $250,000.
5. Sonic Drive-In
Sonic, the American Drive-In that sells hotdogs and other food and drink variations than you can ever imagine, is now available for franchise. The flexibility of its menu and a more personalized approach to its customer service is what keeps consumers coming back for more. Startup cost is between $1.07 million to $2.36 million.
6. Pizza Hut
What makes Pizza Hut appealing to entrepreneurs? It comes from the globally-recognized Yum! Brands that also includes KFC and Taco Bell. It also has numerous field offices ready to support its franchisees at every level. Startup cost is anywhere from $297,000 to $2,000,000.
7. Jack in the Box
Jack in the Box has a lot of room for growth which franchisees can leverage from. It has become a fast food icon due to the many "firsts" it has created, from the first breakfast sandwich to the first 100% sirloin burger. Startup cost: $750,000.
8. Taco Bell
Taco Bell also comes from the Yum! Brands. It is the leading Mexican restaurant in the country and serves more than 35 million customers on a weekly basis. Its recognized brand attracts entrepreneurs, along with its many food offerings. Startup cost is between $1.2 million to $2.5 million.
9. Panera Bread
Panera Bread has the warm appeal of small coffee houses where families and friends can sit down, sip coffee and enjoy delicious, freshly-made sandwiches. It also offers a variety of breads and sandwiches to satisfy hungry stomachs. Startup cost is between $942,000 and $1.6 million.
10. Wendy's
Wendy's might have suffered some losses in the past, but it's bouncing back to business! It has opened its 425 store-owned franchises to interested parties and provided incentives too. Wendy's stores are upscaling to meet the demands of consumers. Startup cost: 1,985,500 to $3,445,000.
These are just ten of the fast food franchises in the country. For more options, you can check Franchise Help.
If for some reason, you'd like to explore business opportunities other than fast food franchises, you might want to check the DetailXPerts opportunity which has less entry barriers, affordable entry cost and fees, environmental appeal and less competition.
Sources:
http://www.franchisedirect.com/top100globalfranchises/rankings/?year=2016
http://fesmag.com/research/industry-forecast/13777-fe-s-2017-forecast-stuck-in-neutral
https://www.entrepreneur.com/slideshow/253783