Top 5 Pizza Franchises to Be on Your Radar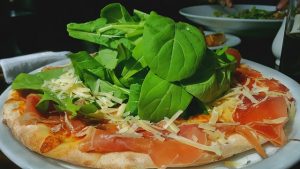 Why are pizza franchises popular? It is simply because there's a very high demand for this Italian food. Did you know, for example, that 13% of the U.S. population aged 2 years and over, consumed pizza on any given day? Considering that the US  population in 2014 (it's the same year the report was done) was 318.9M, that's a whopping 41,457,000! Just a slice of that market can definitely provide you with a sizeable income.
Not to mention that the modern pizza is "modifiable", making it even more appealing to everyone. You can choose which toppings to go with a particular sauce, with or without meat, it's all up to you.
But looking for the best pizza franchise can be quite challenging. You have to conduct careful research and analysis to ensure that all your time, effort and money will not be wasted.
To help narrow down your choices, we have listed down five of the top five pizza franchises in the market today.
How did we come up with our top 5 list of pizza franchises? We based it according to the criteria from Franchise Rankings:
Growth
Marketing Support
Training
Ongoing Support
Value
Pizza franchises: The Top 5
As you'll notice, we have not included big brands like Pizza Hut, Dominos, or Papa John's. Yes, awareness for these pizza franchisees are tops, but those just starting their franchising journey might find their initial costs too high and growth opportunities a bit low. How many Pizza Huts are there in a particular area? Lots. So we listed down pizza franchises that have huge growth opportunities and excellent training and support.
1. Cici's Pizza
What's good with this franchise? Cici's Pizza has a Patriot Program created specifically for veterans. Show proof that you were an active member of the armed forces and you will get a huge discount ($4,000) on the initial franchise fee. You can expect 100% marketing support, training and ongoing support. Growth potential is 100%.
Other information:
Total investment: $443,801 – $716,580
Royalty fee: 4-6%
2. Paisano's
Voted by many as the best pizza of its kind, Paisano's is indeed, capturing the taste buds of  Americans. It boasts of using Grande Cheese, the priciest one in today's market, fresh meat, and vegetables. Paisano's is not cheap. They have a disclaimer that says, "If low price is more important than great taste, then Paisano's is not for you."
But what makes it desirable to franchisees is its full, ongoing support in terms of marketing and training. Not to mention that it has an incredible growth potential!
Other information:
Total investment: $255 – 300K
Royalty fee: 6%
3. Buck's Pizza
Mouthwatering food that families can enjoy – this is Buck's Pizza's tagline. Franchisees love it for its low starting investment, unparalleled training and support, and 98% potential for growth.
Total investment: $165,450 – $345,400
Royalty fee: 5%
4. Toppers Pizza
If it's unique pizza that you'd like to offer, then Toppers might just be the best option for you. Pizza topped with French-fried onions? Oven-roasted tomatoes? They have it! And yes, they have their very own Topperstix. Franchisees like it because of its low initial cash outlay, and as mentioned earlier, its unique offerings.
Total investment: $262,663 – $490,649
Royalty fee: 5.5%
5. Donato's Pizzeria
Franchising since 1963, Donato's Pizzeria has a lot to offer in terms of training and ongoing support. Their franchise fee may be a bit too steep for beginners, but the rewards, according to their websites, are great.
Total investment: $461,390 – $666,700
Royalty fee: 5%
Pizza franchises, being very profitable, attract would-be freelancers. However, the cost for entering the market can be a bit steep. As we have discussed in previous blog posts, projected startup costs should exceed expectations, since ROI can only be realized after the first two years.
If you want alternatives to pizza franchisees, you can check out the DetailXPerts franchise opportunity and request more information. Aside from being eco-friendly, it has lesser entry barriers, affordable entry cost and fees. Not to mention that the automotive industry has great growth potentials.
Sources:
https://www.franchisehelp.com/industry-reports/pizza-industry-report/
The Top 4 Pizza Franchises: A Comparison By the Numbers (Part 1 of 2)