What's the Average Cost to Build a Car Wash?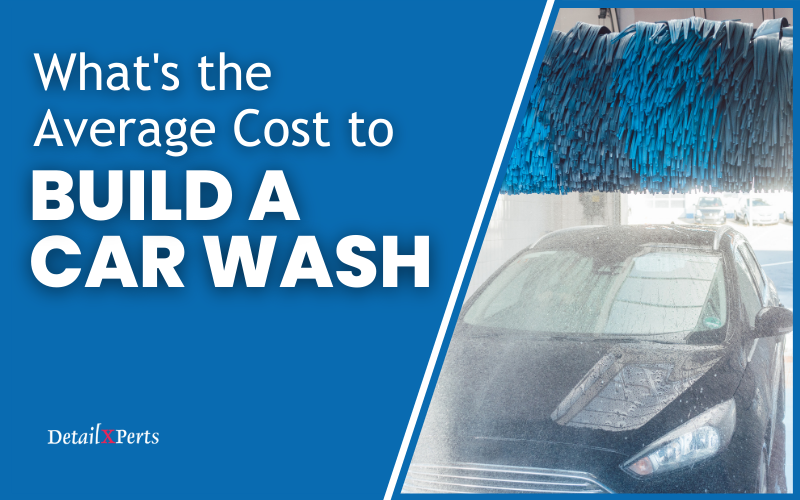 Researching the cost to build a car wash can help determine whether this business idea is for you. Starting a car wash requires a significant upfront investment. And learning about the required initial capital outlay makes creating a realistic business plan and budget easier. This way, you have more control over your finances when you start your own car wash. Moreover, you won't end up spending too much or borrowing too much money.
Also, bear in mind that building a car wash from scratch isn't your only option. For instance, CLICK HERE to read: How Much Does It Cost to Start a Mobile Car Wash. Our comprehensive guide walks you through startup costs, such as car wash equipment, insurance, marketing costs, etc.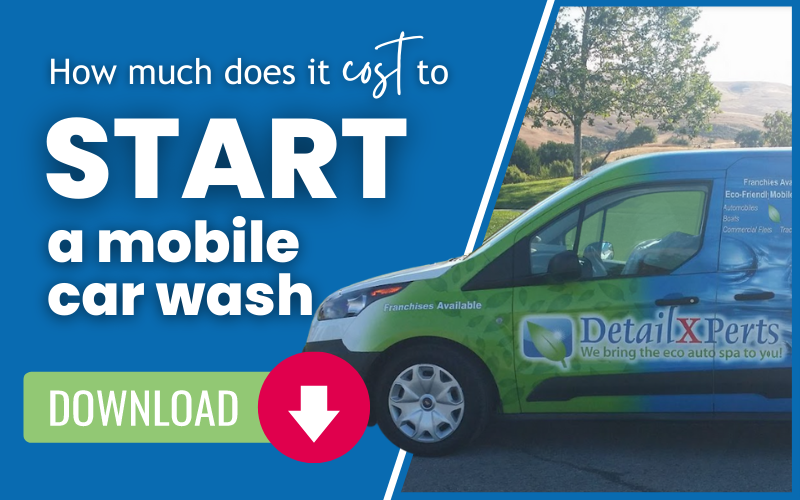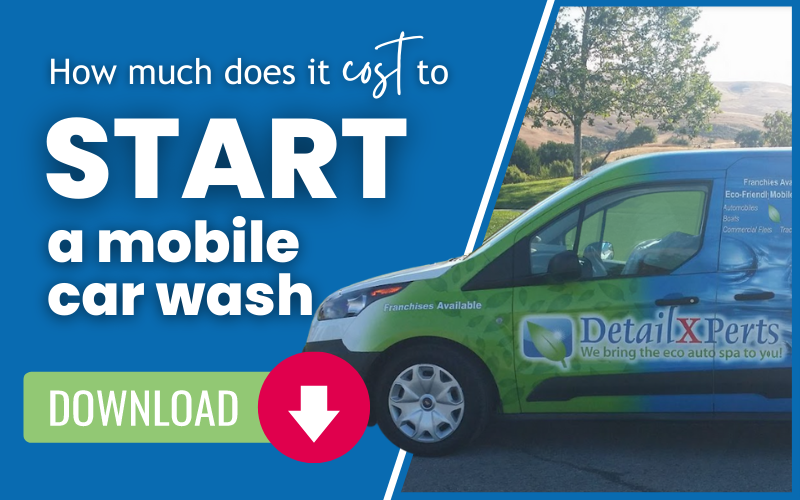 Average Cost to Build a Car Wash: Factors to Consider
The total cost to build a car wash depends on what kind you want to own. For example, different types of car washes range from a self-service car wash to an in-bay automatic car wash. To help you make an informed choice, here are some costs to consider.
Location
Where you build your car wash structure is one of the critical decisions you'll have to make. Moreover, the location largely determines the cost to build a car wash. And land costs vary widely. For example, if you choose a prime geographical spot with high-visitor frequency, prepare to pay a much higher price than a less desirable location.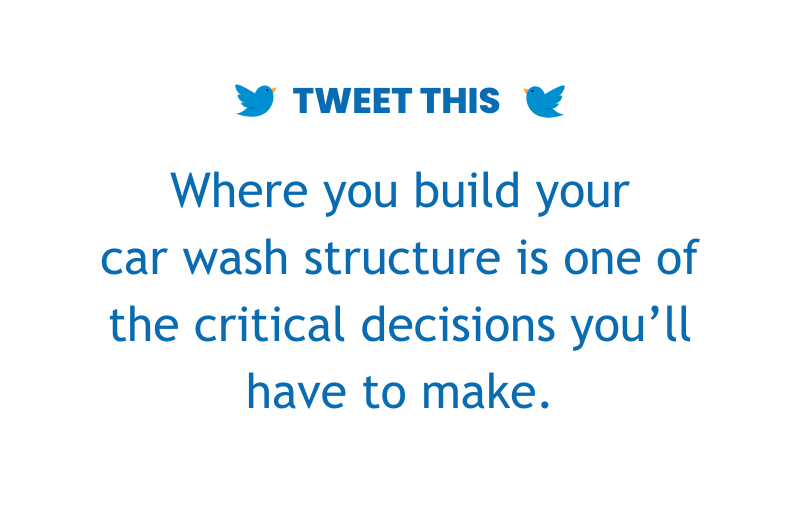 The size of the lot also influences costs. According to car wash equipment specialists, it is possible to build a self-service or mini express car wash on a 30,000 square feet site. However, you'll need a larger site for an automated car wash tunnel and support equipment. Consequently, location costs to build a car wash can range from $500,000 to $2,000,000 or more.
Additionally, you need to budget for site work, such as building construction and landscaping, which can range from $200,000-$500,000. Also, expect to spend $90,000-$150,000 on electrical and plumbing costs.
Permits, Licenses, and Professional Fees
Some of the required paperwork and professional fees you need to pay are:
Architectural fees
Engineering fees
Studies and appraisals (e.g., impact, traffic)
Construction permit
Environmental and safety permit
Again, these costs vary depending on various factors, such as the location and state, type of car wash, and local regulations. Therefore, your fees could range from $50,000-$150,000. So, it is essential to research the requirements in your chosen location, then budget accordingly.
Waste Management System
Environmental authorities require car wash facilities to have an integrated system to collect, process, and reuse wastewater. The more contaminants in the wastewater, the more you'll spend on your wastewater recycling. A closed-loop system for water reuse in a car wash facility is from $50,000-$150,000.
Cost to Build a Car Wash Includes Equipment
Different types of car wash systems need different equipment. For example, self-serve car wash equipment costs $10,000-$20,000 per bay. For automatic units, tunnel and support units can range from $50,000 to $100,000.
Make sure to compare equipment costs with your local distributors to get the best prices for the equipment and the brand you want. Or consider buying used car wash equipment for lesser cost or getting them on consignment.
And if you want to add mobile detailing services to your business, allocate funds for a service vehicle large enough to carry all your equipment. For example, used van costs range from $8,000-$20,000 or more, depending on the make and model.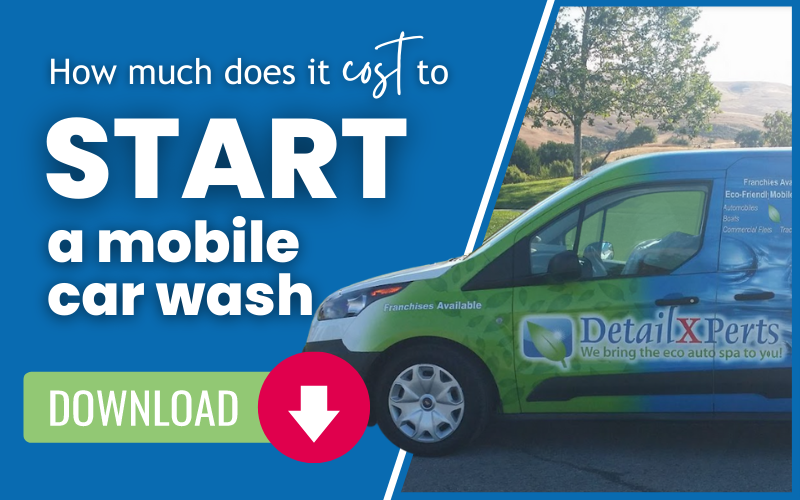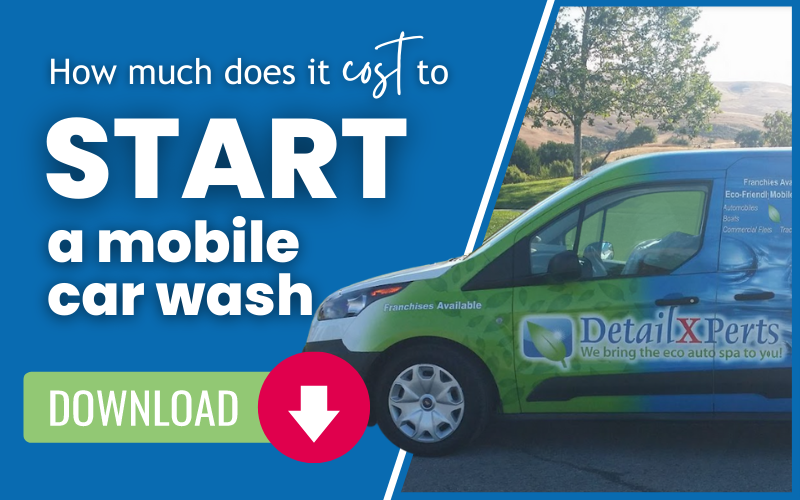 Insurance, Safety, and Security Systems
Protect your business from potential risks and accidents to minimize costly damage claims. Different types of insurance recommended for car wash businesses cover general liability, professional liability, and commercial property. Research the insurance coverage you need to ensure the safety of your employees, customers, and their vehicles. Note, the average American car wash spends $500-$1000 per year for $1 million in general liability cover.
Investing in a car wash camera security system will help keep your facility safe and secure. Video surveillance is also helpful when monitoring your car wash efficiency and liability risk management. The cost for high-quality security camera systems is around $2,000.
Advertising and Promotion
As a new business, you'll want to put the word out to attract potential customers. Startup advertising campaigns can cost $2,000-$7,000. Signage costs roughly $15,000-$25,000.
If you want to maximize your marketing efforts, download our FREE Ultimate Carwash Marketing Guide. We've packed it with tips and advice on how to stand out from the car wash competition with great branding and creative marketing ideas.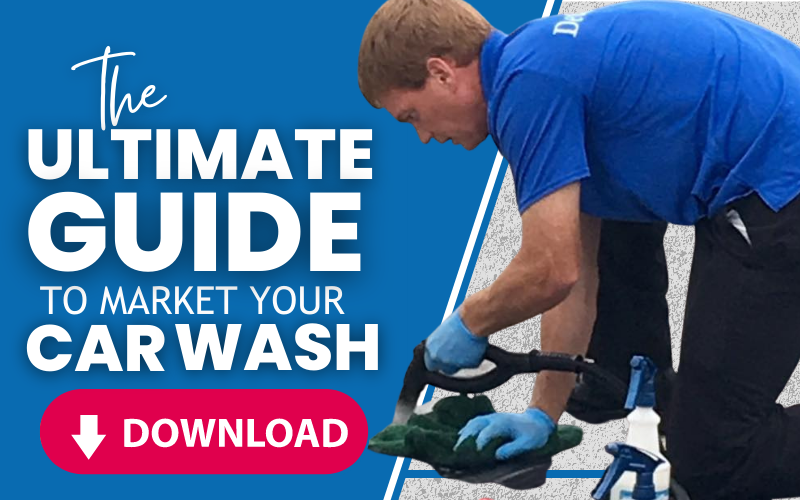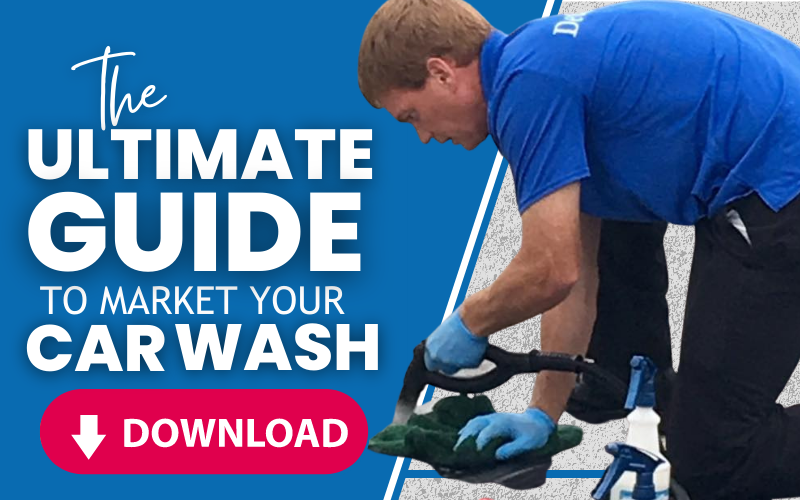 Cost to Build a Car Wash and Affordable Alternatives
The cost to build a car wash from scratch varies considerably depending on where and what type you want to build. You must pay for your site and landscaping, building construction, car wash equipment, water treatment, signage, and marketing etc. Be prepared to pay from $1,500,000 to $6,000,000. You also have the option of buying an existing car wash structure or renting a car wash building, so be sure to explore all your choices.
Alternatively, the cost to start a mobile car wash is considerably less than building one. You don't have to pay millions for land, building construction costs, or expensive equipment. Instead, invest in a reliable detailing vehicle, auto detailing equipment, and car wash supplies.
Conclusion
To sum up, studying the cost to build a car wash helps you make informed choices. However, if you're mindful of costs spiraling due to variable factors, such as land costs and equipment, check out our hard-to-beat franchise investment. We are an established brand with a proven model. And our franchise costs start from $103,500.
For more information, CLICK HERE to read: How Much Does It Cost to Start a Mobile Car Wash.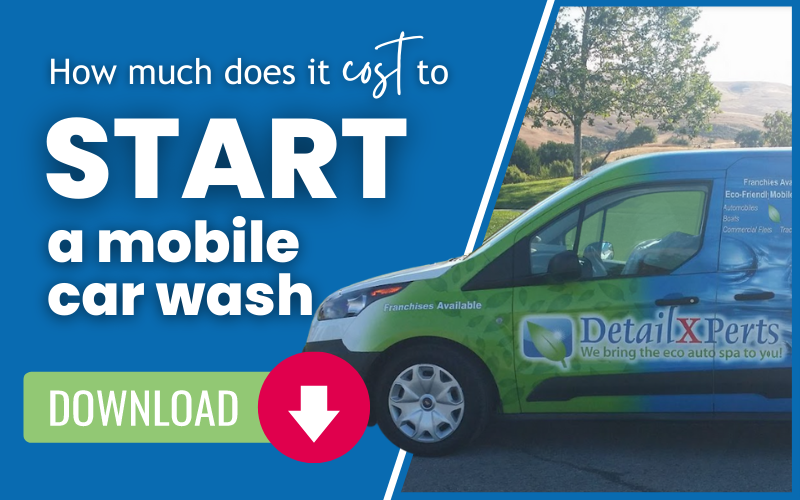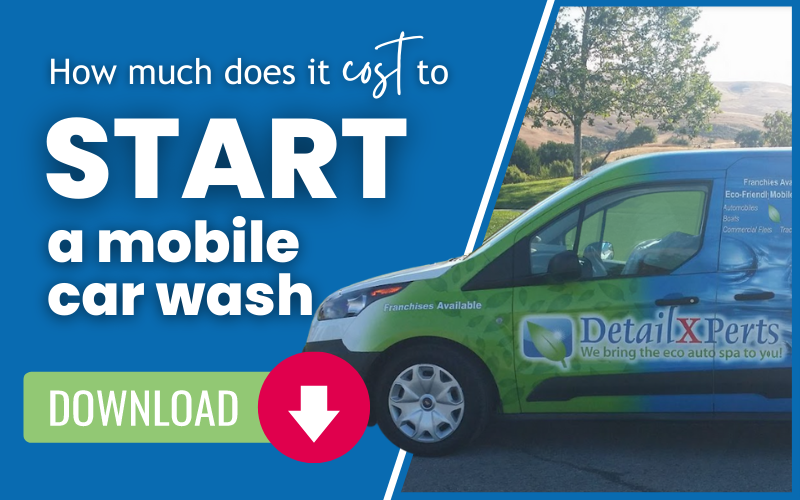 DetailXPerts is a niche mobile cleaning franchise. Our difference is future-proof green technology. Science-backed steam methods and biodegradable products enable us to clean and sanitize on demand. And we have a first-class training and support system to help our franchisees succeed.
Contact us if you want to learn how to dominate 3 lucrative markets. And be sure to check back for our next article. Our team loves sharing industry news and advice. We write about franchising, green business, management, marketing, and more. The future of car washing is here!
This article was updated in May 2023 for comprehensiveness.