Top 15 Franchise Benefits in the Car Wash Industry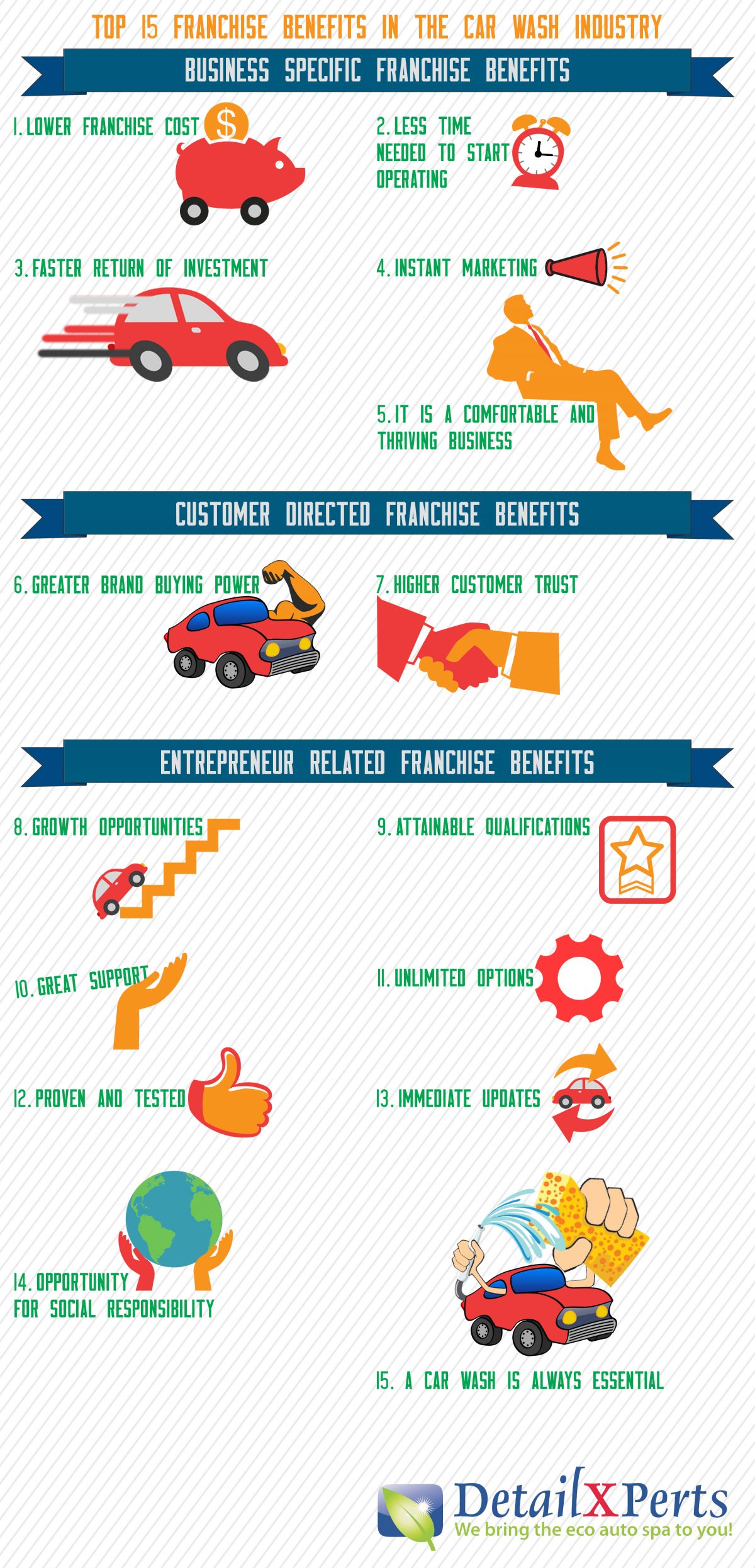 Buying a franchise is one of the best ways to become an entrepreneur. However, it requires a substantial investment of both time and capital. A car wash, in particular, is an excellent choice for a franchise. Why is that so? Here are the top 15 franchise benefits in the car wash industry.
Business Specific Franchise Benefits
Lower Franchise Cost
Buying a car wash franchise will cost you less than most businesses. According to Franchising.com, the majority of profitable franchise businesses ranges from $50,000 to $200,000 to start up. However, a car wash will only cost $30,000 – $100,000 to get started according to the Houston Chronicle.
Less Time Needed to Start Operating
Another one of the many franchise benefits of a car wash business is that it is fairly easy to start up. This type of business will not take long to build in comparison to other companies. Once you've signed your contract, the business begins operating shortly after.
Faster Return on Investment
An automotive detailing franchise will profit in half the amount of time it will take for a normal startup business in any industry. One of the many reasons why you should invest in a car wash franchise is the lesser financial risk.
Instant Marketing
Popular companies with a strong brand market the business effortlessly. Franchisors spend a lot of money on advertising to promote the reputation. In turn, you benefit from that greatly as a franchisee.
Comfortable, Thriving Business
When you are a franchisee in this industry, your money is not tied up in inventory. For example, a car wash starts earning the day that it opens, which is different from other companies. Additionally, less manpower is required to keep it running efficiently. Nearly every household is a potential customer, resulting in endless opportunities for clients. Franchise benefits, indeed!
Customer Directed Franchise Benefits
Greater Brand Buying Power
One of the franchise benefits in the car wash industry is a stable reputation that can offer a higher brand buying power. WhatFranchise.com admits that car and truck washing businesses act as a steady investment for entrepreneurs.
Higher Customer Trust
A familiar name is always going to be more trustworthy than a new one. The brand has been marketed and has an upstanding reputation. Even if you're new in town, since you carry the name of the franchise brand, customers will drive right in.
Entrepreneur Related Franchise Benefits
Growth Opportunities
Take the booming demand for car wash services. This is definitely an indication of growth. As discussed in the Car Show 2017 and reported by Petrol Plaza, "The car wash business is a growing industry that attracts hundreds of new clients by the day." As a new business owner, you want to invest in an industry that grows annually.
Attainable Qualifications
In the auto detailing and car wash industry in general, you would need a list of qualifications. The skills required may be innate in most entrepreneurs and business professionals. However, if you do not possess these qualifications, you will be provided with the knowledge you need through training. After all, the brand needs you as an ambassador for their franchise brand.
Great Support
The automotive industry is an easy, profitable, and thriving market. Due to this, the number of car washes in each area will probably be high. Having a strong support team will help your business succeed despite the competition. The franchisor guides you through financial handling, business and marketing strategy, using challenges to your advantage, etc.
Unlimited Options
Buying a franchise will give you the option to choose the best brand. Aside from this, you have unlimited options to explore. In the car wash industry, you have a multitude of choices: mobile car wash, truck wash, flex car wash, auto spa, mobile detailing, etc.
Proven and Tested
Franchising an auto detailing or car wash business assures the quality of service and average income earned. The franchise brand has thoroughly studied the location, logistics, and operational environment even before you start signing the contract.
Immediate Updates
Whenever there is a new trend or an upgrade in the systems, you hear it first. It is your franchise partner's job to keep you in the loop.
Opportunity for Social Responsibility
This alone is a great benefit to start a franchise in the automotive aftermarket. This franchise benefit provides you the chance to start a lucrative business and be an advocate of the earth at the same time.
A Car Wash is Always Essential
People recognize the importance of maintaining the appearance of their vehicles and lengthening the life. Yes, there may be slow days or weeks depending on the weather, but people will never stop getting their car cleaned.
Grab your chance to be a part of a business with limitless franchise benefits. Download our Free Franchise Report today and get started!
Interested in exploring the unique franchise opportunity that DetailXPerts offers? Sign up for our monthly newsletter to stay updated on all things franchise!