5 New and Promising Automotive Franchise Brands to Keep an Eye on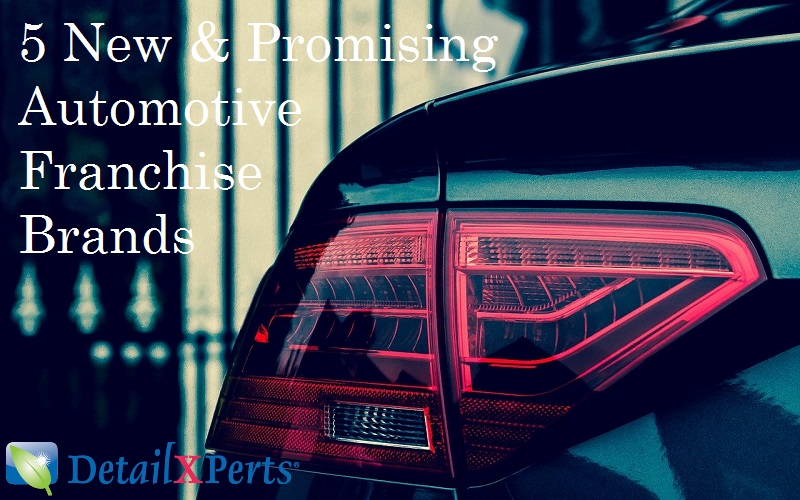 With all the cars being produced in the US and how people tend to keep their cars longer, the automotive franchise industry is a good place to be in right now. Here are some of the new automotive franchise brands that are leading and have proven their competitive edge in their respective niches.
Automotive Franchise Brands to Watch
1. Matco Tools
Business Model:
Matco Tools provides technicians with the professional tools, equipment, and storage that they need. The tools they have available can be used by dealerships as well as in farming and industrial service, motorsports, marine, and aviation.
Competitive Advantage:
Matco is one of the few automotive franchise brands that offers mobile franchising. Moreover, this makes it easier for their distributors to visit mechanics and technicians in their shops. Additionally, it helps provide them with the exact tools they need.
Reasons to Join:
Start-up costs for a mobile franchise are significantly lower since you won't need to purchase or rent storage space. You'll have hands-on experience growing a small, easy-to-manage franchise. Additionally, it goes with lots of opportunities to build relations with your patrons. You own your time and are able to manage your schedule. Therefore, you can make way for your other priorities such as family time.
2. Novus Glass
Business Model:
Novus Glass is the leading expert in windshield repair. It provides high-quality auto glass repair and replacement services. There are 2,030 locations in 25 countries worldwide.
Competitive Advantage:
Novus Glass invented windshield repair in 1972 and continues to provide windshield repair solutions to this day. It has been awarded the most US patents for windshield repair compared to other companies in its industry. In conclusion, this fact definitely sets the company apart from other automotive franchise brands.
Reasons to Join:
Owning a Novus Glass franchise means having the backing and support of a well-established global brand. Novus Glass aims to boost your ability to provide top quality services to your customers by providing the franchise support and system you need.
3. Fibrenew
Business Model:
Fibrenew restores leather, plastic and vinyl parts found in different vehicles (cars, boats, airplanes) and equipment (in homes, hospitals, gyms, restaurants, hotels). Research and development, a major part of its business model, ensures that they produce quality products and services. For instance, since its establishment in 1987, Fibrenew has helped 250 franchises grow around the world.
Competitive Advantage:
This particular company stands out among other automotive franchise brands with the fact that the materials they restore can be found everywhere. There is constant high demand for their services. Their mobile franchises are able to cater markets in different industries. Additionally, this helped the business survive and withstand the fluctuations in market activity and overall economic climate.
Reasons to Join:
Catering to Fibrenew's market opens multiple revenue streams. Being a high-demand business with a low overhead operation, and a flat-rate royalty, you can maximize your profit earnings. Fibrenew offers continued support for a lifetime. It includes hands-on training, a mentorship program, field support, and business coaching. Moreover, it provides its franchisees with business tools and gadgets that they'll use for their operations.
4. RNR Tire Express
Business Model:
RNR is a one-stop shop for everything tire-related. It covers all aspects from selling tires and wheels to offering services such as alignment, brake caliper painting, and flat tire repair. Additionally, you can rely on services like installation, roadside assistance, tire rotation and balance, and wheel care. Finally, it offers the best in tire technology and customizes wheels to have the latest styles their customers want.
Competitive Advantage:
The amount that Americans spend on tires and auto services annually go as high as $250 billion. $38 billion is attributed to replacement tire sales alone. There is a proven market for this type of automotive franchise brands. RNR has already established its presence in 100 locations. In addition, it is the go-to brand for quality tires and custom wheels.
Reasons to Join:
RNR's proven track record and tested operating system will help ensure business success even without automotive experience. All you need is the passion and dedication to succeed. Moreover, aside from operational support, you'll get guidance in market development, marketing, and financing.
5. Pop-A-Lock 
Business Model:
Pop-A-Lock is the largest professional car locksmithing franchise in the country. Originally established in 1991 in Lafayette, Louisiana, it has grown to serve over 4,500 locations nationwide, in Canada, and in Australia. In addition, its main offer is emergency automotive locksmith services. It has extended to cover emergency situations in homes and business settings.
Competitive Advantage:
Offering a specialized service, Pop-A-Lock makes sure that their technicians get the best professional training. It utilizes a state-of-the-art facility where the technicians get exposure to different work scenarios and receive guidance as they hone and sharpen their skills. Further, it takes pride in being able to respond quickly to their customers' needs and provide professional services at competitive prices.
Reasons to Join:
With a Pop-A-Lock franchise, you'll be working with a proven business system that is implemented in all of its 4,500 locations. For example, with low start-up costs, you will get proprietary equipment and training even without existing locksmithing experience. Moreover, it provides business support, marketing strategies, and advertising tools that will help you grow your franchise and maximize your earnings.
There are many franchising opportunities that will allow you to pursue your passion for cars and automotive care. However, if these options don't pique your interest, you may also want to explore getting a car detailing franchise. In conclusion, DetailXPerts provide eco-friendly solutions to car detailing which makes its franchise opportunities very promising and relevant in the years to come. Contact us now and we'll be happy to discuss our franchise business model with you.
Interested in DetailXPerts' franchise opportunity? Sign up for our monthly newsletter to stay updated on all things franchise!