5 Auto Repair Franchises to Consider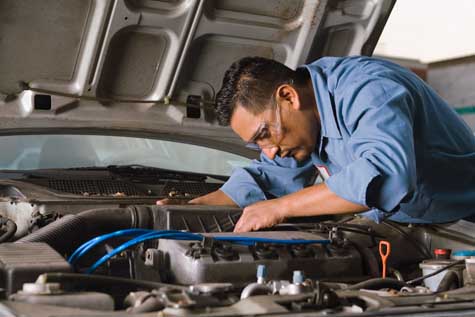 The average family in the United States owns two vehicles. Most cars last around 10 years as long as they are well-maintained. With a big investment for car owners, drivers seek out reputable businesses to service their vehicles. An auto repair franchise that performs superior to their competitors will attract repeat customers.
Looking to start your own business? A franchise option allows you to join a well-established brand within the auto industry. Understand the needs of customers helps increase potential profits.
According to the Auto Aftermarket Industry Association, in 2013 the market for auto repair surpassed $37 billion. Research the types of auto repair franchise on the market before choosing a brand. Investing in a business with a solid client base generates revenue for your location. With a large variety of options to choose from, these are the top five choice for an auto repair franchise.
5 Auto Repair Franchise Options You Might Want to Check Out
Midas
This is one of the most well-known and trusted auto repair franchise brands in the world. Midas began in 1956 as a single location, but has grown to over 1,000 shops in the United States.
Start-up costs for a Midas shop runs between $184K – $433K. To successfully become a franchisee, the company requires $75,000 and a net worth of $250,000. And considering the average licensed driver in the United States spends around $200 minimum on car repairs, this guarantees revenue.
AAMCO
With over 50 years of experience, AAMCO sails into our number two spot. Originally, the concept for the company focused on transmission repair. However, in 2000 the company changed their business model to reflect a total car care program. To invest franchise prices range from $226K to $331K. This includes the cost for franchising rights, equipment, and training. However, the candidate must have a minimum of $65,000 in liquid capital and a net worth of $250,000 to secure a spot as an AAMCO franchisee.
Tuffy
Tuffy offers a variety of services including everything from shocks and radiators to tires and transmissions. This auto repair franchise opened in 1970. In addition, it offers full service auto maintenance and repair with guarantees on parts and labor when you visit any location!
A potential franchisee for Tuffy needs liquid assets of $100K and a minimum net worth of $250,000. Initial franchise start-up costs $30,000.  They require their franchise owners to obtain their own financing, as well as, work well within the community.
Precision Tune
Opening in 1976, Precision Tune has expanded in eight countries with over 340 locations. The company offers total car care services ranging from oil changes to engine replacement. It also performs diagnostics auto repairs.
To start a franchise with Precision Tune, the start-up cost is around $25,000. However, the business costs around $120K – $225K to acquire everything you need to run the compa ny. With their potential candidates, they look for willingness to lead the business with an excellent customer-focused attitude.
Ziebart
This company focuses on enhancing the appearance of your vehicles. With over 400 locations in 33 countries and over 950 service centers, Ziebart excels in the industry. Its business model includes professional auto detailing, window tinting, paint protection films, rust protection, bedliners, and scratch repair. A franchisee may finance all or a portion up to $150,000. Financing is based on the franchisee's needs and may vary on the individual needs and credit worthiness.
It's important when looking to invest in a franchise to research equipment costs, license regulations, and corporate support for franchise owners. If you are not sold on an auto repair franchise,  consider DetailXPerts, a mobile, eco-friendly leader in the car detailing franchise industry.