How to Create a Brand for Your Car Wash Business in 10 Steps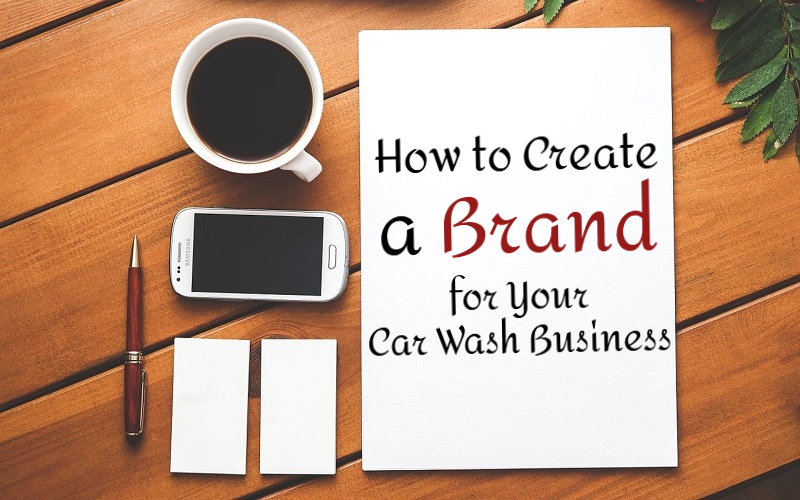 It is important to know how to create a brand. The success of your car wash business depends on it. If your brand fails to connect with people or stand out from the competition, you'll lose customers and profits in the process. The good news is that if you are passionate about running a car wash and offer an excellent service, you have already laid a strong foundation. Now you need to build on this to create a car wash business brand that is instantly recognizable and highly profitable. This is how you do it:
10 Ways to Build Your Brand
1. Know Your Target Audience
What is branding? Think of it as a huge neon sign above your business, drawing attention to your logo, your tagline, your promise and your values. It says what you do and what makes your car wash so special. Your brand is also an emotional connection to the customer. To make this connection in the first place, however, you need to know your target audience. You can do this by creating a profile of the person who will most likely use your car wash services and products. For example, take into consideration:
Age
Income
Gender
Location
Check out your competition to get an idea of their "typical" customer
Once you identify your audience, get to know them. Research their habits, likes and dislikes; this information is vital when you are learning how to create a brand. If people prioritize convenience, make it easier for them to access your car wash services (mobile car wash). If they seek out cost-saving services, include an affordable car wash package in your list of services. Knowing your target audience also makes marketing campaigns more effective.
2. Make a Brand Promise
In business and life, if you promise to do something, you should keep your word. Your brand promise is your word of honor; it tells your customer what they can expect from your car wash service and that you won't let them down. It highlights the value you offer. For example:
Time-saving service
Affordable or a fair price
Quality product
Environmentally-friendly service
If you want to know how to create a brand successfully, don't over-complicate a promise. Above all, be as good as your word, otherwise it may lead to a breakdown in trust between your brand and the customer, which will negatively impact business.
3. Define Your Brand Values
How to create a brand that attracts a loyal following? Stay true to your brand values. These are building blocks that hold up your business and underpin every decision you make. It tells the world what is important to you and what you believe in. This transparency helps you to attract customers and employees who share your vision and respect your beliefs. Make your values memorable and meaningful. For example:
Doing more for the environment
Getting involved with the community
Exploring innovation within the automotive industry
Rewarding loyalty (customer rewards schemes)
No doubt, as a reputable, hard-working business you will have many values close to your heart, such as reliability, loyalty and honesty. However, narrow your choice down to three or four core values; it makes a more powerful (and meaningful) statement.
4. How to Create a Brand Using Strong Visual Identity
An important part of your car wash brand strategy is to reinforce a strong identity. Your brand should be instantly recognizable. For example, a powerful visual identity is achieved through:
Logo (professional-looking and eye-catching)
Brand colors
Fonts
Imagery
Illustrations
Strong visual identity comes down to design consistency. Stick to the same colors and fonts to create a familiar look across your website and marketing material or indeed anything to do with your business – logo and signage on company vehicles, employee uniforms etc. As you work out how to create a brand with visual appeal, keep the look consistent because familiarity builds trust.
5. Decide on a Tagline
Make it memorable. A brand tagline usually sits alongside the company logo; therefore, should be succinct and relevant. It needs to explain what your brand is about in a few words. For example, DetailXPerts: "We Bring the Eco Auto Spa to You." This statement communicates three key factors about the brand: "environmentally-friendly"; "car wash" and "convenience". When writing a tagline, keep it:
Short
Powerful
Positive
Explanatory
Take a look at other successful automotive franchise brands to get an idea of taglines and slogans. Decide what makes you different from the competition. Use this "uniqueness" to help define your tagline.
6. Create a Brand Voice
Your brand voice is determined by your target audience – with whom are you having a conversation? It is your "personality" and written tone when communicating with your customer, whether the words appear on your website, stationery or marketing material. The key is to find your tone of brand voice and stick to it. Different tones include:
Friendly and chatty, targeting families
Fresh and lively including emoji, targeting a younger crowd
Practical and reliable, targeting an older audience
Serious and business-like, targeting the commercial market
You can always strike a balance between different tones but keep it consistent, otherwise you'll confuse everyone. Regardless of target market, make an effort to sound approachable, knowledgeable and likeable. Whether you are a car wash business, a car leasing company or part of an auto parts franchise brands, keep the conversation honest, straightforward and personable. Use "you" to set up a one-to-one conversation and forge a stronger connection. Sound interested and enthusiastic whenever you talk about your car wash service. This is key as you learn how to create a brand with likeability.
7. Tell Your Brand Story
A successful franchise brand understands that strong branding is about great storytelling. It is about communicating your brand message at every opportunity (marketing, social media, emails to employees and customers etc.) to reinforce a connection with your key audience and your valued employees. Your brand story brings people together. It tells everyone who you are, what you do, and what you strive to achieve through your business. Examples of brand message and storytelling include:
Introducing who you are
Sharing the motivation behind the brand – what made you start a car wash?
Being knowledgeable and talking passionately about your product and services
Revealing the inspiration behind the company tagline
8. Market Your Brand
Don't hold back. Introduce your brand to the world. How to create a brand that reaches a wide audience is very achievable these days thanks to the far reach and power of social media and online advertising. Although your focus may be on local customers, think and act like a global brand. Market your business with professionalism and confidence to appeal to customers who seek high-quality services. Never miss an opportunity to introduce people to your car wash business. For example:
Hand out auto detailing business cards – they are a quick and effective way to introduce your brand to new customers
Use rewards points as a marketing idea
Encourage customers to sign up to a monthly newsletter
Get involved in community activities to get to know potential customers
Ongoing communication and marketing are important to keep your brand relevant and in the minds of customers.
9. Evolve with Your Brand
if you want to know how to create a brand that stands the test of time, the answer lies in your willingness to embrace change. Moreover, you should always be thinking about ways to improve your service and asking yourself what can be done to make customers and employees remain loyal to your brand. Simply put, aim to strengthen your brand as your car wash business grows. This could include:
Introducing new services
Keeping up to date with the latest car wash cleaning technologies
Listening to your customer
Rewarding your customers and employees
Paying attention to industry and social trends
10. Live up to Your Brand Reputation
Congratulations! You have put a lot of hard work into learning how to create a brand successfully. Now you must remain at the top of your game and ahead of the competition. Your car wash success or failure evolves around your brand reputation. Make sure you:
Keep your brand promise
Offer a fair price for services
Work hard at delivering exceptional results
Give customers value for money
Respect the customer and employee
Stay true to your core values
Follow these 10 steps to help your brand go from strength to strength. DetailXPerts has built a strong brand over the years and we help our franchisees every step of the way so they achieve success. If you would like our support, check out our car wash business opportunity.
If you've enjoyed this post and are interested in hearing about the latest developments in the business world, don't forget to sign up for our monthly newsletter.