What Car Detailing Services Should You Start with When Launching Your Business?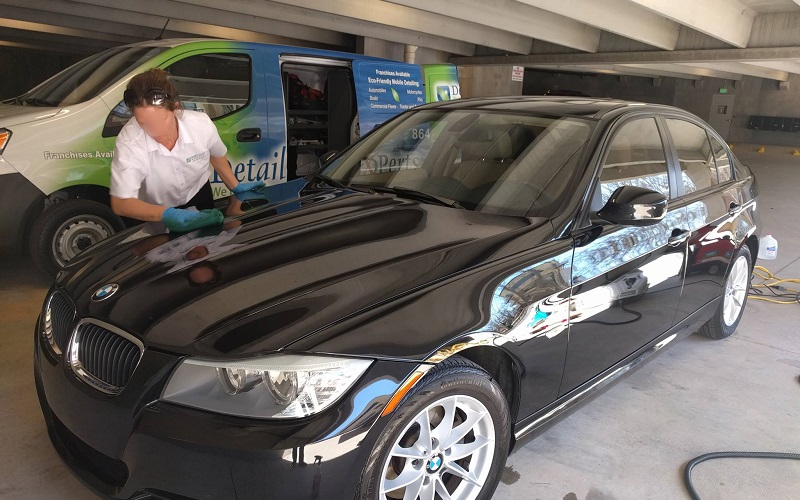 Don't run before you can walk. This shrewd piece of advice is often shared in the business world. Scaling quickly might seem like a good idea but "too much, too soon" is often the downfall of new businesses. With this mind, it is wise to focus on the car detailing services that are the most manageable, popular and profitable when you first start a car detailing service. Start small. Test the waters. Take a look at these basic services that will appeal most to your customer while you establish a presence in the market:
The Best Car Detailing Services to Consider When Starting Your Business
Exterior Wash and Wax
If you are starting your car wash business, prioritize the basic exterior wash and wax. This "outside only" car detailing package has year-round demand. In drier summer months, dust and bugs dull a car's paintwork, while grit and salt from slushy snow-covered roads can build up around tires and the underside of the car during winter months. The solution to these problems is a quick and efficient exterior wash, one of the most popular car detailing services with customers. Explore the latest cleaning technology and car detailing equipment that allows you to get the job done in the most time-efficient manner while guaranteeing show-room shine and finish.
Interior Clean and Polish
Stick to the basic interior detailing package first, then work towards specialty add-ons for interiors, such as deep-cleaning upholstery, odor removal and air sanitation. Invest in a high-performance car vacuum suitable for heavy-duty car cleaning. Cloths and polish are affordable essentials that will complete the job. However, there is only so much you can do on your own when offering car detailing services. If you are struggling to meet customer demand, it might be time to hire employees for your detailing business to help spread the workload.
Eco-Friendly Steam Cleaning
Location is another deciding factor in choosing which car detailing services to start with. For example, if you are opening an auto detailing business in an area with a water shortage, then a steam cleaning service is a good selling point. Using the power of steam to clean exteriors and interiors is a water-saving technique that has all the hallmarks of a green business.
Even if you are not located in a water-restricted area, steam cleaning techniques appeal to the rising number of consumers who want to connect with environmentally responsible businesses. For example, DetailXPerts favors eco-friendly methods for auto detailing, using only a pint of water to clean an entire car.
Different Types of Vehicle Detailing
A good market research strategy for your car wash business will help you to select car detailing services and what type of detailing will be well-received in your area. Check out local businesses. Use the knowledge to your advantage. For example, if there is a transport and logistics business nearby, this opens up an opportunity for truck detailing. Similarly, if you are positioned near a harbor or the coast, boat detailing becomes a viable option. Research and explore different professional detailing services as you work out what to offer the customer when launching your business.
Mobile Car Detailing Services
How about delivering car detailing services right to your customer's door? It is convenient for the customer and it is profitable for you – take your business to where the work is. If you want a manageable business model that you can scale at your own pace, think about starting a mobile car detailing business. In this instance, your car detailing services are mostly determined by the amount of equipment, tools and accessories you can transport in your work vehicle. Save space and keep it simple with a few pieces of equipment that do the best job. For example, a professional steam cleaner is an all-in-one piece of kit that multi-tasks when it comes to cleaning both exteriors and interiors. It also solves the problem of wastewater disposal and chemical run-off.
Price and Package Your Services
Clearly outline your basic car detailing services and price them accordingly. For instance, decide whether your exterior detailing will include a protective wax finish or tire dressing. Providing as much information as possible is a great way to create transparency with customers and manage their expectations. It also enables you to work out how much time to allocate to each detailing job, which is important when it comes to managing your workload and figuring out costs as you launch your business.
Add-on Car Detailing Services for the Future
Start small, dream big. Look closely at successful car detailing franchises for inspiration. How do they go about increasing auto detailing revenue? Which extra car detailing services do you want to offer once your auto detail shop is up and running? Add-on services to increase profits also showcase your professional auto detailing skills, which helps to strengthen your brand. Specialty services include paint correction, tire detailing and engine steam cleaning.
In conclusion, the guiding force when it comes to choosing your car detailing services is simplicity. Keep it simple, but do it well. Be organized. Outline goals and projections in a business plan for car detailing to help keep you focused and on track. Aim to become an expert in the basic car detailing services first, then expand your list of services. Think "less is more" and pace yourself. If you want to stick to exterior detailing only when you launch your business, go for it. It is not about how many car detailing services you can offer customers when you open your auto detail shop, it is about how well you can deliver each job.
Grow your business at the right speed for you. Connect with your customer to find out what car detailing services they want. Nowadays, social media makes it easier than ever to communicate with customers. Build up an online presence, ask questions and read the comments. Customer feedback is invaluable.
If you would like professional support and guidance, check out the DetailXPerts home-based franchise opportunity – it provides business owners with a chance to start small and scale up at their own pace.
Before you go, take a moment to follow DetailXPerts' LinkedIn page for more business and franchise news, updates, and conversations.