Taco Bell Franchise or DetailXPerts – Which Is Right for You?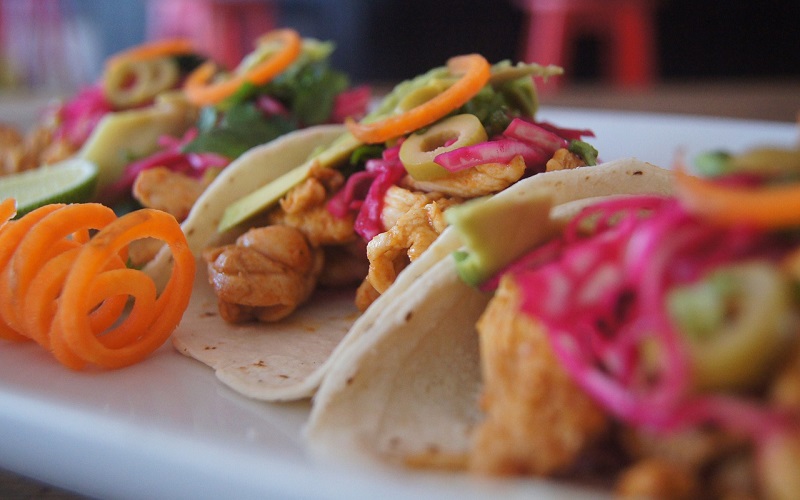 Fast food or auto detailing? Both of these business ideas are hugely popular with the public. Therefore, they have the potential to generate healthy profits for someone considering becoming a franchisee. A Taco Bell franchise specializes in Mexican and Tex-Mex food with a menu of tacos, burritos and nachos. DetailXPerts provide eco-friendly car wash and detailing services using innovative steam-cleaning techniques. Mobile detailing franchising options are also available. Can you see yourself serving up fast food with bold flavors or are you more interested in growing a car wash business with environmental ethics? Take a look at the differences between these two businesses to get an idea of which could work best for you.
Comparison: Taco Bell Franchise vs DetailXPerts Franchise
Industry Statistics and Growth
Taco Bell is a fast food franchise just like a Subway franchise. The US market size of fast food restaurants is $293.1 billion in 2020 with a market size growth of 2.4%. However, future growth will probably slow to about 2% annual growth rate through 2022. Taco Bell is currently ranked #2 in the Franchise 500 published by Entrepreneur. This coveted top 10 position confirms the enormous appeal of the Taco Bell franchise fast food chain, otherwise referred to in the industry as a "quick service" restaurant (QSR). Key features of QSRs that a Taco Bell franchise can offer include drive-through options and other time-saving techniques, such as ordering food through an app.
DetailXPerts is part of the thriving car wash and auto detailing services industry. The US market size is $13.3 billion. Average industry growth over the past five years to 2020 is 4.4%. Growth is predicted at 3.1% this year. Additionally, cheaper gas prices are translating into more trucks and cars on the road. DetailXPerts is not only part of this growing car wash industry but is also recognized as part of the booming "green" industry thanks to its pioneering water-saving techniques and its use of environmentally-friendly products. The estimated scale of the green economy in the US is around $1.3 trillion. The rising consumer demand for eco-friendly products and services drives it up. This is where a water-saving car wash like DetailXPerts fits right in with the current mood of the socially-conscious consumer.
Costs of a Taco Bell Franchise vs a DetailXPerts Franchise
The costs to invest in a Taco Bell franchise are as follows:
Initial investment from $525,525-$2,956,765
Franchise fee: $25,000-$45,000
Liquid cash requirement: $750,000
Royalty fee: 5.5%
Ad fee: 4.25%
If you need help with financing a Taco Bell franchise, the company has close relationships with several third-party sources. They can assist you in securing affordable funding to help cover startup costs, equipment etc.
The costs to invest in a DetailXPerts franchise are as follows:
Initial investment from $88,500 to $195,500
Franchise fee: $35,000
Liquid cash requirement: $70,000
Royalty fee: 6%
Ad fee: 2%
Financing support is available via associated third parties. DetailXPerts has established many contacts in the financial sector if you need help to secure franchise financing. It is also an SBA-approved franchise.
Business Model
Taco Bell Franchise
The Taco Bell franchise business model revolves around affordable, fast and easy-to-make food that is quickly available to eat in a sit-down restaurant or ready to take away. Taco Bell was founded in 1962 and has been franchising since 1964. With 57 years in the fast food franchises industry, Taco Bell has built a solid reputation on supporting franchisees throughout the United States and the rest of the world. According to Taco Bell's parent company Yum, Taco Bell has more than 350 franchise organizations operating over 7,000 restaurants in the US. The company offers franchise restaurant training and marketing support with ongoing seminars, meetings and forums.
A Taco Bell franchise is also geared up for customer convenience. For those who love their tacos but don't want to get out of the car, customers can head to their local Taco Bell drive-thru restaurant. It has a mobile app for both drive-thru and dining orders. The company has also partnered with food delivery companies so your customers can get Taco Bell nachos and tacos delivered straight to their door.
DetailXPerts
DetailXPerts was established in 2004 and has used the franchising business model since 2008. It might not have been franchising for as long as Taco Bell but it has quickly established strong and successful relationships with franchisees, who are proud to partner with an eco-minded business. DetailXPerts has successfully integrated the concept of an eco-friendly business model into franchising by using steam-cleaning technology. This method saves water by using just two gallons of water to wash 15 vehicles.
DetailXPerts has a superb training and support system in place, too. It includes 40 hours' franchise training, follow-up visits and comprehensive marketing training. This has allowed franchisees to run their car wash with confidence and professionalism. The company also recognizes that a one-size-fits-all franchise is not for everyone. Therefore, the following different business models are available:
A: Free-standing auto detail shop
B: Mobile detailing unit
C: Free-standing auto detail shop with mobile detailing units
The business flexibility offered by DetailXPerts appeals greatly to franchisees who want more control over how, where and when they run their business and how much they want to contribute financially. Entrepreneurs can start small with one mobile detailing unit or invest in several mobile units along with a free-standing shop. This flexibility also taps into the consumer's desire for convenience. For example, mobile auto detailing brings the car wash to the customer's driveway or workplace, saving them time and effort.
Conclusion
The cost to open a Taco Bell franchise is considerably higher than a DetailXPerts franchise. Furthermore, there are currently over 199,000 franchised fast food establishments in the US compared to 65,000 car wash and car detailing businesses. Technology will play an increasingly crucial part in the success of quick-serve restaurants. Taco Bell has already recognized the importance of "order ahead" convenience via a mobile app; however, people increasingly want their food faster and easier, which continues to pose a challenge for franchisees. Also, as consumers become more aware of the rising problem of obesity, they are becoming more selective about what they eat. This could negatively impact growth of some fast food chains.
DetailXPerts is also part of a highly competitive marketplace but it offers ongoing sales and marketing support to help their franchisees stand out from the competition. It also recognizes the importance of flexible detailing business models with a focus on an affordable franchise cost. This flexibility includes a home-based franchise options, which appeal to those who want to reduce their startup costs and ongoing expenses.
Above all, DetailXPerts' core green business model is perfectly in tune with current consumer behaviour. It stands above the competition for the increasing number of people who seek out environmentally-friendly products and reputable franchise businesses that help Mother Earth. If you want to explore the possibilities of opening a car wash business, check out the DetailXPerts franchise opportunity and our green franchise application process.
Finally, if you want to find out more, or enjoy keeping up to date with the latest franchise and business news, continue the conversation over on our LinkedIn page.