Car Detailing Mobile or an Auto Detail Shop – Which Is Better for You?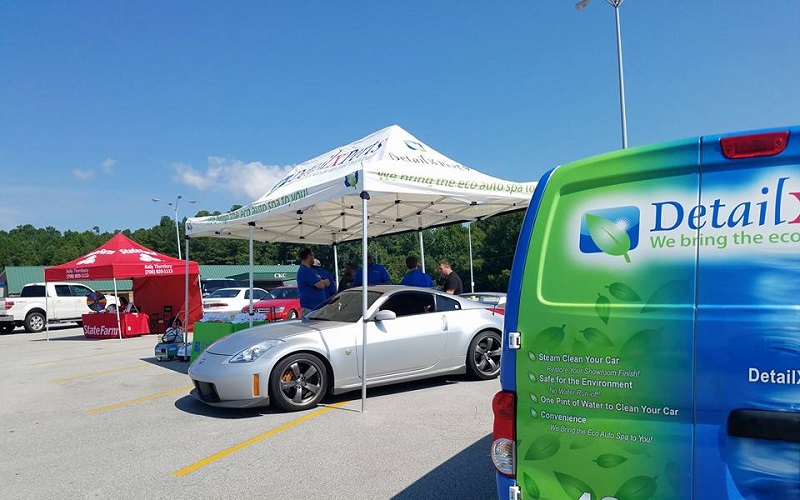 Do you have entrepreneurial ambitions to enter the car wash and auto detailing industry? Perhaps you see yourself running a mobile car wash or maybe you are more drawn to setting up an auto detail shop with a team of employees. Before you make up your mind, weigh up the pros and cons of a mobile car wash and an auto detail shop. This will help you shape your decision-making before you invest your valuable time, money and efforts. Here are the advantages and disadvantages of these small business models in more detail.
A Mobile Car Wash vs an Auto Detail Shop
Future Growth and Statistics
The car wash industry in the US remains in good shape. The market size is currently $13.3 billion with an anticipated 3.1% increase in 2020. Industry reports suggest that social distancing could result in a major boost in car sales if more people avoid public transport in the future. More cars on the road create more opportunities for car wash businesses.
Furthermore, consumer focus on cleanliness and hygiene has been heightened during the global pandemic. As a result, both a mobile car wash and an auto detail shop have the potential to do extremely well if they offer the right services. For example, eco steam-cleaning techniques that sanitize car interiors satisfy customer demand for hygiene. Then there is the matter of convenience. The convenience trend aids market growth in the mobile car wash sector. Take your car wash business to the customer and make life easier for them.
Location and Costs
Unlike an auto detail shop, a mobile car wash does not have to operate from a physical store at a fixed location. There are several advantages to this. You do not need to spend valuable time looking for a prime location to set up your car wash. More importantly, you will save a considerable sum of money by not having to lease or buy a property. For example, a lease for a 1,000 sq. ft. property in McKinney, Texas, would be around $950.00 per month. Bear in mind, lease costs vary greatly according to size of property and location.
However, if your heart is set on owning an auto detail shop, a great location will certainly work to your advantage. If you consider an auto detail shop franchise with DetailXPerts, we can help you determine the best area within a protected area. A physical presence in a high-traffic area, such as near a highway or superstore, will attract more passing customers. It looks professional. It can offer specialized detailing alternatives from a more expansive car wash menu. The obvious disadvantage of an auto detail shop is the lack of business flexibility. You can't physically take your car wash or auto detailing services directly to the customer's home or place of work as you can with a mobile car wash.
Startup Costs of a Mobile Car Wash and Auto Detail Shop
It costs less to start up a mobile car wash business than a brick and mortar one. You can keep overheads to a minimum and run the business from your home. You will need to buy a vehicle and key pieces of equipment. It is also wise to allocate a marketing budget. If you prefer not to go it alone, there are affordable mobile car wash franchise opportunities available. For example, DetailXPerts franchises start from $88,500 with a franchise fee of $35,000. Our choice of business models includes mobile detailing and has further opportunities to scale up your business with up to five vehicle wash units.
Startup costs of an auto detail shop are higher than a mobile auto detailing business. Firstly, you need to lease or purchase premises before you can welcome customers through the door. Secondly, are you hiring employees for your auto detail shop? If so, factor the costs of an auto detailer salary into your business plan. However, higher startup costs don't need to kill your dream. You can secure funding through a franchisor loan or explore  SBA loan options that are available to small businesses. Again, DetailXPerts can assist with general advice and loan options.
Equipment Costs
You can keep equipment costs to a minimum with a mobile car wash when you start out. Thereafter, you can invest in more equipment if you decide to scale up and add more vehicles to the business. Your equipment costs are also largely determined by what type of car wash you run. For example, if your mobile car wash is an eco-friendly business, your costs will include a steam-cleaning system and eco car wash soaps and liquids as well as the usual brushes, microfiber towels, vacuum cleaner, and polishers.
Auto detail shop equipment costs are also determined by the type of services you offer. Customers who visit an auto detail shop often want specialized services over and above the standard exterior and interior wash. To meet demand, you need to invest in specialized equipment, such as rotary buffers to remove paint imperfections and so on.
Revenue
When it comes to choosing between a mobile car wash or an auto detail shop, the key question is how profitable will the business be? A mobile detailing business income can range from $50,000 to $75,000 annually. We know from observing shopping habits and trends that convenience and time-saving services influence the modern consumer. If your mobile car wash can tap into this demand, earning potential is higher.
If you want to get an idea of how much do detail shops make, take a look at the pricing strategies of successful, local professional detailers. This will help you assess the earning potential of your own business. Check out the size of their team. Do they offer different car detailing packages to maximize profits? For example, a team of five detailers each charging $229 for a deluxe package exterior and interior clean has the potential to earn almost $3,500 daily, based on 3 cars per detailer.
Licenses and Insurance for a Mobile Car Wash vs an Auto Detail Shop
You will need a business license for your mobile car wash or your auto detail shop. An advantage of mobile detailing is that it is often quicker and easier to get up and running. However, check out state and local licensing laws first to make sure you obtain the correct license and paperwork for the services you offer. As a business owner, it is your responsibility to know the car wash regulations where you live and work, especially with regards to water management and cleaning chemicals. If in doubt, contact the Environmental Protection Agency (EPA). If you intend to own an auto detail shop with employees, research the guidelines issued by the Occupational Health and Safety Administration (OSHA).
There are different types of insurance for car detailing business to take into consideration. It is fairly inexpensive to get insurance for a mobile car wash business and you will also save on building insurance. Shop around and research different insurance policies to get the best deal.
Ways to Add Value to the Business
Mobile detailing isn't necessarily a one man/woman operation. It can be a viable family-owned business with great growth potential. With a bigger team, you can increase your mobile detailing capabilities. Furthermore, even though a mobile car wash business doesn't have a brick-and-mortar presence, it still has the potential to create a positive impression in the community. For example, you can become a green car wash business by conserving water with steam-cleaning techniques. If you run an auto detail shop, you can further develop your business by adding mobile detailing units to bring your car wash to the customer's door.
Conclusion
There are pros and cons to both a mobile-only car wash and an auto detail shop. The entrepreneurial appeal of a mobile car wash is that it is affordable and flexible. However, you don't have the same visible presence as an auto detail shop. A convenient location has the potential to capitalize on passing trade. The downside is that it is more expensive to start an auto detail shop and you are reliant on customers making the effort to visit you.
Still undecided? You don't need to choose between a mobile car wash and an auto detail shop. You could start with one and then successfully combine both business models as you grow your business. Check the DetailXPerts car wash franchise opportunities. For more information, call 877-317-9737 to discover exciting possibilities the car wash business has to offer.