10 Situations That Call for Using a Checklist in Your Car Wash Business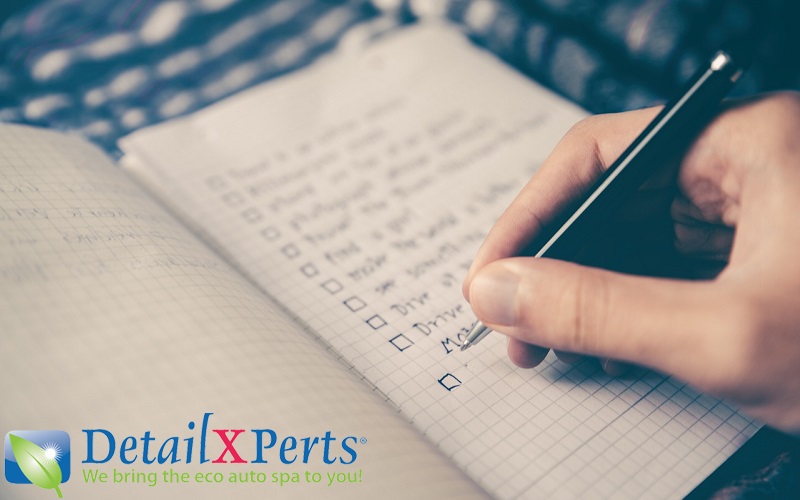 Our brain loves a checklist. Completing tasks on a list releases dopamine, the chemical associated with reward and motivation. Have you experienced that feel-good sense of achievement when you get a job done? Setting out tasks or reminders in a checklist format keeps us focused. It also ensures that important tasks are not forgotten. This helps us avoid making costly mistakes. Here are situations where a checklist can make your business run smoothly and make it more successful:
Your Car Wash Business Checklist
1. Finding the Right Franchise
If you are thinking about starting your own car wash, use a checklist when you research the different opportunities and business models before you make your final decision. For example, buying a franchise can be a smart and lucrative move. First, though, compile a franchise checklist. This step-by-step guide highlights the important areas you need to research, such as:
Brand reputation
Initial training
Ongoing support
Marketing and sales
Fees and cost structure
As you work through this checklist it will help you with your decision-making when it comes to choosing the right franchise that is the best fit for your finances, business goals and personal circumstances.
2. Getting a License
Checklists are great in situations whenever there are legal documents or paperwork involved. When you are getting your car wash license, a checklist ensures you complete the process correctly. For example:
Researching local government laws to find out what licenses or permits you need – they can vary between different cities and states
Finding out if there are requirements for environmental compliance
Completing application form
Collecting supporting documentation
Paying fees (if any)
Submitting paperwork
3. Hiring People
A checklist is invaluable when it comes to employee recruiting for auto detailing jobs. Once you have collected resumes, you will need to shortlist candidates for interviews. Make a list of a set of questions you want to ask each interviewee. Your checklist should also include reminders to follow up on references, etc. A checklist captures the important steps in recruitment, keeping the process professional, organized, and consistent from start to finish.
4. Training New Employees
A Standard Operating Procedure (SOP) is useful for employee training when they are learning the ropes at your car wash business. SOPs are step-by-step instructions to ensure the team completes detailing jobs to the highest standards. It can also include a safety checklist and set out standard procedures for operating apparatus and equipment. This kind of checklist is invaluable when you want to set high standards and keep employees safe.
5. Using a Car Detailing Checklist
Use a checklist when you are detailing vehicle interiors and exteriors. This will make sure nothing is overlooked in the cleaning process as you strive to maintain the highest standards. Here are some of the jobs that will go on the checklist when detailing interiors:
Vacuum interior
Wash floor mats
Clean and polish windows
Steam clean upholstery
Remember to clean seatbelts!
Following a standardized list makes it easier to work through the job in a methodical manner. These high standards are what will make your business stand out from the competition.
6. Checklist for Marketing Your Car Wash
A marketing checklist helps you develop and execute an effective marketing plan. Use the list to break down the project into manageable step-by-step tasks for yourself or delegate these tasks to members of the team. For example:
Write the marketing material – are you offering discounts/promotions/new services?
Organize images and design with logo, etc.
Promote on social media
Share via email
Organize Facebook ads
You can use an online checklist template to help you. Take a look at amanac.io. The templates available include an SEO editing checklist and a pre-webinar launch checklist.
7. Car Wash Equipment and Maintenance Checklist
Compile a checklist of the equipment you need. Your ability to do a great job comes down to having the right equipment, tools and detergents at your disposal. Include reminders to re-order essentials, so you maintain stock. Also, use a checklist to create a car wash equipment maintenance schedule. Write down the daily and weekly maintenance jobs that need to be completed to ensure the safety and well-being of your employees and customers. These preventative measures also help prolong the life of tools and machinery, saving money in costly repair bills in the long term.
8. Financial Planning Checklist for Business
Small businesses should use a checklist for financial planning. It keeps a track of cash flow and spending, so you can budget more effectively and balance the books. A financial checklist makes it easier to measure your profit and loss. This will enable you to identify strengths and weaknesses in your car wash business. Write down what accounting tasks need to be addressed to ensure you keep on top of bills, payroll, taxes, etc. You might find it easier to divide the checklist into daily, weekly, monthly, quarterly and annual tasks. Add a separate checklist to prepare for end-of-year tax returns. A monthly checklist could include:
Payroll
Review sales
Assess marketing costs
Pay expenses and bills on time
Review pricing strategies and discounts promotions
Using a checklist is key to strong financial planning and the health of your business. There are handy task management apps available that work on mobile platforms and your office computer. Take a look at the free app Todoist. It gives you a clear overview of tasks and projects that you can share with your team.
9. Good Time Management
Use a checklist to prioritize deadlines and track tasks. Look out for online checklists that will send you and your team reminders to ensure your business runs like clockwork. For example, the to-do list app Asana will send reminders when tasks on your checklist are approaching their due date. This is particularly useful when you want to turn your car detailing marketing ideas into actionable tasks within a set time frame.
10. Building Customer Relationships
When you are hard at work running a business and managing a workforce, it is easy to forget the small things. These can make a big difference to overall customer satisfaction. However, you need to know what to include on your checklist. This is where Customer Relationship Management (CRM) solutions can come in handy. Salesforce is a good example. You can use it to create a specific list, helping you to build a customer-focused business. For example, tasks on your checklist could include:
Reply to customer emails
Collect customer feedback
Organize personalized promotions
Host an event to positively impact your community
Make your car wash an eco-friendly business
Update and adapt your list on a regular basis to ensure you deliver the best possible customer experience. This will strengthen your brand reputation within the local community.
Conclusion
Overall, there is no doubt that a checklist makes life easier and helps maintain smooth operations in your car wash business. This helps you feel more organized and in control. Whatever the situation, don't make it too long. Aim for around 10 tasks per list to keep it manageable and achievable. There are many tasks to undertake when running a business, from recruitment and payroll to marketing and brand building. It is a lot to take on alone. Why not consider starting your own car wash business with DetailXPerts? Our strong automotive franchise support system will back you up way beyond checklists.
Before you go, take a moment to follow DetailXPerts on LinkedIn to continue the conversation on business topics and the latest developments in the franchise world.