Is a Hand Car Wash a Good Business Opportunity?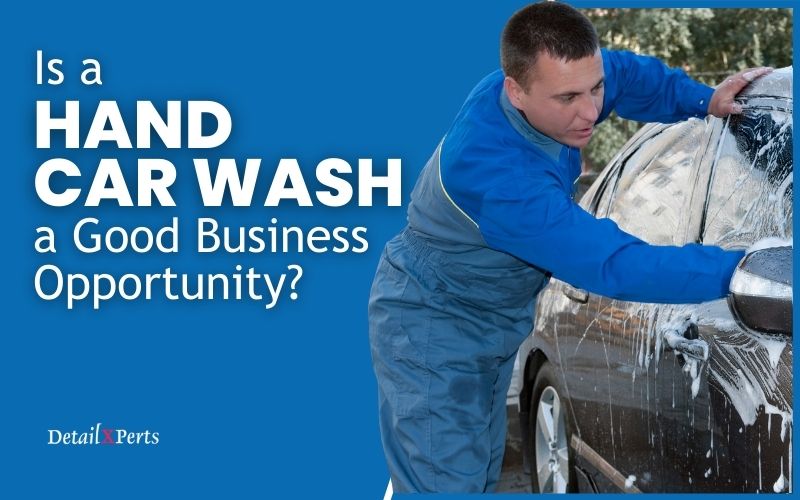 Starting a hand car wash business is something to consider if you want to enter the profitable car wash and auto detailing industry. Research suggests the US car wash market will reach $23.78 billion by 2030, expanding at a CAGR of 5.5%. So, there are lucrative opportunities to explore. But is a hand car wash the type of car wash for you?
To help with your research, download How Much Does It Cost to Start a Mobile Car Wash. Our in-depth guide studies startup costs, including equipment and marketing costs. We also look at franchise costs if you want to partner with an established car wash brand.
What Is a Hand Car Wash?
A hand car wash is a car washing service carried out by someone who uses hand-held tools and equipment, such as a steam cleaner, cloths, towels etc. Unlike speedy automated car washes that rely on machines, washing cars by hand is a more labor-intensive process that takes a more personalized approach to cleaning.
Also, question whether washing cars by hand suits your personality. Are you outgoing and confident? Do you like talking to customers? Are you comfortable managing a team as you grow your business? If you describe yourself as a "people" person, this is a good start. Next, consider the pros and cons to help determine whether this is the business for you.
Advantages of a Hand Car Wash Business
Affordable Business Model
The startup cost to build a car wash is high. It costs much more to install in-bay automatic car washes than it does to start a hand car wash. Therefore, if you don't want your startup costs to be prohibitive, a hand car wash is a more realistic consideration. See our post on what it costs to start a mobile car wash.
However, there is more to hand washing vehicles than a bucket of water and a cloth. You must invest in high-quality car detailing equipment to survive in a competitive market. For example, DetailXPerts' technicians use the latest technology for steam cleaning vehicles.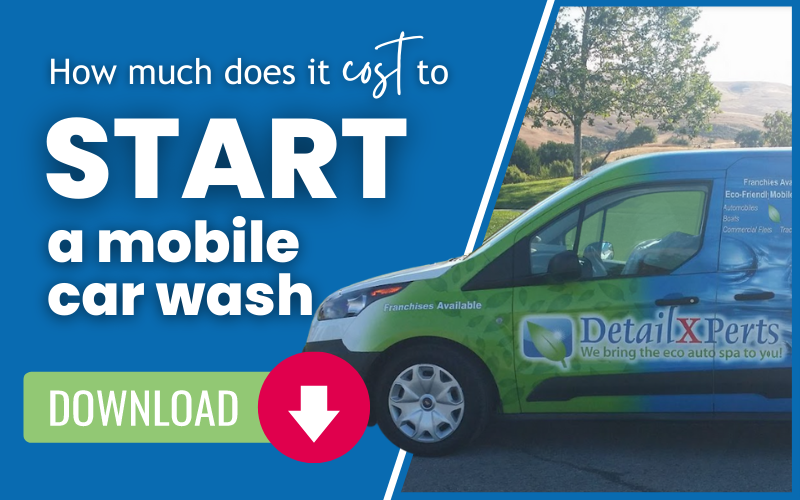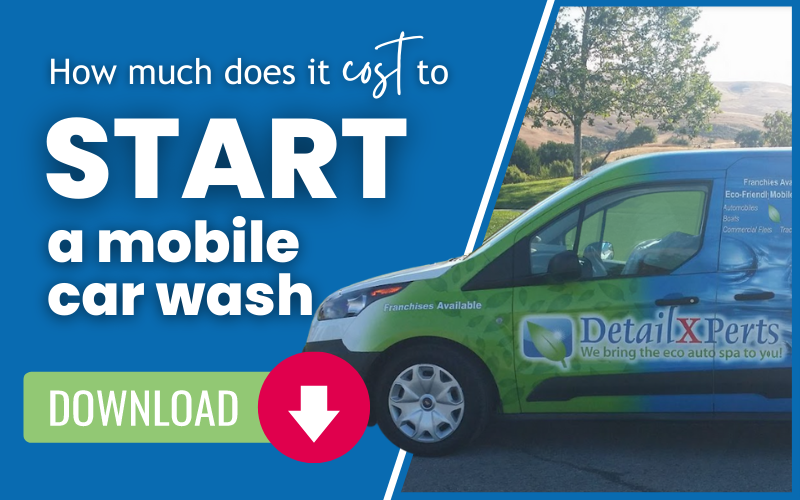 Attention to Detail
Washing cars by hand guarantees the personal touch. A touchless car wash might be super-quick, but it can't guarantee a spotless clean in 5-10 minutes. In contrast, experienced hand car wash professionals are known for meticulous attention to detail. They take time to thoroughly clean every nook and cranny of the car, ensuring it looks good as new.
Furthermore, a hand car wash uses soft cloths or advanced steam cleaning technology instead of automated stiff brushes. This gentler approach is better for exterior paintwork, resulting in a superior shine.
Upgrade a Basic Car Hand Wash with Add-on Services
You can upgrade a basic exterior car hand wash with add-on services to suit the customer. For example, a profitable mobile car wash offers additional services like full serve and detail.
You can also offer specialized services to satisfy current trends. For instance, news reports reveal customers are spending more on car sanitization. Killing viruses with steam effectively eradicates germs on frequently touched areas such as door handles and steering wheels.
Car Wash While You Shop
People like to multi-task and save time. The hand car wash business model perfectly suits the "wash while you shop" idea. For example, if you can wash cars in a parking lot near a supermarket or mall, your business will attract more customers who want to shop while you clean their vehicle.
A gas station car wash also has this multi-task appeal. However, an automated car wash requires customers to remain in their vehicles.
The Convenience of Mobile Detailing
You can also take a car hand wash to the customer because you don't rely on automated equipment at a fixed location. The flexibility of mobile detailing creates even more opportunities, especially when customers do not have time or the desire to drive to the car wash and wait in line. See our post on mobile car detailing service for busy people.
Disadvantages
A Hand Car Wash Takes Time
Hand washing services might produce sparkling results. However, they do lack the speed of an automatic car wash. Busy lifestyles mean that customers often prefer the speed and convenience of an in-bay automatic car wash. Be mindful that if you are restricted to washing only a limited number of cars per day, this can impact profits and affect the growth of your business.
High Water Usage
Traditional hand car washes use a lot of water. Environmental issues shape consumer trends and many people seek out socially responsible businesses. If your car wash can pivot to the green sector and become an eco-friendly business, this will improve its appeal and chances of success. Alternatively, look out for a green car wash for sale or invest in an existing environmentally-friendly car wash franchise business like DetailXPerts.
Employee Training and Costs
You need reliable staff to grow a successful car hand wash business. This means recruiting and managing your car wash team. You will also need to provide employee training. Therefore, payroll becomes part of your outgoings. In contrast, an automatic car wash has a lower demand for staff to clean vehicles.
Is a Hand Car Wash Business Right for You?
A hand car wash business has great potential if you can bring the personal touch to car detailing while guaranteeing exceptional results. The demand is there, even more so now that people have become increasingly concerned with hygiene after the global pandemic.
The good news is, you don't have to start from scratch. You may want to buy an existing car wash business. Alternatively, check out these great car wash franchise opportunities. For example, DetailXPerts has different business models and profit centers to help you achieve your goals.
Conclusion
To sum up, a hand car wash is a good business opportunity if you can meet customer demand for this personalized service. However, to maximize popularity and profits, look at ways to become environmentally friendly and think about offering add-on services.
Starting any car wash requires a lot of research, and this includes the financing side of things. So, be sure to CLICK HERE to download How Much Does It Cost to Start a Mobile Car Wash. Our helpful guide highlights startup costs and more.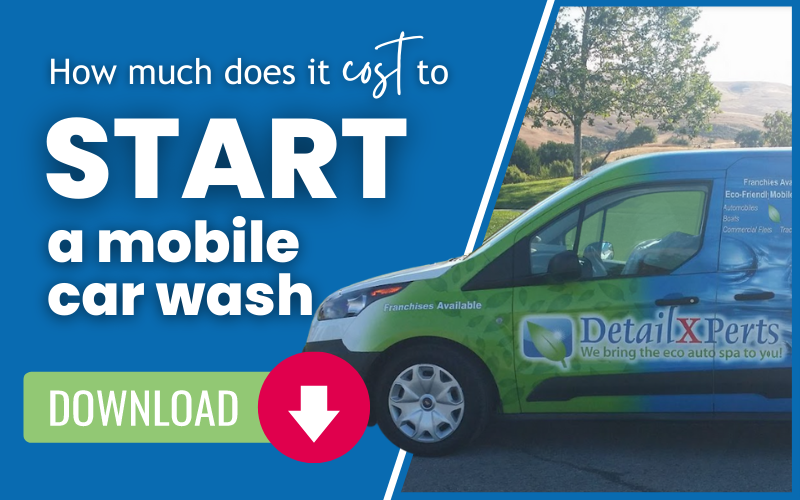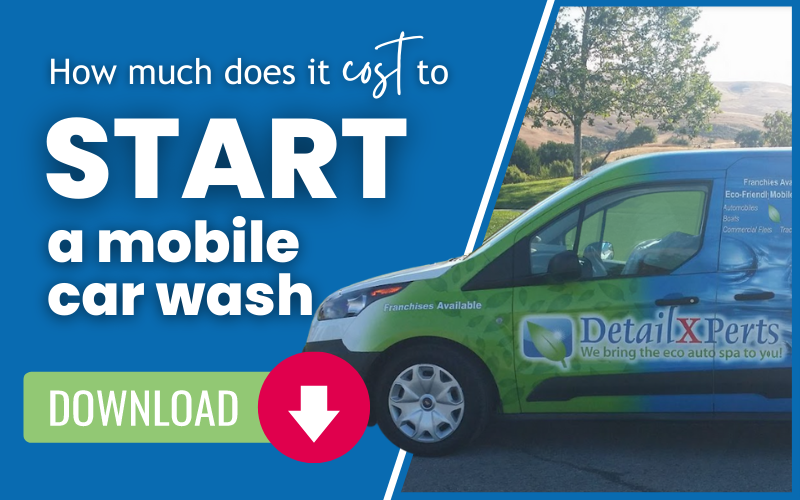 DetailXPerts is a niche mobile cleaning franchise. Our difference is future-proof green technology. Science-backed steam methods and biodegradable products enable us to clean and sanitize on demand. And we have a first-class training and support system to help our franchisees succeed.
Contact us if you want to learn how to dominate 3 lucrative markets. And be sure to check back for our next article. Our team loves sharing industry news and advice. We write about franchising, green business, management, marketing, and more. The future of car washing is here!