How a Steam Detailing Business Is Best Fit to Provide Superior Car Sanitization Services [VIDEO]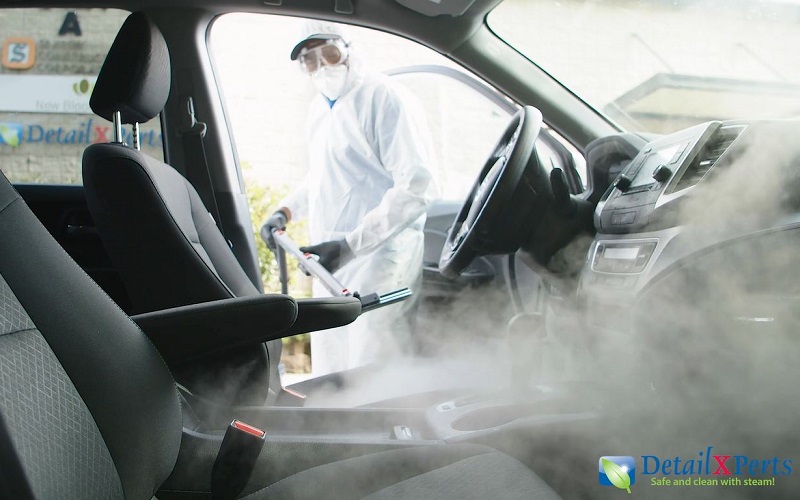 Car owners are actively seeking out car sanitization services. They want to ensure their vehicles are cleaned to the highest standards. The coronavirus pandemic has contributed to this spike in demand. Scientists are warning us that COVID-19 will continue to linger in some form or another for the foreseeable future. Therefore, it is important to make superior and reliable car sanitization services available to everyone. In this article we will look at why a steam detailing business is best fit for the job.
A steam detailing business is perfectly suited to meet the consumer demand for car sanitization services. Not only does a deep steam clean leave car interiors looking immaculate but, more importantly, it also reduces the risk of viral and bacterial contamination and spread. Read on to discover why cleaning cars with steam delivers exceptional results when your customers want a healthier, sanitized car ride.
10 Benefits of a Steam Detailing Business
1. Stops Bacterial and Viral Spread
A steam detailing business uses specialized equipment and the high temperature of steam to effectively wipe out pathogens. For example, flu viruses die at temperatures above 75°C (167°F). Steam sterilizing temperatures can reach up to 132°C (270°F). Therefore, we know it is effective at destroying harmful bacteria, viruses, and mold spores. Killing viruses with steam eliminates the spread of contamination, ensuring a car interior is a safe and sanitized space.
Steam sterilization has a great reputation. Healthcare facilities routinely use it for disinfection and sanitization. Medical professionals know to trust the dependable levels of cleanliness guaranteed by steam cleaning, because it has proved to be so successful at infection control. In hospitals, steam methods of sterilization are the most widely used and the most dependable. The CDC (Centers for Disease Control and Prevention) states that "Steam sterilization is non-toxic, rapidly microbicidal, sporicidal and rapidly heats and penetrates fabrics."
2. Steam Is Non-Toxic and Non-Harmful to Driver, Passengers, and Pets
Cleaning cars with steam tackles the toughest dirt and grime without the need for toxic detergents. Strong fumes from some disinfectant solutions can impact a person's health. They can irritate the lungs, skin or the eyes. In contrast, steam detailing eliminates exposure to harmful cleaning chemicals. Using non-toxic steam sterilization methods ensures the safety of the driver, passengers and pets on car trips. To further ensure customer health and safety, eco-friendly cleaning products combine with steam detailing to produce a sparkling, sanitized clean.
3. Steam Detailing Targets High-Touch Areas
Steam detailing equipment is usually fitted with a range of hoses and nozzles. This makes it quick and easy to target and access high-touch areas. These can be the steering wheel, seatbelts, doorknobs, handles, and controls. The heat from the steam swiftly eradicates any harmful bacteria and viruses transferred from hands to any surfaces and touchpoints within the car. Car wash businesses that use targeted hygiene procedures employing steam detailing are helping to stop the spread of germs.
4. A Steam Detailing Business Is Better for the Environment
Steam detailing automatically makes your car wash an eco-friendly business. For example, sanitizing cars with steam uses the minimum amount of water. It takes less than a pint of water to steam clean a car. In contrast, a tunnel car wash can use up to 120 gallons of water per car. Furthermore, steam is not only better for the environment, but it can also boost your bottom line. If you can successfully market to the increasing number of consumers who seek out eco-friendly services and sustainable purchases, it will help to increase business profits. Rising awareness of the benefits of green and sustainable cleaning practices is good news for a steam detailing business.
5. Steam Is Tough on Dirt and Germs, but Gentle on Upholstery
You should also sanitize the car seats. However, you need to do it with great care to protect the different types of fabrics.  Upholstery cleaning with steam gets superior cleaning results without damaging materials. Professional steam cleaning equipment has variable steam controls that you can adjust to suit nylon, vinyl, leather, faux leather, and so on. However, professional detailers will always test on a less visible spot first before continuing with a full steam clean.
6. Air Sanitization and Odor Removal
When you sanitize the car interior it can smell clean and fresh without the need for heavily perfumed air fresheners. A steam detailing business is always the best fit to provide superior car sanitization services because it tackles stains, mold, mildew and bacteria that can produce those lingering bad odors if left untreated. Steam is also effective at removing pet odors from carpeted areas and upholstery in car interiors. Steam cleaning those difficult to access AC vents will also help to main a fresh interior environment.
7. Grow a Steam Detailing Business with Add-On Services
A steam detailing business is not just about sanitizing car interiors. Cleaning with steam technology also presents opportunities to grow your business with add-on services. For example, steam cleaning engines can boost your car wash profitability. Steam cleaning methods are powerful enough to remove grease and oil deposits. There is no corner or surface of the engine left unclean. The high pressure of a steam cleaner enables the steam to effortlessly access all those hard-to-reach places to ensure a sanitized clean. The benefits? A gleaming engine is more efficient when well-maintained.
8. Go Mobile with a Steam Detailing Business
A modern business model adapts to suit the needs of the customer. Market research shows that global consumers want convenience with products and services. Busier lifestyles, new technology and a desire for a better work-life balance are key factors behind the drive for convenience. A steam detailing business can easily adapt to offer customers a mobile steam detailing service. Mobile car care and detailing equipment for car sanitization services is portable. This enables you to deliver a convenient service right to the doorstep or workplace of your customer.
9. Steam Methods Are Backed by Science
A steam detailing business is the best fit to provide excellent car sanitization services because steam cleaning methods have scientifically proven results. Scientific facts reassure customers that their car interiors benefit from the best sanitization methods. Moist heat (steam) sterilization is what occurs when heated, high-pressure steam is used as a sterilization method. From a scientific viewpoint, the success of steam sterilization comes down to "denaturation". This process disrupts and breaks down the structure of proteins in bacteria and viruses, destroying them so that they are unable to cause infection. In short, steam sterilization denatures the proteins in pathogens leaving your customer's car in pristine, sanitized condition.
10. Promising Future Growth and Statistics
Steam detailing taps into the booming sanitization services franchise market. According to research, there is a significant development in the cleaning services market. The global cleaning services market's value stands at $40.02 billion in 2017. In addition, experts expect it to reach $80.50 billion by 2026, at a CAGR of 8.93%. Therefore, not only is a steam detailing business the best fit for superior car sanitization services, but it also opens up opportunities for ambitious entrepreneurs to further diversify and grow their businesses.
Conclusion
A steam detailing business has the potential to do extremely well in the current climate and the future, thanks to increased consumer demand for sanitization services. The many benefits of steam include excellent results, non-toxic methods and a green business model. This helps to reassure customers that innovative steam cleaning methods are the best fit to provide superior car sanitization services with environmental benefits, too.
If you have an interest in a steam detailing business, take a look at why a car franchise with DetailXPerts could be the perfect opportunity for you. Also, take a moment to connect with DetailXPerts on LinkedIn. We welcome your thoughts and inputs on the world of franchising and the latest business news.