7 Ways to Improve Customer Loyalty through Technology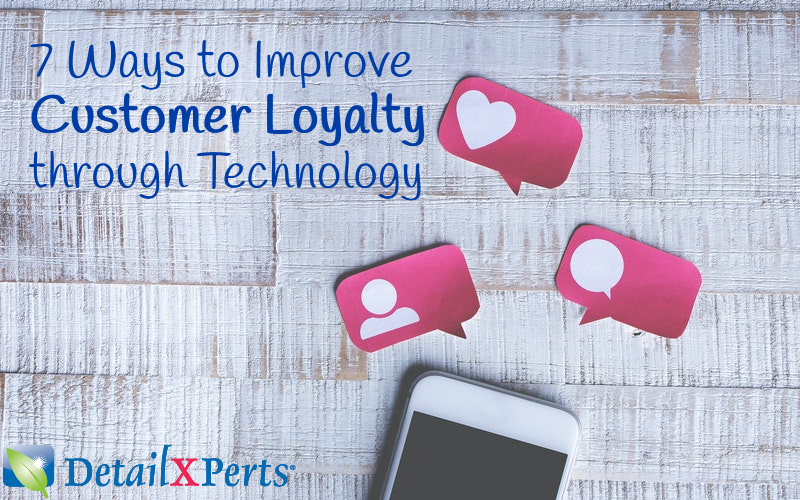 The latest apps, software and AI technology make it so much easier for a business to find ways to improve customer loyalty. This is welcome news if you are serious about customer retention and growing your auto detailing business. Utilizing the right technology will help you strengthen communication as well as prioritize convenience and personalization to help make your customer feel valued and appreciated.
Investing in technology will pay off. We know that loyal customers spend more money, more often. They are also more likely to recommend your business, which is invaluable word-of-mouth advertising. This is the reason why connecting with customers is now considered a business priority. Providing the best customer experience is key to driving profitability. People like to feel an emotional connection with a business or a brand. Consequently, they seek out businesses that share their values.
Ways to Improve Customer Loyalty for Your Auto Detailing Business
Technology can help you really get to know your customer and build a lasting relationship with them. However, it is easy to become overwhelmed by choice. To help you find the best ways to improve customer loyalty through technology and discover online financial tools for your business, take a look at the following suggestions:
1. Install a Point of Sale (POS) System
Speed and convenience are always welcomed by the customer. Improve business efficiency and productivity with a point of sale (POS) system to automate payments and so much more. Use the POS to sign customers up to your database. Track how much they spend, gain sales insight and use it to identify your most profitable car detailing services or problem areas. Performance metrics can help staff upsell or cross-sell. Payment processing can also be integrated with a rewards program to boost customer loyalty.
Costs depend on whether you choose a complete POS system or just specific components, such as cash register software only. Vend is a car wash POS providing inventory and customer loyalty software with a secure cloud backup. It costs from $99 to $129 per month. However, if it enables you to sell just one extra interior detailing service per month, the package will pay for itself. You can sign up for a 14-day free trial before you pick your payment plan.
2. Use CRM Software as Ways to Improve Customer Loyalty
If you are serious about finding ways to improve customer loyalty, use customer relationship management (CRM) technology to help establish a more personalized experience. For example, HubSpot brings all your customer service data together in one place to help you deliver a more meaningful experience. You can start with free tools and then upgrade as you grow your business. For example, pay $40 per month for a starter package or $320 for a professional package. If you want a premium edition, it starts at $1,200 per month. It is money well spent if you look at the statistics. According to Harvard Business Review, raising customer retention by 5% can boost profits by 25% to 95%.
3. Improve Customer Experience with RFID Technology
Reduce customer wait time. Radio frequency identification (RFID) is wireless technology that can speed up the car wash experience for your customer. It enables them to pre-buy services and even use a car wash when it is unattended – ideal if you want to increase opening hours throughout the night. Installing a RFID reader at your auto detailing business connects with visiting customers who have a corresponding RFID chip on their vehicle. This is usually a small sticker on the windshield. This automatic customer recognition is a great way to improve customer loyalty for the busy user.
Scanning customer RFID chipped cards is an easy and efficient way to capture customer information and create loyalty programs. This kind of customer data is also invaluable when you want to organize targeted customer loyalty marketing campaigns. The downside is the lack of human interaction. RFID tags can't provide the same personal touch as a friendly attendant who can help if there is a problem. RFID costs, which include the reader equipment and installation, can range from $1000 to $3000. Individual tag costs are around 15 cents if you buy in bulk.
4. Pay-As-You-Go Customer Loyalty App
On a tight budget? Look into using a pay-as-you-go mobile app that allows you to use a loyalty app as and when you need it. For example, Stamp Me offers different packages to suit your budget including a pay-as-you-go option for one-off campaigns and events. However, the downside of this is a lack of consistency for the customer. Finding ways to improve customer loyalty and implementing successful customer loyalty strategies should be an ongoing process, not a one-off event. In light of this, Stamp Me also offers a mobile loyalty platform from $29 to $119 per month with a 30-day free trial.
5. Entice Customers with a Digital Rewards Program
If you are researching ways to improve customer loyalty, note that technology has pretty much replaced traditional paper loyalty cards. Turn your customers into regulars by inviting them to sign up to a rewards program on their phone. There is a range of online programs that you can use including Loop Loyalty for as little as $15 per month.
Customers look out for rewards and treats, such as discounts or freebies on their birthday. Reward expectation is likely to increase now that people are being careful with money in a post-pandemic economy. Repeat customers drive 80% of your revenue, so it pays to give them a good reason to come back to your auto detailing business. However, loyalty cards do incur additional costs for your business, so be sure to work out what you can or cannot afford before you make promises to your customers.
6. Gain Insight with Customer Feedback Technology
Customer feedback software helps to improve customer retention and loyalty. Gathering information about your auto detailing services is an efficient way to shape your business for the better. For example, you can ask for pricing feedback when someone is looking at the pricing page on your website or app. Or get feedback on auto detailing packages to find out what your customers like or want. Costs vary depending on software usage. For example, Qualaroo prices range from $480 per year to $960 per year.
7. Empower the Customer with a Self-Service Portal
One of the ways to improve customer loyalty is to build trust by empowering your customer. You can do this by providing an online client profile and self-service solutions. For example, Zendesk provides online support from $89 per month. Allow them to opt in and opt out of loyalty programs or make it easier for them to track active promotions that appeal to them. Keep communication channels open with software that specializes in conversational customer care. For example, LiveChat is a customer service platform that chats to your customers with the help of AI. It costs from $16 to $50 per month for small businesses.
Conclusion
Levering technology helps you to understand your customer better. This knowledge is key to building a successful auto detailing business. Collection information about your customer allows you to fine-tune the details they care about when it comes to cleaning their vehicle. Finding ways to improve customer loyalty becomes so much easier when you familiarize yourself with the available software. Take advantage of any free trials offered before committing to a monthly payment plan or purchasing an online program.
Also, ask other small business owners for their recommendations on ways to improve customer loyalty. Above all, remember that customers are more than algorithms and data. Use technology to your advantage but be mindful that nothing beats the personal touch of a friendly welcome and a face-to-face conversation with your customer.
If you are interested in running a successful auto detailing business that is committed to building strong relationships with customers, check out DetailXPerts' franchise opportunity. We employ sophisticated franchise technology solutions that are proven to improve business efficiency and customer loyalty in the auto detailing business.
Before you go, take a moment to follow DetailXPerts on LinkedIn where we welcome you to join the conversation and share your views.