Mobile Car Wash Industry – An Overview of the Market Today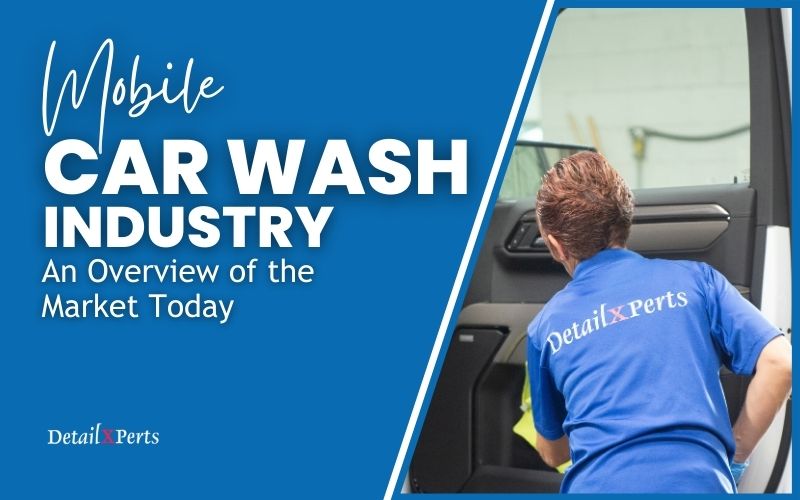 One way to get a foothold in the auto detailing market is through entering the mobile car wash industry. As with any new business venture, it is wise to get an industry overview before you make your final decision. This will give you a much better idea of potential profit, competition, future trends, target market, and so on.
Information and data are key to good decision-making. For example, uses of car wash industry statistics include getting a better understanding of the current trends and demand in auto detailing that you can use to your advantage. It will help you determine whether or not owning a business in the mobile car wash industry is right for you and a worthwhile investment.
About the Mobile Car Wash Industry
The mobile car wash industry brings a flexible service to the world of auto detailing. Instead of operating from an auto detail shop at a fixed location, a mobile car wash is a vehicle-based business. Owning a mobile detailing unit (or several units) allows you to go to the customer at their specified location, date, and time slot. This kind of car wash is hugely popular with those who want convenient, time-saving services that are easy to schedule. People now expect to research, schedule and pay for services through their phones. Read on to gain more insight into the mobile car wash industry.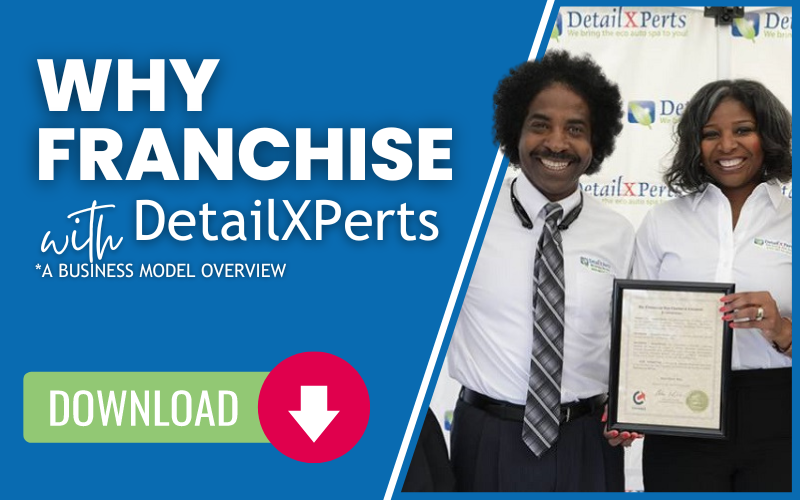 Car Wash Consumer Trends
Firstly, are there opportunities for growth and profit in the automotive franchise industry? It is important to find out if people are still willing to pay for professional car wash services. According to industry research, yes, there is significant demand. Trends show that consumers in the United States increasingly prefer to have their vehicles washed for them instead of doing it themselves – an increase from 48% in 1994 to 77% in 2019. Busy schedules and rising spending power are contributing to this demand.
We must note that the COVID-19 pandemic impacted market growth due to the temporary suspension of certain businesses. However, Ibis World analysts forecast that the demand for car wash services will rapidly recover as people take to the road again and incomes expand.
Target Audience of the Mobile Car Wash Industry
Who uses a mobile car wash? In the broadest sense, your potential customer is anyone behind the wheel of a vehicle – car, truck, van, etc. And there has been an upward trend in car ownership. Statistics published in February 2023 confirm around 282 million vehicles are registered in the US.
However, the target market of the mobile car wash industry is more focused on consumers who prioritize a convenient service. It allows them to schedule a car wash at a time and place that suits them. And this frees them up to do other activities. Mobile car washing services can take place at shopping malls, parking lots, places of work, home driveways, and so on.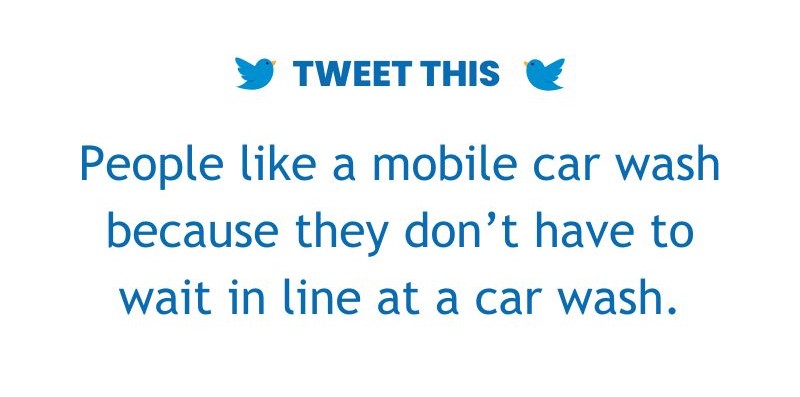 You can also target companies that need commercial fleet services for the smooth running of their business. Hiring the services of a mobile car wash allows companies to get multiple vehicles washed on-site and back on the road as quickly as possible.
Furthermore, if your business has an online booking system, it will make life easier for your customer to schedule a mobile car wash from their phone. Pew Research reveals about three-quarters of Americans are now buying online using a smartphone. And this trend is widespread for adults under 50.
You can also explore a niche target market for mobile car care. This includes caravan owners, boat owners, and aircraft detailing.
Market Share
An industry overview shows rollover/in-bay car washes account for the largest market share, followed by conveyor tunnel systems. Being aware of car wash industry statistics on the competition will ensure you enter the mobile car wash industry with your eyes open.
While automatic car wash systems might dominate the market, it doesn't diminish the potential of a mobile car wash business. Indeed, you may have a better chance of success in a less crowded and competitive segment. For example, if you look at the car wash market in general, news reports highlight the need for water-efficient products is driving growth. You can tap into this demand with a mobile water conscious car wash.
And you can give yourself an edge over the competition if you are prepared to offer a more memorable experience. Taking a personalized approach when washing cars and building rapport with customers will help you build a profitable mobile car wash in a competitive industry.
Flexible Business Model
Looking at automotive industry trends, you will notice that mobile businesses are popular because they are not restricted to a physical location or fixed 9-5 opening hours. This kind of flexibility in the mobile car wash industry appeals to the modern customer who is busier than ever. It also benefits you as a business owner. You will increase profits if you extend your working hours and serve more customers per day.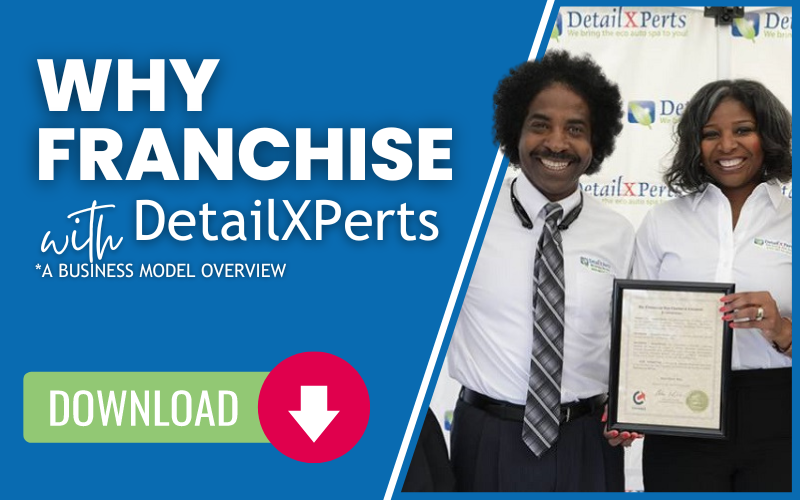 Mobile Car Wash Revenue
In terms of revenue, the mobile car wash industry can hold lucrative opportunities for those business owners who work hard. How much do car washes make in the mobile car wash industry largely depends on the number of mobile detailing units in your business. For example, earning potential can be around $149,000 per year if you own 3 mobile units. You can increase revenue further with higher-priced add-on services such as paint correction.
Future Prognosis of the Mobile Car Wash Industry
With the mobile car wash industry projected to reach $22.9 billion by the end of 2032, you have the potential to make a lot of money. But you need the latest tools and technology to stand out. For example, look at the science behind steam cleaning vehicles. This method is green and clean, better for people and the planet.
Rollover/in-bay car washes might dominate a large share of the car wash market. However, it requires a considerable investment. On the other hand, the cost to start a mobile car wash is more manageable. This will help you keep tighter control over your finances in your first year.
Furthermore, if you can make your mobile car wash an eco-friendly business, it will also help to boost your profits. A joint study from McKinsey and NielsonIQ  shows that customers care about sustainability – and are willing to pay more for it. And a mobile car wash that uses water-saving solutions, such as a steam detailing business, is a more attractive option to the environmentally-conscious consumer.
Elsewhere, the global mobile app market is experiencing huge growth. The market size is expected to grow at a CAGR of 13.8% from 2023 to 2030. Apps for mobile detailing are helping to drive up business in the mobile car wash industry. See On-Demand Car Wash below.
On-Demand Car Wash
Market research confirms the on-demand car wash continues to grow. It highlights the shift from DIY car washing to a "do it for me" preference. And a mobile car wash is suited to offering on-demand services. You can make your business accessible to customers via an app on a smartphone. An online mobile booking system makes scheduling a car wash and processing payments effortless. It also means less administrative work for business owners and more convenience for the customer.
Marketing a Mobile Car Wash Business
Utilizing technology in the mobile car wash industry continues beyond apps. You can also reach customers through their smartphone with targeted marketing campaigns highlighting the convenience of a mobile car wash. See our ultimate car wash marketing guide for more tips and advice.
For example, digital marketing trends in the automotive franchise industry include making the most of social media marketing on Facebook and Instagram. You can also boost your online business visibility with search engine optimization (SEO) strategies.
Conclusion
If you start a mobile car wash, you have the potential to build a very profitable business. What's more, your startup costs will be lower than the cost to build a car wash at a fixed location. Overall, the mobile car wash industry is growing thanks to the demand for convenience and trending eco-friendly cleaning methods.
To enter a dynamic and competitive market, you must prove that you can stand out. You'll also need to provide exceptional service. We can help you achieve these goals with our robust franchise opportunity. To find out more, download our Business Model Overview Sheet.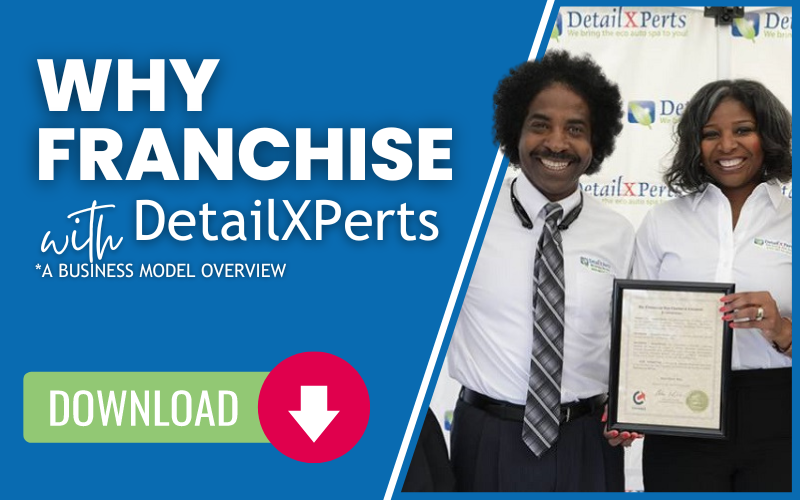 DetailXPerts is a niche mobile cleaning franchise. Our difference is future-proof green technology. Science-backed steam methods and biodegradable products enable us to clean and sanitize on demand. And we have a first-class training and support system to help our franchisees succeed.
Contact us if you want to learn how to dominate 3 lucrative markets. And be sure to check back for our next article. Our team loves sharing industry news and advice. We write about franchising, green business, management, marketing, and more. The future of car washing is here!
This article was updated in April 2023 for comprehensiveness.