Auto Detailer Job Description – How to Write It to Attract the Right Candidates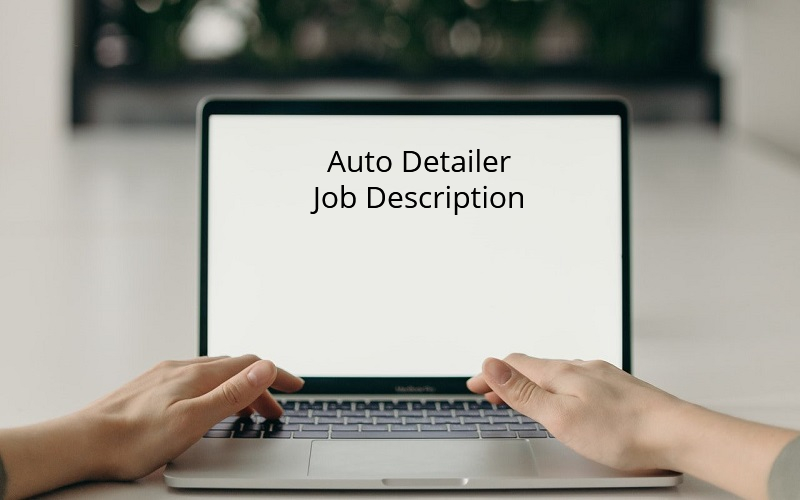 Hiring the right detailer to join your team will make all the difference to the success of your business. Therefore, it is worth sitting down and taking the time to write a carefully constructed auto detailer job description. It should include as much relevant information as possible and ask the right kind of questions. This will get your hiring process for auto detailing jobs off to a strong start.
Why is your detailer job description so important? Your goal is to find someone who not only does great work as a detailer but also fits in well with your team. Someone who has personality traits in line with your brand image and values will impact the people they work with. For example, you will want to hire someone who can motivate colleagues, increase positivity in the workplace and boost productivity. These factors are directly linked to promoting your business and increasing profits.
How to Write a Great Car Detailer Job Description
The ideal candidate for your detailer job is out there. You just need to find them! A well-written auto detailer job description will save you time further down the line in the recruitment process. It should attract the most suitable candidates. Then when it comes to the interview stage, you won't waste time talking to people who are the wrong fit for the job. Here are some points to include and suggestions on how to structure the job description when it's time to hire employees for your detailing business.
Make the Auto Detailer Job Description Easy to Read
Many job seekers now use mobile devices when looking for work. Bear this in mind when writing your car detailer job description. Don't present your job as a long block of text. Instead, use short paragraphs. Break up the car detailer responsibilities and requirements with bullet points. Think of it as a skim-read but be sure to include all the key information. To keep you on track, let's outline the structure of your post and the key points to include.
Get the Job Seeker's Attention with an Informative Title
Optimize your job posting with an informative title. Your detailer job description needs to stand out with a short and snappy title. Aim to explain in a succinct sentence what the job is about. Try to include some relevant key words in addition to "auto detailer". For example:
Experienced
Apprentice
Trainee
Full-time
Part-time
Adding a little extra detail to the job title helps to attract the right job seeker for the role. For example, if you say you are looking for an "apprentice" detailer, this indicates that no experience is necessary and training will be provided. Or you could emphasize the importance of personality traits for the role and include words such as "cheerful", "enthusiastic" or "hard-working" in the job title.
Always Include the Location in Your Detailer Job Description
Underneath the job title, write the job location. It makes no sense for someone to apply for a job if it is on the other side of the country unless they are actually planning to relocate. You may also wish to include the geographical location in the job title, see above. This will target those job seekers who do a location-based job search online.
Be Clear About the Type of Contract
Are you looking for a full-time worker or is it a part-time position? Be clear about the type of contract to avoid disappointment at the interview stage. Highlight key points such as flexible hours or working remotely, if the detailer job involves mobile detailing. If it is initially a seasonal position, is there a possibility the role could be extended? This is useful information to include in your auto detailer job description.
Talk About Salary
Transparency in business builds trust. Aim to be as honest and open as possible in your car detailer job description. This includes disclosing salary details upfront. Some companies choose not to, or prefer to give a vague indication, such as "a generous salary" or "a well-paying position". It makes sense to let job seekers know from the start how much they will earn. Otherwise you might find a candidate at the interview stage who is the best fit for your detailing team only for them to turn down the job because the salary doesn't meet their needs or expectations.
Welcome Candidates with an Introduction to Your Company
Remember that your detailer job description is a two-way process. You are looking for the best candidate. The job seeker is looking to work for a company that aligns with their values and expectations, too. Start with a brief introduction to your auto detailing business. Outline your brand values and what you offer the customer. For example, if you are a green car wash business, mention this.
Make a List of Requirements Including Qualifications and Experience
There are different skill levels to auto detailing and each role is important. However, some job requirements are more complex and specialized than others. For example, auto detailing includes car wraps, paint correction and so on. You may be looking for someone who has experience in detailing boats or an aircraft detailer job. Therefore, specific qualifications and/or relevant experience may be considered necessary. Again, list them as bullet points for clarity. For example:
Full driving license
2 years' experience essential
Confident using paint correction equipment
Experience in vinyl wrapping
On the other hand, you may decide that no experience is necessary because you plan to provide training. If you intend to build the role around the candidate, include this information in the auto detailer job description. Additionally, it is wise to highlight that auto detailing is a physically demanding job that may also involve working outside in all weather.
Include up to 6 Bullet Points That Outline Job Responsibilities
A new hire checklist helps to keep your job description precise and to the point. Outline job responsibilities. What are the duties of the job role? Candidates will want to know what the job entails and what they will be doing. This can be done in a bullet point format to make the information clear and succinct. It could look something like this:
Vacuuming car interiors
Washing and waxing car exteriors
Working with cleaning products
Operating steam cleaners, buffers and other detailing tools and equipment
Tire dressing
Retouching paint
This is a general guide. You can make it more specialized depending on the jobs available and your business needs. You don't have to stick to 6 bullet points but don't go over 10. After all, you don't want to put off potential candidates with a demanding list of responsibilities.
Your Auto Detailer Job Description Should Highlight Benefits
Make the car detailer job description sound enticing and be sure to include employee benefits. Describe the perks of the job. Perhaps your company offers a flexible schedule? Maybe you provide additional training to help employees move up a pay grade. On-site parking, health club membership, dental insurance, or extra pay for working on public holidays, such as Thanksgiving or Independence Day, may also be considered benefits.
Additional Questions and Information
You can also raise questions in your car detailer job description that can then become part of the discussion at the interview stage. This will help the job seeker to prepare in advance. For example:
Are they comfortable working outside in all weather?
Are they calm and meticulous when it comes to working on high-end vehicles, a job that comes with a lot of responsibility?
Do they have interest in learning new techniques and working with the latest equipment in the car wash industry?
This kind of questions will help to give insight into their personality and work ethic. Not only do you want to hire an exceptional detailer but you also want someone who is a good fit for your team. Someone with good communication and interpersonal skills will be useful when it comes to interacting with customers. Screening applicants is an important part of the final process.
Conclusion
The process of hiring the right person for your team begins with an on-point and interesting car detailer job description. Aim to include as many details as possible but break up the text to make it easy to read. Be absolutely clear about the job requirements. There is a big difference between a trainee and a master detailer. Make your requirements sound professional but not demanding.
The recruitment process does take time. It is made so much easier if you have some professional help. Why not check out the DetailXPerts car detailing franchise opportunity and download our Free Franchise Info Kit? If you join as a franchisee, we will help you hire the right team members and then train them.
If you've enjoyed this post, sign up for our franchise newsletter. It is a great way to regularly receive more business ideas, franchise tips, and industry insights.