New Employee Training Checklist for Your Auto Detailing Business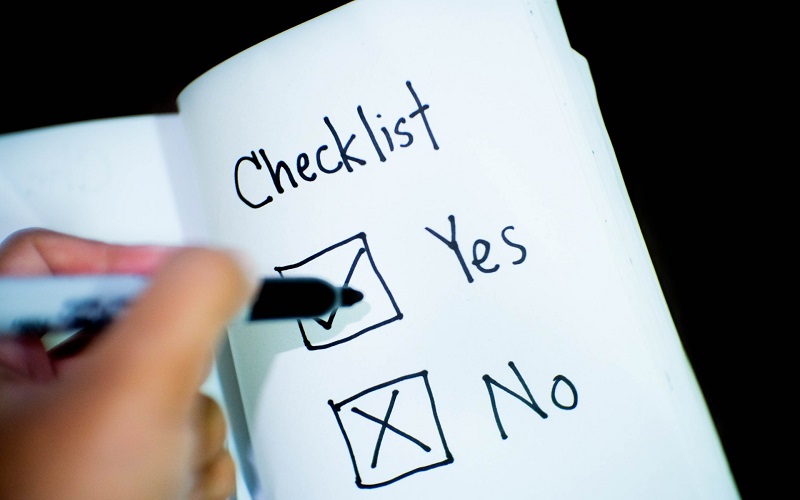 Once you have hired someone for your auto detailing business, it is a good idea to use a new employee training checklist. Taking a highly organized approach when you welcome a newly recruited team member ensures that nothing is overlooked or misunderstood. Responsible business owners who always use checklist for training purposes recognize the many benefits. These include improved communications when outlining work routines and responsibilities, setting high health and safety standards in the workplace, establishing excellent customer service and implementing time-saving work methods and professional detailing techniques that will optimize employee performance.
A training checklist benefits the new hire too. It helps to make them feel more secure and confident in their new role by outlining and explaining their responsibilities. Training new employees gets them off to a great start. As a result, it also guarantees that all auto detailing work is carried out carefully and meticulously. This will boost your business reputation by ensuring top quality detailing and avoiding damage to clients' vehicles.
New Employee Training Checklist
You can use a generic checklist that will be relevant to the entire team when training new staff. This should cover health and safety policies and procedures, customer service training and so on. However, there isn't a one-size-fits-all new employee training checklist. Different departments within your auto detailing business will benefit from a more tailored checklist that relates to the specific job role. Your generic checklist will outline company policy in order to build a cohesive team while department checklists highlight work routines to ensure all parts of your business function correctly. Here are some examples to consider:
Health and Safety Training in the Workplace
A health and safety new employee training checklist is a must if you want to avoid injuries in the workplace. It sets standards and encourages everyone in your auto detailing business to promote safe work practices while also raising awareness of potential hazards in a busy auto detailing environment. Your training checklist should include:
Taking new employee on a tour of the workplace
Sharing information about fire safety in the workplace, pointing out exit signs and placement of fire extinguishers
Encouraging the use of signage to identify potential hazards, such as wet floors after washing vehicles to avoid slips and falls
Showing new employees where the first aid kit is stored
Generating awareness about correct storage of auto detailing equipment to prevent trip hazards
Highlighting the importance of keeping walkways clear
Explaining how to prevent injuries by showing how to bend and lift correctly. Also, demonstrating correct posture at work stations
Showing the protective gear required when working with certain tools and equipment
Auto Detailers New Employee Training Checklist
When you employ someone to clean the exterior and interior of a customer's vehicle, a comprehensive new hire checklist will guide and educate them. A good auto detailing business reputation is built on an efficient team carrying out exceptional work on customers' vehicles. Therefore, your new employee training checklist should focus on the following:
Making sure cleaning chemicals are properly labeled and stored
Asking employees if they know how to correctly use the auto detailing tools and electrical equipment. Car wash equipment training not only increases productivity but also ensures that health and safety standards are met (see checklist, above)
Reminding new hires about cleaning vehicles in properly ventilated areas
Outlining the correct interior and exterior cleaning procedures to follow
Explaining how to apply polishes, waxes and protective coatings correctly and efficiently
Customer Service New Employee Training Checklist
Research shows that consumers are more likely to return to a brand that has excellent customer service. If you want to earn repeat business, ensure that you give your customers a positive experience every time they visit your auto detailing business. A customer service training checklist for new employees will help you achieve this goal. It should:
Explain the values, vision and mission of your auto detailing business
Outline the goals of the job role
Set out expectations for clear communication and strong interpersonal skills. This includes acting politely and courteously when dealing with customers
Explain how to deal with queries and consumer requests with patience and professionalism in a timely manner
Stress the importance of talking knowledgeably about auto detailing procedures and products
Set out team expectations and individual responsibilities
New Employee Training Checklist for Accountants or Bookkeepers
Bringing someone into your accounts department requires a more detailed and specific new employee training checklist. It is one relating to payroll, income, expenditure and all the other financial dealings of your business. Here is an example of the kind of checklist that goes with managing company finances:
Introduce your accounting software. Most online systems come with instructional videos to help new hires familiarize themselves with the tools and technology
Explain your payroll system, tracking sales and expenses, purchase invoices, receipts, petty cash and so on
Provide a list of bookkeeping checks to be carried out each day/week/month
Front Office Training Checklist
This customer-facing role is an important one. A winning first impression reassures customers that they are right in choosing your auto detailing services over your competition. Your customer service new employee training checklist will highlight the following:
Greet customers and visitors politely and with a smile
Answer the phone in a cheerful and professional manner
Get to know the auto detailing scheduling system, online bookings and managing customer appointments
Learn about the rewards system (if applicable)
Maintain a friendly, efficient and courteous manner in the workplace
Manager Training Checklist
A checklist is an integral part of running a successful business, whether it is for new employees or a franchise checklist to help you make good entrepreneurial decisions. For example, a new hire for a managerial position will need a new employee training checklist that clearly and specifically outlines the job requirements. It will include:
Setting out a list of responsibilities relating to organizing the team, tasks, workflow and customers. This can include a daily checklist to ensure the business runs efficiently
Introducing project/task management software or any online productivity tools that will help the new employee in their managerial role to maximize business productivity
Discussing how to manage the inventory and reordering supplies
Providing HR training
Sharing tips on how to manage the team successfully. This may include some kind of team chat app that ensures effective communication with the team and brings everyone closer together
Discussing marketing expectations. This includes how to manage content on your social media platforms and drive traffic to your website
Conclusion
A new employee training checklist is a professional way to welcome your new hire. There is a lot of information to take on board when someone starts a new job. Therefore, make it a smoother process with a useful checklist to help your employees achieve their goals, tasks and responsibilities. Moreover, it will also make them feel valued and recognized in their new position within the company.
You will find that some training checklists are necessary for all new employees. Yet, other checklists will overlap or be more role-specific. Overall, the purpose of these checklists is to improve communications with your team, boost employee productivity, strengthen business reputation, guarantee customer satisfaction, and encourage repeat business. Finally, in creating this highly organized work environment, you will reap the rewards as a business owner.
If you have found our article on new employee training checklist valuable, feel free to download it as a print-ready guidance – simply click here.
If you are ambitious and want to run a successful auto detailing business, check out the DetailXPerts franchise opportunity. We support our franchisees every step of the way – including assistance with staff and franchise training.
Don't forget to sign up for our franchise newsletter. We make sure our subscribers are kept up to date with all the latest business news including what's going on in the franchise world.