Steam Car Wash – Is It a Good Business Opportunity Today?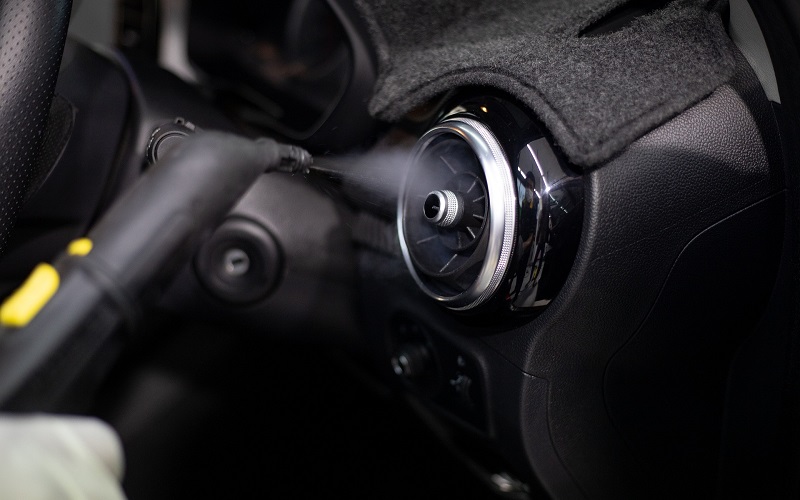 The car wash industry continues to welcome entrepreneurs who want to carve out their careers in a booming market set to reach USD 20.74 billion by 2028. The different types of businesses within this sector include a steam car wash. Is this a good business opportunity for you? Take a look at the pros and cons. It could help you decide whether or not owning and running such business is going to be your next big move.
What Is a Steam Car Wash?
This type of car wash requires professional detailers to use specialized equipment involving high-pressure steam to clean the exterior and interior of vehicles. Steam effectively dissolves dirt, grime and other contaminants without the need to use harsh or toxic chemicals. It is also a flexible business model. You can operate your business from a certain location or you can run a mobile car wash by taking your steam technology to the customer. Alternatively, you can incorporate both options to maximize profits. Although steam is tough on dirt and stains, it is gentle on car paintwork and upholstery because it leaves behind no toxic residue.
Advantages of a Steam Car Wash
A Steam Car Wash Is Environmentally Friendly
If you are interested in owning a green car wash business, a steam car wash has an impressive eco-friendly reputation. Water conservation is a key feature. For example, DetailXPerts uses less than a pint of water to steam clean an average-size vehicle, which is a significant saving of natural resources. In contrast, traditional water-reliant car washes, such as a tunnel car wash, can use up to 120 gallons of water per car.
Furthermore, steam cleaning doesn't need to use toxic chemical products that are harmful to the environment. The high temperature of steam is powerful enough to ensure a superior clean. If you want to boost your green reputation, you can combine steam cleaning with eco-friendly products instead of the usual detergents and disinfectants that people use in other car washes.
Affordable Car Wash
It can be hugely expensive to start a car wash. The cost to build a car wash can run into hundreds of thousands of dollars, especially if you are buying car wash systems and equipment. However, a steam car wash is one of the more affordable business models in the industry. If you partner with a reliable franchise, this can help reduce the cost of setting up your business. For example, DetailXPerts, a car and truck wash that uses steam to clean vehicles, is an affordable home-based franchise opportunity.
Steam Kills Viruses
It also effectively sanitizes the interior of vehicles. Hospitals use steam for a long time already, because it is so effective at decontaminating reusable surgical equipment. The sterilizing temperatures of steam can reach 132°C (270°F) and more. This is hot enough to eliminate harmful pathogens. Killing viruses with steam ensures that the detailer will disinfect the inside of a customer's vehicle thoroughly to minimize the risk of transmission of germs and bugs. Detailers can also focus on high touchpoints, such as the steering wheel, controls and door handles, and so they will leave no germs behind.
Increase Profits with Add-On Services
This business can offer additional services beyond cleaning the interior and exterior of cars. Expanding your list of services boosts your bottom line. For example, steam cleaning engines can boost your car wash profitability and bring more value to your brand.
Seize Opportunities to Expand into the Sanitization Market
You can do more than just cleaning cars and other vehicles with steam. You can utilize your steam-sterilizing equipment to take advantage of the trend for sanitization services outside the car wash industry. For example, public meeting places and work premises should be clean and hygienic. Ever since the spread of coronavirus (COVID-19), businesses and organizations are relying on sanitizing services more than ever. This is to ensure a germ-free, safe environment for members of the public and employees.
Steam Eliminates Odors
Steam not only deep cleans but also gets rid of unpleasant smells that build up inside the car. Moreover, steam is great at removing stains, mold, mildew and pet smells that can produce disagreeable odors if car carpets and upholstery are not thoroughly cleaned.
Disadvantages of a Steam Car Wash
You Must Recruit Reliable Employees
You can't rely on automated equipment to wash the cars. A steam car wash is also different from a self service car wash business where the customer does all the work. You will need to hire responsible employees to operate the steam cleaning technology. This involves managing employees effectively and paying their wages, which takes time and money. However, if you are smart throughout the recruitment process you will attract the right candidates. Writing a good auto detailer job description will get you off to a strong start. Great employees boost your brand's reputation, productivity and profits.
Customers May Not Be Familiar with Steam Technology
People are used to the familiar sight of traditional tunnel car washes and other automated car washes. Cleaning cars with steam might be a relatively new concept to them. However, good car detailing marketing ideas can help to raise awareness and inform potential customers about the benefits of cleaning cars with steam, encouraging them to try out your car wash business.
Pricier for the Customer
A steam car wash is more expensive for the customer than a self drive-through car wash that charges around $7 per wash. There will be customers who always prefer the cheap and fast car wash options. These are not your customers. Market segmentation will help you pinpoint your customers. A steam car wash appeals to the environmentally conscious consumer who is prepared to pay more for a superior car wash. If you successfully target these people you will build a lucrative business.
Conclusion
Is a steam car wash business right for you? As you can see, the pros outnumber the cons. Steam sterilization is non-toxic and highly effective at cleaning vehicles. It is also an eco business model that uses much less water than other car washes. However, as with any new business venture, you have to be passionate about what you do and be prepared to work hard to build a business that will make you proud.
Overall, if you want to do more for the environment with a flexible green business that has the potential to make a lot of money, then a steam car wash is a smart choice. Check out the DetailXPerts franchise opportunity. Our state of the art steam cleaning technology and ongoing franchisee support ensures your steam clean car wash is set up for success.
Don't forget to check out DetailXPerts on LinkedIn to discuss more business and franchise opportunities.