7 Franchise Opportunities for Stay at Home Moms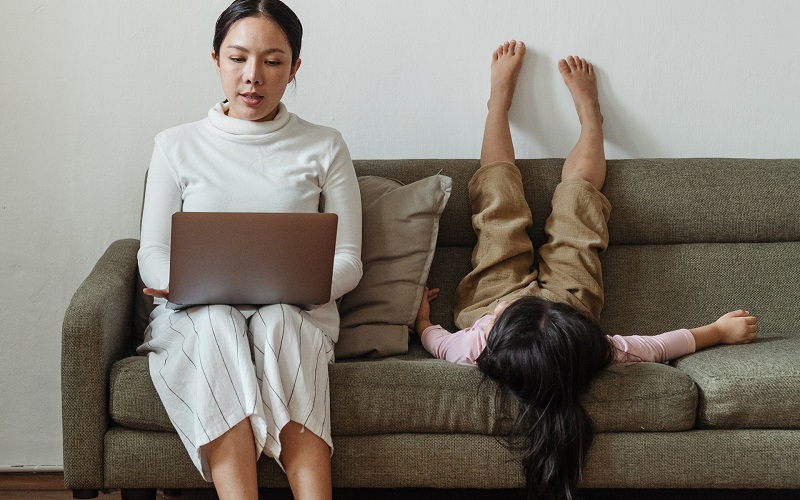 There is no shortage of franchise opportunities for stay at home moms who are looking for work that will fit in with their family life. Taking care of the kids, pursuing hobbies and the strong organizational and team management skills learned from parenting make moms ideal candidates for a range of different jobs.
As children get to school age and become more independent, it frees up more time for stay at home moms to explore work opportunities. There are over 73 million children in the US and 56.6 million of them attend elementary and secondary school. This is according to the latest official K-12 school enrollment statistics. Franchise opportunities for stay at home moms often make it easier for women to find work that suits their family life, whether this is through flexible working hours or mobile businesses.
Trending Franchise Opportunities for Stay at Home Moms
Research suggests that more millennial women are becoming stay at home moms. The desire for family flexibility is often the main driving factor for those moms who choose to stay at home while also seeking out jobs that will give them a better life-work balance. The following franchises tap into growing markets that have the potential to become lucrative ventures for entrepreneurial moms. If you are interested, you may also find a business that can positively impact your community, too.
1. Children's Fashion Franchise
The years of experience buying clothing for their kids and dressing them makes moms well qualified to take on a children's fashion franchise. It is an everyday chore that has great business potential. Moms know only too well how quickly children outgrow clothes and shoes. The good news is that gently used items in good condition can be easily resold when no longer needed. A Once Upon a Child franchise specializes in selling new and used children's clothes and also toys, furniture and equipment.
Once Upon a Child investment is from $259,700. The franchise fee is $25,000. This type of business appeals to stay at home moms who want to be a part of the thriving sustainable, environmentally friendly "green" business sector. The primary focus is on reselling children's items instead of them going into landfill.
There are other franchise opportunities for stay at home moms in fashion. Check out Just Between Friends. It specializes in children's and maternity consignment sale events. Initial investment is from $38,500 with a franchise fee of around $18,000. Franchise owners market to local families and sell new and gently used items. You can opt to hold a minimum of two sales each year, which makes it an easier business for stay at home moms to manage.
2. Organizing Children's Parties
They say that if you want something done, ask a busy person to do it. Multi-tasking moms fit this description perfectly. Moms have great organizational skills thanks to overseeing their family's hectic schedules. Therefore, getting paid to organize children's parties could be a natural fit. Kid Create Studio is one of those franchise opportunities for stay at home moms who have a creative side and a head for business. As well as hosting art-themed birthday parties in their local communities, moms can boost profits by running art classes and art camps for kids. The global children's entertainment market is projected to reach $15.37 billion by 2026, growing at a CAGR of 8.4% from 2019 to 2026.
Kid Create Studio investment is from $64,520 and this includes the franchise fee. You can choose to own both a studio and a mobile business or simply stick with a mobile business to begin with. This gives you more control over your schedule and the opportunity to work flexible hours to suit family home life.
3. Franchise Opportunities for Stay at Home Moms in Early Education
Moms can turn their personal childcare experience into a viable business. The Learning Experience Academy focuses on education-based childcare services. It is described as a good family run business opportunity. This franchise has experienced 33.5% growth in the last 3 years (2019-2021).
The Learning Experience Academy investment is from $545,000. The franchise fee is $60,000. This franchise cannot be run from home or a mobile unit making it is more suitable for moms with older children.
Other franchise opportunities for stay at home moms in this sector include The Coder School. This is a coding educational franchise for children ages 7-18. This franchise has had enormous success and grown 261.5% over 3 years. It taps into the massive ongoing consumer demand for technology and apps. Investment is from $75,000 and the franchise fee is $29,950.
4. Photography Franchise Opportunities for Stay at Home Moms
Why not turn your hobby into a business? Moms who love taking photos of their kids can turn their passion into profits. Spoiled Rotten Photography is a photography franchise that captures children's milestones on camera and also taps into the lucrative school photography market.  It is a home-based business that offers a good deal of flexibility to stay at home moms who are seeking a better work-life balance.
Spoiled Rotten Photography investment is from $33,500. The franchise fee is $30,000. If this exceeds your budget, there are also franchise opportunities under 5K that offer a more affordable option for stay at home moms.
5. Children's Arts & Craft Franchise
Moms are highly experienced when it comes to keeping small children entertained. Arts and crafts are usually a safe bet when you want to keep everyone busy and happy. Moreover, this experience can be turned into a business opportunity with an Abrakadoodle franchise. It offers arts classes for kids, summer art camps, art events and more. The focus of art lessons is not only on creative fun but also to help children build cognitive and fine motor skills. The franchise has enjoyed 38.6% growth over 3 years to 2021.
Abrakadoodle investment is from $38,000. The franchise fee is from $25,400. Stay at home moms can maximize profits by offering art classes to adults, too, in local community centers and recreation departments. If you are looking for work that is non-child related and have the capital to invest in a franchise, why not take a look at some of the exciting automotive franchise opportunities available?
6. Children's Hair Salons
Cookie Cutters Haircuts for Kids is another one of those franchise opportunities for stay at home moms who are looking for a new business venture once their children are in full-time education. Cookie Cutters' specialty salons have a unique look. This includes an in-store playground with lots of fun-filled attractions and games designed to keep children coming back to your salon. Repeat business like this is great for profits. Also, the franchisor describes Cookie Cutters as a smart investment for the whole family. Moreover, there is on-the-job training to equip you with the skills you need. If a salon-based business is not for you, there are other family business ideas to explore.
Cookie Cutters Haircuts for Kids investment is from $90,000 to open a single-unit salon. The franchise fee is $40,000. This franchise has enjoyed an impressive 34.9% growth in the last three years and is currently ranked #136 in Entrepreneur 500. It is seeking new franchisees worldwide. 
7. Children's Fitness Franchise Opportunities for Stay at Home Moms
Soccer Shots offers fitness soccer programs for children aged 2-8. The fitness of children will always be a priority for families who want to raise healthy and happy kids. Moms who understand the importance of keeping kids active can channel their passion into a profitable business opportunity. The market is booming with $19 billion spent annually in US youth sports.
Soccer Shots investment is from $43,500. The franchise fee is $36,500. Family members often support each other when it comes to funding a new business venture. However, it is always sensible to work out the pros and cons before starting a family franchise.
Conclusion
There is a wide range of franchise opportunities for stay at home moms that play to their strengths and experience in childcare and parenting. However, moms may also want to explore other ventures that are not related to children's entertainment, education and development. For example, the DetailXPerts franchise opportunity has a lot to offer entrepreneurial moms who have more time to focus on business when their children are at school. While we are not specifically a stay-at-home-mom franchise, you can run home-based operations as our franchisee.
DetailXPerts is a trending steam car wash franchise that prides itself on being a green business. It uses eco-friendly steam cleaning technology and cleaning products that do not harm the environment. Initial investment is from $88,500 and the franchise fee is $35,000. You can start out with a mobile detailing unit and work around your family life with the opportunity to grow the business at a later date more mobile units or open a free-standing auto detailing shop.
Don't forget to sign up for our franchise newsletter to keep getting more interesting business and franchise industry news and ideas delivered once a month straight into your inbox.