The Future of Car Washing – Steam Cleaning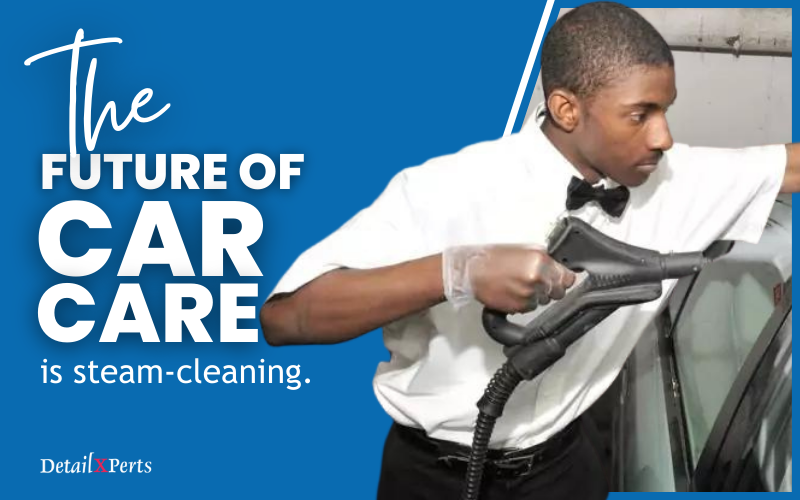 Do you want to own a successful car wash business? Then you must pay close attention to the industry leaders. With the power of steam, we can clean better than anyone using water alone. Discover why the future of car washing is steam cleaning and what exactly makes our franchise owners so successful.
A DetailXPerts steam car wash franchise is a green tech business. The term "green tech" describes a type of technology that helps to protect the environment. This includes designing tools that help to conserve the earth's natural resources. For instance, DetailXPerts steam cleaning technologies address the problem of water wastage.
10 Reasons Why Steam Cleaning Is the Future of Car Washing
What is going on in the car wash world? Consumer demand heavily influences industry trends. For example, people are becoming more aware of environmental issues. Therefore, their attention turns to those car wash businesses that prioritize saving water. Discover in more detail how our franchise owners stay ahead of the car wash competition:
1. The Green Tech Market is Booming
The future looks bright for any green tech business. This includes our successful car wash business model. The latest market research shows that the green technology market is booming. It is set to reach US$74.64 billion by 2030, growing at a CAGR of 21.9% from 2021 to 2030.
One of the goals of our steam cleaning car wash is to protect the environment. It can do this by reducing water consumption and using eco-friendly products. The noticeable increase in consumer interest for this type of car wash bodes very well for future profits.
2. A Steam Cleaning Car Wash Uses Less Water Than a Traditional Car Wash
Water is one of the earth's most precious natural resources. However, US officials continue to declare seasonal water shortages across many regions. The US Drought Monitor highlights this problem. The warming climate trend impacts water supplies.
A successful car wash business provides solutions to problems. An eco friendly car wash can help to preserve water. DetailXPerts' advanced technology uses 1 pint of water to clean an average-size vehicle. This compares to 52 gallons used in a traditional car wash.
3. Eco-Friendly Cleaning Products Are Trending
A touchless car wash franchise relies on strong detergents and foams to clean cars. Not the most environmentally friendly option. Conversely, DetailXPerts franchise owners use biodegradable cleaning products. This taps into the trend for greener cleaning products. Research shows that the global green cleaning market will be US$11.6 billion by 2029.
A successful car wash business attracts positive attention from the public. For example, an environmentally responsible brand wins over customers because it wants to protect future generations. Customers show brand loyalty to a business that shares their values.
4. Our Steam Cleaning Car Washes Get Excellent Reviews
Our franchisees work hard to keep their customers happy. Satisfied customers help to strengthen a brand's reputation. To illustrate, a successful car wash business encourages its customers to leave online reviews. This is a good way to increase brand awareness.
Thanks to the exceptional results of steam cleaning, the feedback is positive. Look at what people are saying on Facebook about DetailXPerts.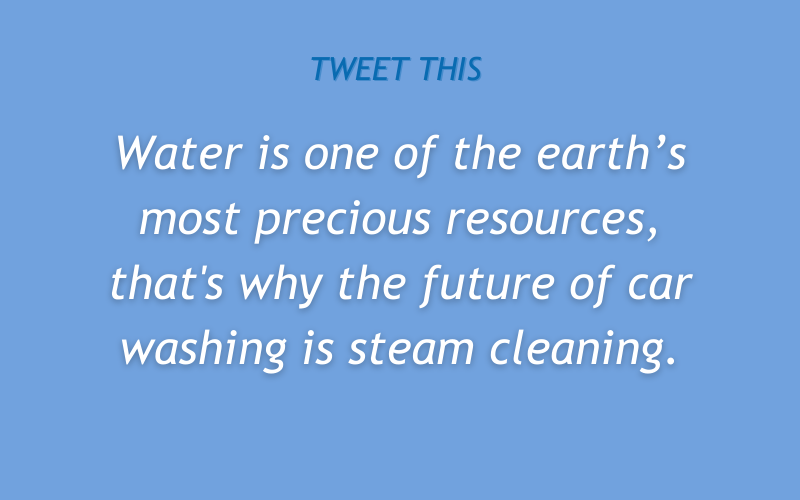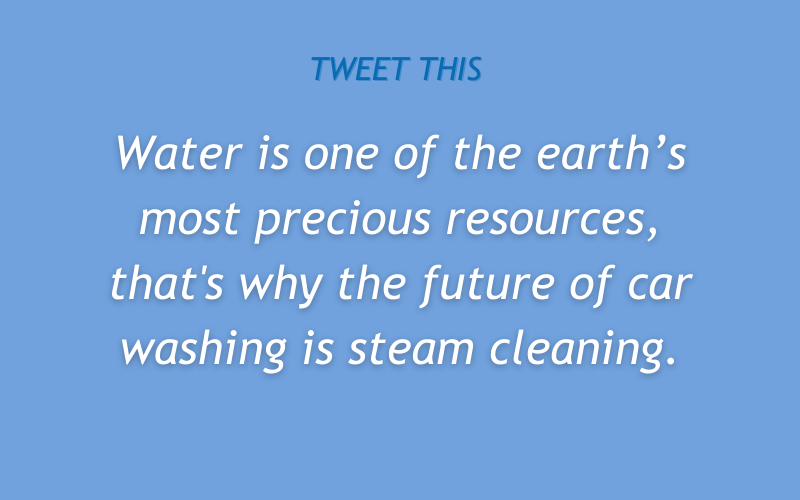 5. A Successful Car Wash Business Cleans and Sanitizes
A steam detailing business provides an excellent level of car sanitization. This attracts more of those customers who want their vehicles cleaned to the highest standard. Our franchise owners use the power of steam to kill viruses and bacteria.
Furthermore, steam is non-toxic. Steam cleaning with organic products ensures a safe and healthy car environment for your customers. In contrast, a touchless car wash franchise can't offer interior car sanitization. See below.
6. Steam Cleaning Is Suitable for Exterior and Interior Car Detailing
Does a steam car wash have the edge over a touchless car wash franchise? Yes, it does. A touchless car wash franchise is popular. However, the focus of this business model is on exterior car washing. Whereas our steam technology is used for both exterior and interior car detailing.
The high temperature of steam effortlessly removes dirt and grime from wheels and bodywork. In addition, steam removes stains from upholstery without causing damage. It is the gentle giant in the car wash industry.
7. Exciting Mobile Car Wash Business Opportunities
A successful car wash business seizes opportunities. Our franchise owners can add mobile units to their site-based car wash business to maximize profits. A steam cleaning mobile detailing business has the potential to do very well. There are no expensive overheads. In addition, customers like the speed and convenience offered by a mobile detailer. They are willing to pay for it, too.
8. Top-of-Mind Awareness
A successful car wash business is part of current conversations. For example, doing more to protect the planet. This includes being active on social media to share the environmental benefits of cleaning cars with steam. Raising an online presence helps our franchise owners achieve top-of-mind awareness (TOMA).
If your business comes to mind when people are looking for a car wash near them, it will hopefully encourage them to schedule an appointment. Top-of-mind awareness also helps to retain loyal customers. This is essential for future growth of the business and car wash profitability.
9. Our Franchise Owners Can Offer a Range of Sanitizing Services
Cleaning with steam is part of the lucrative car wash market. However, our franchise owners can also offer B2B sanitizing services. They can bring their steam cleaning expertise to companies in non-auto areas. This side of a steam cleaning business has the potential to make our franchise owners a lot of money because the target market is huge.
10. Car Wash Green Tech Stands out From the Competition
Successful car wash business owners are industry influencers. Our franchisees use innovative steam cleaning technology to get exceptional results. Furthermore, green car washes will enjoy success for years to come. DetailXPerts doesn't follow the crowd, it leads. Moreover, we continually innovate and find ways to push ahead of the competitors.
Conclusion
To sum up, a successful car wash business makes plans for tomorrow. The future of car washing is steam cleaning. Firstly, there is customer demand for technology that protects the environment. Secondly, our franchise owners successfully use steam to provide a high quality, sanitized clean. Finally, customer satisfaction is the key to brand loyalty. As a result, happy customers drive business success.
If you want to join our growing team of successful franchise owners, why not take the next step? We can help you start a car wash business that is perfect for the future of car washing.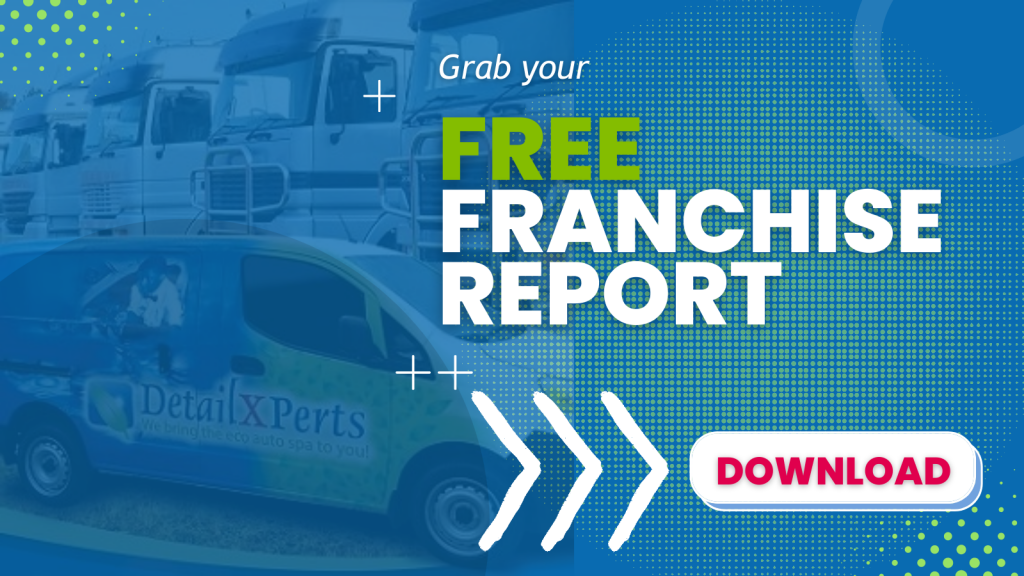 Download our Free Franchise Info Kit to get you started on your future business success. Working with DetailXPerts you will be able to combine your financial reward with environmental benefits. Overall, a win-win situation.