The Science Behind Steam Cleaning Vehicles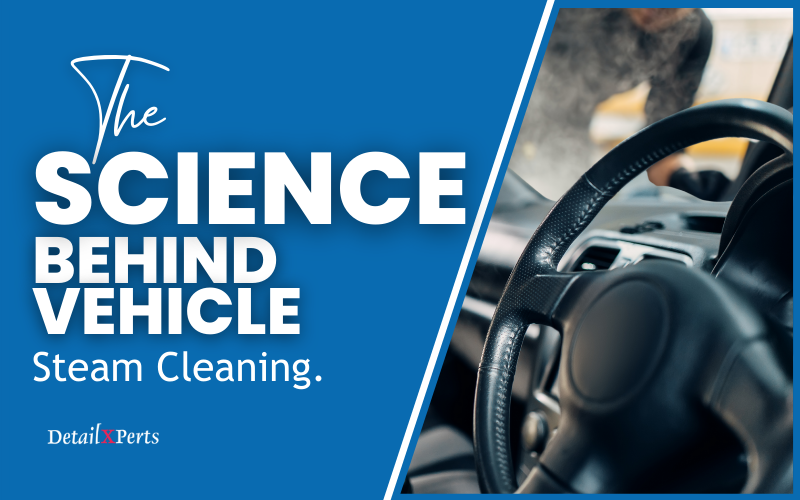 Our methods for steam cleaning vehicles bring the science to the car wash world. DetailXPerts' technology successfully challenges other traditional car wash businesses with its green approach to cleaning cars and trucks.
How are we different? Our innovative auto detailing franchise uses steam cleaning technology to impress customers. We drive profits with purpose. There is increasing demand for an eco-friendly car wash that strives to conserve water, not waste it. Discover the science behind our toolkit. Find out what we, and you, can do with just 1 pint of water.
About Vehicle Steam Cleaning
We have utilized the science of steam generation to create a profitable green tech car wash business. How have we achieved this? Essentially, we have harnessed the thermal energy of steam to give us superior cleaning powers.
The science behind our vehicle steam cleaning is based on extensive evidence that our methods work exceptionally well. Our results show that a steam detailing business is a superior way to clean cars and help protect the environment. Read on to discover how to run a successful green tech car wash with science on your side.
What Is the Science Behind Steam?
The science behind vehicle steam cleaning is straightforward. Steam is simply water in its gaseous form. Although steam is an invisible gas, most of us think of steam as having a white, misty appearance. This is because when steam condenses in the air it does so as a "cloud" of tiny droplets of water.
At its most basic, steam is water heated past its boiling point. Once you heat water to temperatures above 210˚ Fahrenheit, it will start to boil and turn into steam. Although steam is powerful enough to cut through dirt and grime, it is surprisingly gentle on surfaces. For example, the high temperature of steam will not damage vehicle exterior paintwork. Instead, our steam technology cleans a car exterior, including the wheels and rims without leaving any watermarks. As a result, the shine is restored to your vehicle safely and efficiently.
How Steam Cleans and Sterilizes
You need look no further than the healthcare industry to witness the efficacy of steam as a way to kill germs. Hospitals and healthcare facilities have routinely relied on steam to sterilize reusable medical devices, equipment and lab ware.
For example, surgical instruments are placed inside an autoclave. Then pressurized steam at a high temperature sterilizes them, quickly and efficiently killing microbes, such as bacteria and viruses. This is a reason why steam cleaning the interior of a car is so effective.
Preserving Natural Resources Using 1 Pint of Water to Clean a Vehicle
As a green tech car wash, our technology helps to protect the environment. Our mission is simple: to clean cars, trucks, and other vehicles without polluting the environment or wasting water. We can do this by providing a greener alternative.
Our green mission to protect and preserve the Earth's natural resources has won us loyal customers. There is a demand for eco-friendly car wash businesses. We heat 1 pint of water to create the pressurized steam in our auto detailing machines. This is all the water we need to clean 1 vehicle. Then we combine the pressurized heat energy of steam and steam detailing business. Our technicians achieve a deep, sanitized clean without using harsh chemicals or damaging the environment.
Utilizing the Power of Steam to Build an Eco-Friendly Car Wash
At DetailXPerts, we work with mobile detailing units. This equipment creates steam through a process of boiling small amounts of water inside the machine's pressurized tank. Once the water reaches temperatures of more than 300˚ Fahrenheit, the steam is released through a hose and out the nozzle.
We then use this pressurized steam to remove dirt, road grime, oil and stains from various surfaces and materials. Steam is suitable for use inside and outside vehicles. See the science behind breaking down dirt and destroying germs, below.
What Evidence Proves That Steam Works at Removing Dirt and Stains?
Again, we can revert to the science to explain our incredible steam cleaning power. Steam sterilization "denatures" proteins. It effectively breaks down and destroys the proteins in bacteria and viruses. This stops them in their tracks. They are unable to cause harm or infection. Killing viruses with steam keeps the interior of your vehicle free from harmful viruses and bacteria such as E. coli and Staphylococcus.
The Convenience of Steam Cleaning Mobile Units
The science of steam isn't complicated. Therefore, this allows us to streamline our operations while also maximizing profits. We don't need to invest in and build expensive automatic car wash systems. Our franchise owners have everything they need in compact but fully equipped steam cleaning mobile units. This offers the ultimate convenience to the customer. We bring the mobile steam cleaning car wash to their doorstep, their workplace or wherever they wish to schedule their car wash.
Steam Cleaning Truck Car Wash Services
As you grow your eco-friendly car wash business, steam cleaning methods still make it possible to conserve water. Even when more vehicles are passing through your car wash. For example, we can clean 15 cars with just 2 gallons of water. Our steam cleaning methodology is also perfect for a mobile truck wash business. We only need 4 gallons of water to clean an entire truck.
Why Vehicle Steam Cleaning Is So Effective
Vehicle steam cleaning is so effective because it cleans and sanitizes vehicles simply by using the power of steam. The pressurized steam lifts dirt and stains without leaving behind toxic residue. See our video on seat and upholstery steam cleaning.
We also have dry-fast cleaning operations because steam disperses so quickly. After steam cleaning, we simply use high-quality wiping cloths to achieve the showroom shine our customers love.
Furthermore, steam is great for sanitizing those tricky, hard-to-reach areas of a vehicle. We can steam air vents, grooves in upholstery and so on easily and efficiently. You can see the potential to build a profitable business because the future of car washing is steam cleaning.
Latest Trends in Steam Generation
Scientists continue to explore and experiment with the generation of steam. For example, they have discovered it is possible to make steam without boiling water. It can be done using sunlight and nanoparticles, according to reports.
These developments create exciting possibilities for sun-powered boilers. People could use them to clean and sterilize objects such as medical equipment. This is particularly helpful in places that lack electricity or burnable fuels. These ongoing experiments with steam confirm the versatility of this invisible gas. DetailXPerts has always believed in the power and potential of steam. And we are proud to recognized as thought leaders in car wash steam technology.
Conclusion
The science behind vehicle steam cleaning is straightforward. Using the minimal amount of water and heat energy, we create pressurized steam. This is all it takes to remove the dirt and grime from our customers' vehicles. The steam cleaning process is highly efficient and non-toxic. Moreover, it doesn't rely on harsh detergents to kill germs, bacteria and mold.
If you want to make a difference and be a part of a greener future of car washing, it is easier than you think. We can help you start a car wash business that uses steam cleaning technology and eco-friendly cleaning formulas.
Download our Free Franchise Report to find out more. DetailXPerts is a green tech car wash that has the experience and the resources to support your ambitions. We can help you set up and run a successful business that has the potential to be very profitable in no time.