How to Start a Water Conscious Car Wash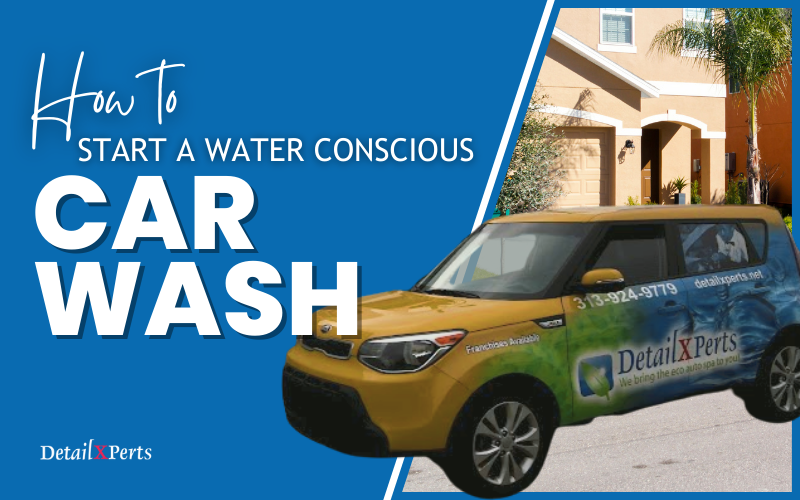 A water conscious car wash business can save on water while protecting the environment! In fact, we've figured out how to clean vehicles with only 1 pint of this precious resource. What is the secret behind the success of our eco-friendly car wash franchise? DetailXPerts uses unique steam cleaning technology to clean vehicles more efficiently. It does so without wasting gallons of water, unlike a conventional drive-thru.
How does an eco car wash compare to other car washes in terms of water usage? The latest automatic car washes are working harder at saving water. This includes using more sophisticated water reclamation systems. However, water consumption is still a major issue. For example, an in-bay touchless automatic car wash can use up to 70 gallons of water to clean a single vehicle.
At-home car washes can use up to 100 gallons of water per vehicle. In comparison, an eco steam car wash, such as DetailXPerts, can clean 15 cars using just 2 gallons of water. Therefore, we know it is possible to conserve this natural resource while still running a successful car wash.
Tips on How to Start a Water Conscious Car Wash
According to the US Drought Monitor, there are over 87 million Americans living in drought regions. People are being asked to conserve water. Therefore, if being an eco business owner interests you, perhaps a non-traditional car wash is the answer. Read our tips on how to start an eco car wash:
Is There Demand for a Waterless Car Wash?
Firstly, is now the right time to start a water conscious car wash business? Yes, it is an ideal time. In fact, there is an urgent need for people and businesses to implement water-saving measures. As the US Drought Monitor highlights, there are chronic water shortages in the US right now.
Earth.Org reports that Lake Mead, the largest reservoir in the United States, has dangerously low water levels. As a result, government officials are urging drought-stricken Western states to cut back on water usage.
The second point in favor of a water conscious car wash: where there is a problem, there is an opportunity to innovate. Hence, the reason why this type of car wash business is so relevant in the car wash industry today.
Furthermore, global warming projections suggest that the severe water shortages in some US states are not going to go away. Therefore, the need for water conservation action is ongoing. If you are serious about saving water at your car wash, the future of car washing is steam cleaning.
Cost of Starting a Water Conscious Car Wash
The next important point to consider is the startup cost. Can you afford to invest in this new business venture? The good news is that a mobile eco car wash business is one of the more affordable business models in the industry. You don't have the high costs of real estate and equipment that are associated with a fixed location car wash business.
In contrast, starting a mobile detailing business doesn't have the same expensive overheads. DetailXPerts franchise cost is from $88,500+. You may also find it useful to check out our guide to a profitable mobile car wash.
Using Green Technology to Start a Water Conscious Car Wash
Eco car wash success relies on the efficacy of its cleaning techniques. Your customers want great results, otherwise they won't return and support your business. Therefore, seek out green tech that really works.
For example, DetailXPerts impresses thousands of customers with its unique patent-pending steam technology. It is effective and efficient. The results are plain to see – a sparkling vehicle, inside and out. The steam also kills bacteria and viruses providing a sanitized interior for customer protection.
Cleaning with Eco-Friendly Products to Protect the Environment
There are different types of eco car washes. Some businesses are classed as "waterless" car washes. However, they may not use green cleaning products. Eco car washing is not only about water conservation. Environmental protection is also an issue. So, you need to be mindful of the cleaning products you use when you start your own car wash. DetailXPerts recommend and use non-toxic, biodegradable soaps and cleaners. It guarantees great results. Also, eco auto detailing can help protect animals.
Starting Conversations with Customers About Water Conservation
If you want to start your own car wash in the green sector, become an expert in this field. To illustrate, if you are passionate about saving water, keep up to speed with environmental issues. Show your customers that you are serious about protecting the planet. Tell them what you do. Explain how you save water at your car wash. This subject matter is a great way to start conversations with your customers. It will also help to build a loyal client base.
Also, be sure to look at brands that are successful in this field. How do they attract a loyal following of customers? What water saving methods do they use? You may even want to go into business with them. For example, DetailXPerts offers exciting franchise opportunities to entrepreneurs who seek a proven business model with an environmental edge. Our unique water saving methods make it possible to clean 15 cars with just 2 gallons of water.
Researching an Eco Target Market
If you want to start an eco car wash business, research your target market. The good news is that there are already a lot of eco conscious customers out there. Therefore, you need to let them know about your business through a strong marketing plan. See our Ultimate Guide to Market your Car Wash. Furthermore, research shows that companies with core values of sustainability are more likely to build a loyal customer base.
Your research also includes finding a profitable venue for an eco car wash business. California, for example, is a drought-hit area that would benefit from a water conscious car wash. To illustrate, the Los Angeles Department of Water and Power (LADWP) is asking its customers to limit their outdoor watering and other usages. Therefore, people are naturally going to seek alternatives to at-home car washing. This is where your eco car wash can meet demand. Seize this opportunity. Tell people how they can help to save water by using your car wash!
Maximizing Opportunities in the Green Clean Market
Water saving methods are not exclusive to the car wash industry. There are ongoing efforts to meet water-related challenges. Take, for example, the International Decade for Action on Water for Sustainable Development, 2018-2028. This initiative is focusing on a decade of better management of water resources. It is about promoting efficient water usage at all levels of business.
Therefore, keep an open mind when you start your car wash. Can you diversify to other industries? For example, DetailXPerts also utilizes its steam cleaning technology to target the commercial cleaning services sector. Again, the combination of efficient cleaning and effective sanitization.
Conclusion
If you want to start a water conscious car wash, now is the time. There is an urgent need to preserve and protect water resources in the US. Seek out the best equipment or tech that will save water at your car wash. Research your target market. Choose a location that will welcome a green car wash. The more pro-active you are about green issues, the more authentic your business model will be. You could also offer mobile car washing services. Give the customer the choice of where and when. This offers convenience and eco-credentials in one package.
It takes time, effort and money to start a car wash. Therefore, it can be a daunting task to take on alone. Fortunately, there are other exciting options. We can help you open a successful green car wash business. Discover our franchise opportunities today. Our eco-friendly mobile business model is a winner. Save water and clean with steam. You'll gain a loyal following of clients in no time.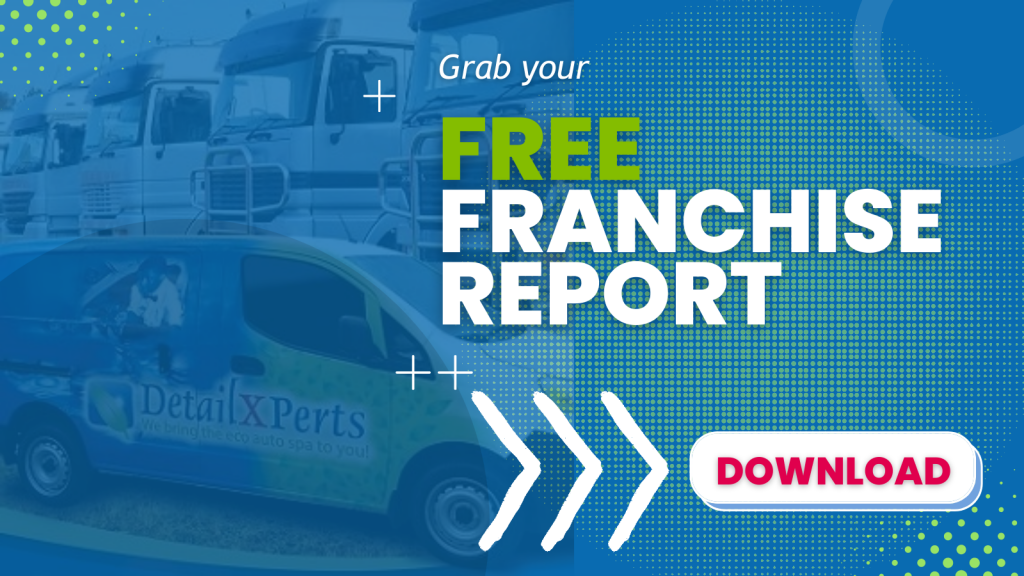 Download our Free Franchise Report. It is your first step towards owning an eco friendly, water conscious car wash.