How Much Does It Cost to Start a Mobile Car Wash?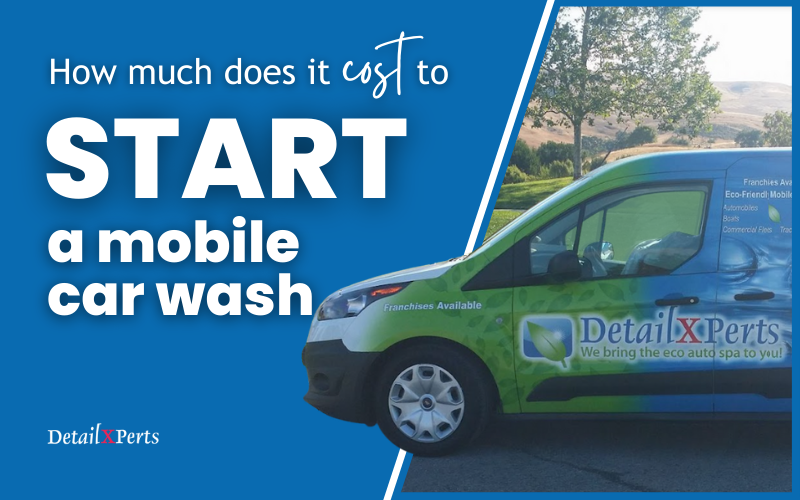 So, how much does it cost to start a mobile car wash? Different factors come into play. Therefore, the numbers are not set in stone. However, we can estimate costs to give you an idea of the initial investment to start your own car wash.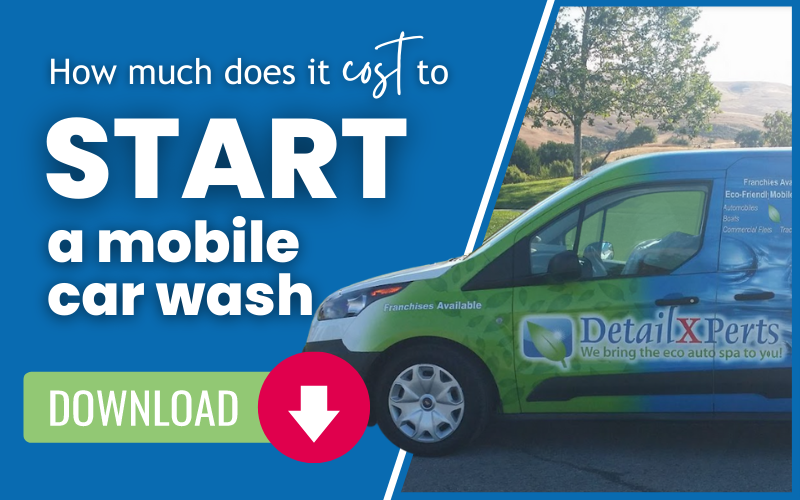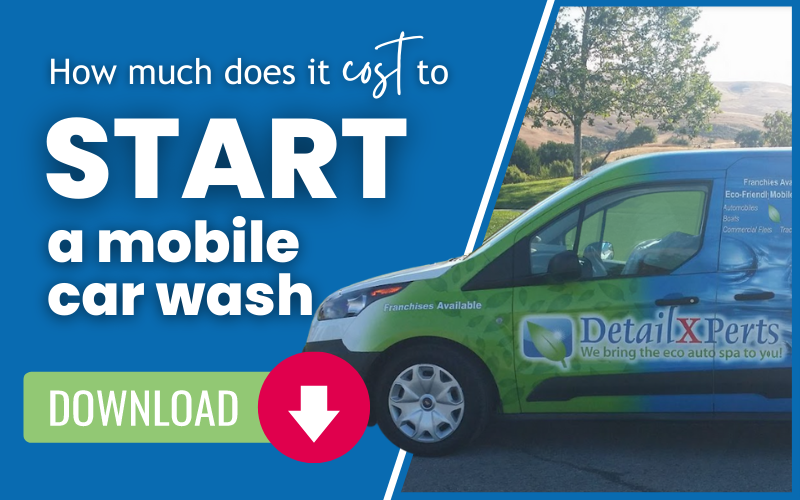 You can also maximize profits if you find a niche in the competitive car wash market. For example, DetailXPerts provides an eco-friendly solution that the wider car wash industry has yet to tap into. How much does it cost to start a mobile car wash? Read on to learn more. And be sure to download our guide for a breakdown in numbers.
Mobile Car Wash Startup Costs
Some of the main startup costs associated with a mobile car wash are:
Detailing vehicle
Auto detailing equipment and car wash supplies
License, insurance, and permit fees
Marketing
Buying or Leasing a Vehicle
You need a reliable, functional vehicle that is large enough to hold all your detailing equipment and supplies. DetailXPerts' franchisees have the option to buy or lease a vehicle from a third party. We explore this topic in more detail in our guide, "How Much Does It Cost to Start a Mobile Car Wash?" There's a download link at the end of this post.
Cost of Tools and Equipment for a Vehicle Detailing Unit
Your shopping list will include a wet vacuum, all-purpose cleaner, detailing brushes and jet wash. However, be mindful of cutting costs when it comes to car detailing equipment. These are the tools of your trade. Therefore, they need to be efficient and reliable.
The cost of a DetailXPerts' vehicle detailing unit for franchisees is $15,000. This includes the entire equipment for your van. DetailXPerts steam cleaning technology equipment is superb in its field. It is a green way to clean cars. We use just 1 pint of water to clean 1 average-size car.
Marketing Costs
Set aside a marketing budget. You'll need at least $7,000. This is money to be allocated for paid advertising, signage, vehicle graphics and so on.
DetailXPerts' marketing support< is first-class. We help with website design, social media support, and much more. We also provide our franchise owners with the graphics for wrapping their business vehicles. It is all ready for third-party printing and installation. Be sure to shop around to get an idea of prices for your vehicle wrap. For more helpful information, download our Ultimate Guide to Market Your Car Wash.
Business License, Permit Fees, and Car Wash Insurance
What costs are involved with a business license and permit fees? It depends on your state, county, or even your city. Therefore, you will need to make a few inquiries to ensure you are compliant. For advice, you can visit the US Small Business Administration website (SBA).
Check out our research on the different types of insurance for your car wash. Operating a mobile unit means you won't need property insurance. However, it makes sense to have small business liability insurance.
How Much Does It Cost to Start a Mobile Car Wash with a Franchise Partner?
Important questions to ask: How many years have they been franchising? What are the initial advice and ongoing support like? How much effort goes into marketing to help franchisees get their business off the ground? At DetailXPerts, we have spent 14 years nurturing and successfully supporting our franchisees in all these areas.
DetailXPerts is an eco-friendly mobile water conscious car wash. It uses innovative steam cleaning technology to save water while delivering fantastic results. The company was founded in 2002 and has been franchising since 2008. Estimated total initial investment is $103,500-$240,100 (including initial franchise fee).
Spiffy is also a mobile car wash business with franchise opportunities. It has been franchising since 2020. Estimated initial investment is $100,000-$200,000.
NoH20 uses a range of waterless products to clean cars. The company has been franchising since 2012. Estimated initial investment is $81,600-$119,500.
Breaking Down the Numbers
DetailXPerts is transparent about the cost to start a car wash. No one wants a costly surprise when they start a business. Hence, we publish a full breakdown of numbers to give you a definitive answer to the question, "How much does it cost to start a mobile car wash?" Take a look:
Initial franchise fee: $35,000
Vehicle detailing unit (steam cleaning unit, etc): $15,000
Computer equipment and software: $4,000
Initial marketing campaign and promotional materials: $7,000
Initial inventory: $4,500
Third-party costs and additional funds (license, insurance, deposits, travel expenses, training, office equipment, vehicle and graphics, other supplies, etc): $38,000
Total: $103,500
We have included third party costs. Even though these are not costs owed to us, we want you to have a realistic idea of how much you need to spend to start your mobile car wash. Our franchisees also have the option to invest more should they wish. The higher end of DetailXPerts franchise cost is $240,000.
Invest In Your Future
Do you have enough capital to grow your business? To illustrate, think of all the opportunities you can explore using your existing equipment. For example, DetailXPerts maximizes its steam technology across different sectors. This is the potential of a profitable mobile car wash:
Successful mobile car wash business model that taps into the lucrative green sector using eco-friendly technology and supplies
Potential to open multi-unit operations
Uses steam cleaning technology to break into the lucrative commercial cleaning sector
Mobile car wash equipment is also suitable for other professional detailing services such as fleet detailing, dealership services, and aircraft detailing
Value vs Cost
When entrepreneurs ask, "how much does it cost to start a mobile car wash?", there are often underlying questions, too. For example, how can I reduce costs? What's the cheapest option? These are relevant questions. However, trying to do everything as cheaply as possible should not be your main objective. Think of it as a car wash investment. Your startup costs set the foundation for a potentially lucrative business.
Conclusion
So, how much does it cost to start a mobile car wash? To sum up, it depends largely on whether you choose to go it on your own or if you prefer to partner with an established franchise.
You also must think beyond startup costs. Is it a good long-term investment? For example, DetailXPerts has robust revenue streams. Furthermore, our unique steam cleaning technology allows us to find a niche in the lucrative green sector. The eco-friendly approach is an attractive prospect for our customers. Additionally, we also have award-winning customer service and a great reputation.
If you want to bank on a successful car wash franchise, get in touch with DetailXPerts today. For more details on costs, download our guide to How Much Does It Cost to Start a Mobile Car Wash?