Press Release: DetailXPerts Launching New-Look Website and Brand Refresh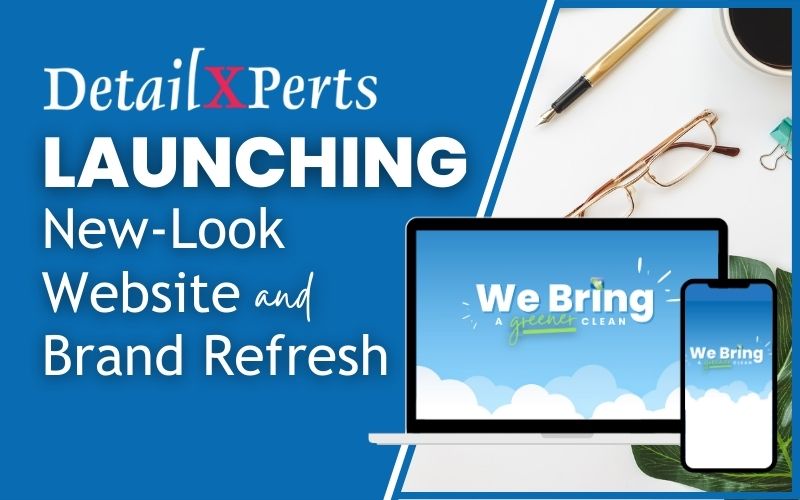 DetailXPerts' new-look website is coming soon! The redesign and brand refresh consolidates our original consumer and franchise websites to create one clean, modern site that provides customers with an improved user experience. Additionally, our brand refresh reflects our evolving business goals and target markets.
We Bring a Greener Clean
Our new tagline is "We bring a greener clean". It replaces our old messaging, "We bring the eco auto spa to you."
This change reflects our strong growth and expansion (and convenience!) in mobile cleaning and franchising. As well as steam cleaning vehicles, we offer commecial fleet services, and janitorial and sanitization services. And we can target these 3 markets with our brilliant green tech.
How do we keep it so green? DetailXPerts uses innovative steam technology and non-toxic cleaning products to clean and sanitize vehicles, facilities, workplaces, and social spaces.
Brand Refresh
Our website improvements help strengthen our brand image. Why is brand refresh so important? Internet Live Stats confirms there are over 1.5 billion websites on the world wide web today. So, websites have to work harder than ever to keep relevant and stand out.
DetailXPerts.com now has a cohesive brand identity that resonates with our customers. Engaging content, such as updated images, explainer videos, and an informative blog, shine a spotlight on our steam cleaning technology, sustainability in business, franchising, and forever putting the customer first. For instance, we are proud Newsweek and Statista voted us one of America's top-rated customer service providers in the auto wash industry.
Connecting with the Customer
"We are delighted to launch our new-look website, which will strengthen our relationship with our customers. Our goal was to make it easier for our customers to connect with us. And help them quickly and easily find the information they need, from scheduling an appointment to discovering more about our exciting franchising opportunities. We are confident the new website and brand refresh achieve this goal."

Ms. Angela Williams, President of DetailXPerts
Intuitive Interface
The consolidated and refreshed website will showcase a fully responsive design with an intuitive interface. It will be available from any device or screen, such as smartphones, tablets, and laptops. In addition to an enhanced user experience (UX), we are improving our SEO efforts and strengthening our brand identity as an industry-leading mobile cleaning company.
We offer a range of cleaning services for vehicles, community spaces, buildings, boats, and aircraft. Moreover, we can now welcome all our valued customers in one place. B2C, B2B Fleet, and B2B Janitorial clients as well as prospective franchisees will find all the information they need at https://detailxperts.com.
Refreshed Logo
Our refreshed logo is part of our brand refresh strategy. The leaf symbolizes nature and aligns with our brand message to protect people and the environment. We made subtle changes to our color palette, brightening greens and blues to evoke a sense of calm and cleanliness.
"As well as fresh colors and a streamlined design, our new website beautifully tells our story. The site features updated content and information about our company and services. Customers can learn more about our team, our family culture in the workplace, and our commitment to providing a greener clean."

Ms. Angela Williams
Detailxperts.com to Launch Soon

Visit our new site as soon as it goes live to see what we've done. And tell us what you think of the key improvements:
Merging the current consumer and franchise websites
Brand refresh
Responsive design
Improved user experience
New tagline
Refreshed logo
Regularly updated content
To sum up, our new-look website and brand refresh create a strong and consistent brand identity that connect with our target audience and help DetailXPerts stand out in a crowded market. Furthermore, we hope the minimalist navigation and responsive design will make it effortless for visitors to explore, discover, and connect with us. We encourage our customers to share feedback and keep the conversation going while we continue to clean the greener way.