Contact:
Angela Williams
DetailXPerts We Bring The Eco Auto Spa To You!
313.924.9779
FOR IMMEDIATE RELEASE
DetailXPerts: Caring Family Man Launches DetailXPerts Eco Car Wash in Greensboro NC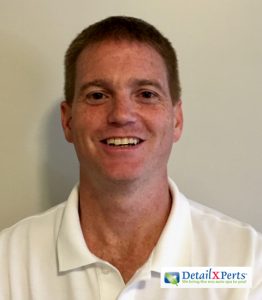 Ever since David Brown started working, all he thought about was how to realize his dream of launching his own business. Having worked as a driver before he became a store manager and sales representative for Sherwin Williams Paints, this all-around family guy knew that all his hard work will pay off someday. So he strived to save for a business opportunity that would change his life for the better.
Grabbing the Opportunity
Once he had saved enough, he evaluated all possible options and realigned his principles. He thought of his weaknesses and discovered that he needs more patience, open-mindedness, and understanding to get his business going. True enough, he welcomed a pool of opportunities that came his way. He was looking for that perfect business opportunity with the right balance of profit, flexibility and service excellence. And then he learned of DetailXPerts and fell in love with the way they work.
Why DetailXPerts?
David chose DetailXPerts from three opportunities for its environmentally-friendly service. He said, "We chose DetailXPerts because of the business model, the support, and quite frankly Angela Williams. I knew I was in the right place after our first call. I could feel it, and that feeling just got stronger and stronger throughout the discovery process."
He also believes in the principles set by the franchise. Despite tough competition, DetailXPert remains to be at the top of the game with their patented steam clean technology. This car cleaning approach enables them to offer eco-friendly services to their clients. Truly innovative, David stresses: "A good franchisee is someone who cares more about providing the best service possible to all clients instead of making money. We all are here to make a profit but I believe that the money comes when you provide a great product, with great service."
DetailXPerts has continuously brought car wash and auto detailing to a whole new level. On top of that, David is impressed with how good of a support system the DetailXPerts family is. A team player, he feels secure and on top of his game, along with a group of people who has set their eyes on the prize. He realized he's now a part of a community who celebrates the success of others. The DetailXPerts brand of integrity is always on full display as the franchise emphasizes on their core principles of hard work, perseverance and service excellence.
For David, his new car wash in Greensboro had changed his life for the better. As he says, "So far, DetailXPerts is a great experience. The training and support have been more than expected and I believe that it will always be that way. I can tell DetailXPerts pride themselves on being the best and making sure we have all we need and are ready to go to business. I truly did not expect this much support. It is great!"
Aside from car wash and auto detailing, this car wash in Greensboro also offers mobile truck wash, professional car detailing, washouts and fleet cleaning. They are equipped with trained professionals who took seminar sessions on eco-friendly mechanisms and proper handling of car cleanliness issues. For inquiries and special rates, call them at 336-365-1650 and schedule an appointment right away!
————–
DetailXPerts is the first eco-friendly auto detailing and car wash company with franchises in the United States. Since the inception of the company's franchising operations in 2008, DetailXPerts has grown and gained international reach, with franchises in countries like the United Arab Emirates (Dubai and Abu Dhabi). DetailXPerts Franchise is an entrepreneurial advocate and the company has long-term goals of helping more than 1,100 men and women become independent business owners and creating 30,000 jobs in the next 10 years while actively contributing to the preservation of the environment.
For more information, call 877-317-9737 or visit their car franchise website.